Fringe 2015 Review: Jesters Incognito
By Arthur Bullock
Published July 18, 2015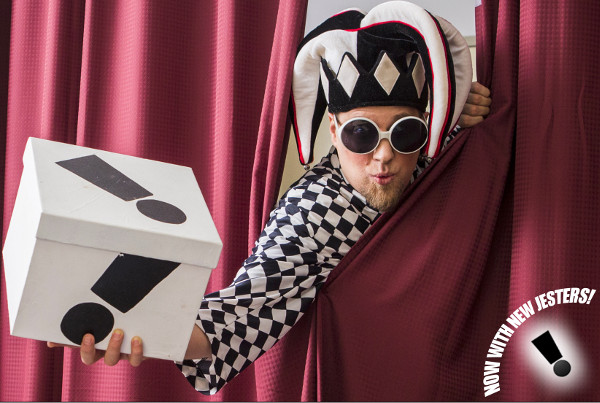 Playwright: Harrison Wheeler
Director: Harrison Wheeler
Cast: Harrison Wheeler
Type: Comedy Drama
Audience: General
Running Time: 60 Minutes
If you're not familiar with the concept of a Jester, then prepare to be enlightened, because Jesters Incognito is heavily involved with the concept of a modern Jester.
It's the perfect show for anyone who likes to go out and have a good time, as well as for anyone who thinks they're boring and wants to have more fun.
The play is performed through a clever sort of double-act, in which Harrison Wheeler gives life to a cast of colourful Jesters while simultaneously telling his own story through videos, aided by well-done music and special effects in both cases.
The host of the party is Mr. Meister - taxi driver in public, extravagant and entertaining jester in secret. He lives in Roxy City, a place where everyone is plugged in and live entertainment is outlawed. The population of Roxy City is plagued by the doldrums, which the Jesters Incognito use their skills and talents to fight.
True to the nature of the Jesters Incognito, the play remains funny, optimistic and inspirational, even as it deals with depression and mental breakdowns. It does not merely talk about mental health, but confronts the problems that threaten it, making for a very inspirational story indeed.
The play's characters and costumes are brilliantly creative - each one feels like a completely different person. There's never a dull period in the entire performance, and the audience interaction strikes a perfect balance, so that it's neither lacking nor uncomfortable. Jesters Incognito is a play that deserves to be seen, and if you do see it, you're sure to have a good time.
Post a Comment
You must be logged in to comment.