Fringe 2015 Review: The Princess of Porn: The Musical
By John Bandler
Published July 18, 2015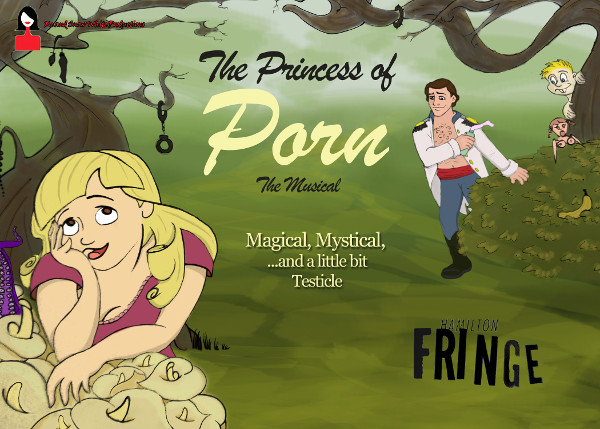 Playwright: Vikki Velenosi
Director: Nabil Ayoub
Cast: Vikki Velenosi, Christian Jeffries, Breton Lalama, James McDougall, Nima Ghomeshi, Bryan Kling
Warnings: Mature Content, Strong Language
Show Type: Comedy, Musical
Audience: Mature
Running Time: 60 Minutes
Be not afraid, dear theatregoer. A genuine sense of humour pervades the entire show right from the start, when the fairy godmother puts you at ease in her prologue. Think of it more as story foreplay. "Once upon a time ..." A promise that The Princess of Porn: The Musical will sweep you away into the land of happily-ever-after.
You will witness a prince-and-princess love story, a budding union that their royal parents seek to quash.
Smartphone in hand, the villainous Queen of Babble asks "Twitter twitter facebook wall, where in google is my son Paul?"
Where indeed is the handsome heir to her throne? Actually, our prince is (having it) off with the strikingly beautiful Pandora, The Princess of Porn - accurately described as "The world's best lay" - with whom he's fallen in love.
Under his parental control, he's never known sex. Under hers, she's never known love.
Our tale is propelled by Pandora's yearning for something, she knows not what, to fill her emptiness, to fill her "hole." Thus bent on seeking "something out there," The Princess flees her home. And finds herself in a forest during a storm, not just any storm, a shit-storm.
But luckily our handsome Prince Paul is on hand in said forest on a solo camping trip.
In a well-crafted, well-executed scene that I found surprising poignant, a scene where it's a tossup as to who's saving whom, our young lovers-to-be end up in an embrace. And in a blink, Pandora rewards Paul in the only way she knows how: with unbridled, unstinting, and-initially at least-loveless sex, triple-X-style.
Soon, spearheaded by The Queen of Babble, the forces that had kept Paul and Pandora under control swing into action to prise them apart.
But wait. This is supposed to be a fun musical comedy. Right? And it is. It is audience-pleasing hilarious.
The characters are sharply defined, the cast is uniformly strong, and the direction is outstanding. Nima Ghomeshi is hugely entertaining as the ubiquitous Fluffer, a lovable eunuch type, seemingly allowed 24/7 equal access to King and Princess, yet willing and ready for instant sex.
The musical numbers and composition, the costumes, the staging, the sound, and the sound effects-not to mention the mandatory phallic props-are effective and well-integrated. And the choreography (Sarah Slywchuck) is standout brilliant.
Kudos to Vikki Velenosi (Producer, Lyricist, Playwright, and Princess of Porn) for pulling off a show that is not to be missed.
Post a Comment
You must be logged in to comment.