Fringe 2015 Review: Richard Lett - Sober But Never Clean
By Ryan McGreal
Published July 17, 2015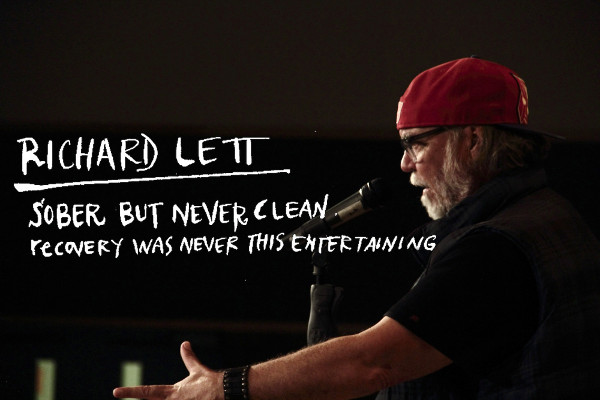 Playwright: Richard Lett
Director: TJ Dawe
Cast: Richard Lett
Show Type: Comedy, Drama, Musical
Audience: General
Running Time: 60 Minutes
One of the questions you get asked in rehab is, "What is your drug of choice?" For Richard Lett, the drug of choice was always stand-up comedy.
Like most drugs, it followed a pattern of increasing tolerance: the high lasts shorter and shorter, and you need to keep upping the dosage and supplementing it with other drugs. As Lett put it, "I stopped hearing the laughter. It sounded like screaming to me."
In a one-man performance that ranged from slam poetry and staccato stand-up to sweet music and intense testimonial, Lett led his small, intimate audience along a hilarious, beautiful, haunting and ultimately hopeful arc through a cursed-and-blessed life.
Sober But Never Clean is the story of Lett's traumatic childhood at the hands of his abusive grandmother, his discovery that making people laugh is an effective form of armour, his pathway from class clown to stand-up performer, the steadily increasing toll of booze and drugs, the inevitable journey to rock-bottom, and his transition into recovery.
But more than all these, it is the story of his struggle to learn, as Tom Waits put it, whether banishing his demons would also scare off his angels. Spoiler alert: it didn't.
Stand-up is the alchemy by which unhappy people transform tragedy into entertainment, and Lett delivered in spades. He told the story of when he sort-of witnessed a murder and then became convinced that the murderers were out to get him. "Gangs that don't exist are the scariest gangs of all, because they're everywhere!"
Lett's timing, tone and delivery were pitch-perfect. He transitioned seamlessly between funny and serious and was as comfortable behind a piano as he was behind a mic stand.
Press materials tend to call Lett "Canada's George Carlin", presumably because he sometimes delivers his material in a rapid-fire rap style. If anything, I'd say he reminded me more of Doug Stanhope - a major difference, of course, being that Stanhope is still busy mining his slow self-destruction from drugs and alcohol for material.
Lett finished his show a few minutes early, but without missing a beat he filled the extra time with a poem he wrote about Tom Waits, followed by his performance, on piano, of the lovely Waits song "Yesterday Is Here".
This show is not to be missed.
Post a Comment
You must be logged in to comment.