Fringe Reviews: Jack and Jill Bieber-Fever and Baby Redboots' Revenge
By Ryan McGreal
Published July 21, 2013
Last night we managed to catch another two plays: Jack and Jill Bieber-Fever at The Hamilton Theatre and Baby Redboots' Revenge at The Lyric.
Jack and Jill Bieber-Fever
I caught the original, ten-minute version of this play (titled Here's Hoping) at HamilTEN earlier this year. Playwright Kevin Somers expanded the original play to feature length for Fringe.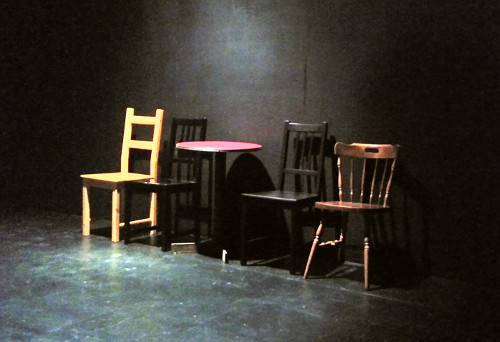 Set for Jack and Jill Bieber-Fever
The premise is a comedy theatre gold mine: two actors play a man and a woman on an internet blind date, and another two actors play their respective brains.
Jack Bieber (played by Nathan Hicks) is divorced, discouraged with the dating scene and reluctant to put any effort into what he assumes will be another washout. Jill Fever (played by Carley Hartviksen) is similarly jaded and sets up a Plan B in case her date shows up wearing sweatpants.
Jack's Brain (played by Sean Emberly) chides him for going out in sweatpants and tries to pump him up for the date. Jill's Brain (played by Tracey Kenyon) reminds her to pack a gun and tells her to blow off the date and watch Rambo instead.
Some of the biggest laughs came out of the clever interplay between what the brains are thinking and what the people are saying.
JILL: Two nice people fall in love. What's wrong with that?

JACK'S BRAIN: Say nothing.

JACK: Nothing.

JACK's BRAIN: I meant be silent.

JILL: Nothing! Exactly.

JACK'S BRAIN: Sometimes you get lucky.
The full version also includes a narrator, Danny (played by Ryan Sero), whose delusions of grandeur prompt him to break the fourth wall and insert himself into the story to liven it up.
Sero provides some wonderful moments in the play, particularly during an early set change when he flits around the stage using two chairs as wings. He increasingly forces himself into the narrative, mocking Jack and attempting to flirt with Jill.
At times the two premises seemed to get in each others' way. I'd really love to see each concept - the personified brains and the egomaniacal narrator - given full expression in its own play, where its logic can define and shape the space of the performance.
All in all, Jack and Jill Bieber-Fever is a sweet, hopeful story with solid laughs and moments of brilliance.
Baby Redboots' Revenge
The devil never disappoints a dreamer.
A mesmerizing one-player masterpiece. Written by Philip-Dimitri Galas, who died of AIDS in 1986 at just 32, Baby Redboots' Revenge is the frenzied, polyglot narration of Baby Fourstrings (played by Sean Sullivan), a former child star in the Vaudeville circuit whose star dimmed after his voice dropped and is now trapped in hell, playing upright bass for a polka band.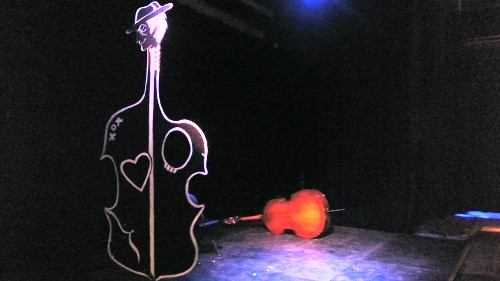 Set for Baby Redboots' Revenge
Baby Fourstrings rages against cretinous bandmates, insufferable audiences, dispiriting rental halls, a contemptuous girlfriend and, worst of all, a competing child star, Baby Redboots, who has hexed him with a voodoo doll and frustrates his efforts to regain his former stature.
Sullivan's performance is a work of genius. After several years playing the show in venues across North America, he knows the material inside and out - and the material is a dense, relentless barrage of rapid-fire delivery and dizzying shifts in tone.
Sullivan looks like Bill Murray but has Robin Williams' frantic energy and restless characterization, shifting seamlessly among a diverse ensemble of impersonations. He's also a staggeringly gifted physical actor, singing and dancing and pantomiming and posing his way through the material with grace, wit and a deadly sense of comedic timing.
An incoherent madcap performance of a self-indulgent play can be excruciating for audiences. Thankfully, there is a rhythm that runs through the entire piece, holding the asides, flashbacks and segues firmly in their orbits and keeping the play from devolving into the mess of free associations and non-sequiturs that awaits far too many one-person shows.
Perhaps most important to the play's success is Sullivan's total, unreserved commitment. In a role like this, it would be easy for an actor either to hold something back out of self-consciousness or else overcompensate and spoil the characterization by mugging.
Sullivan does neither: his performance is nothing more or less than the full, unself-conscious realization of Baby Fourstrings' torment, indignity, derangement and desperate struggle for deliverance.
with files from Bill Schulz
Post a Comment
You must be logged in to comment.