Hamilton Still Looks Like the 1970s
By Nicholas Kevlahan
Published February 26, 2013
There was an interesting article by Doug Saunders in yesterday's Globe and Mail on the 'Vancouverisation' of city centres. It begins:
I recently flipped through aerial photos of Canadian cities in the 1970s. One thing stood out: the parking lots. They were everywhere. Downtown Vancouver was a checkerboard of them. Post-Olympic Montreal was streaked with them. Toronto, especially south of King Street, seemed to be nothing but one giant, contiguous grey parking lot yawning across the lakefront.

In September, I returned to Canada after living abroad for almost a decade, and was struck by the disappearance of those acres of cement emptiness.
Unfortunately, aerial photos of downtown Hamilton today still show huge expanses of surface parking, 40 years later.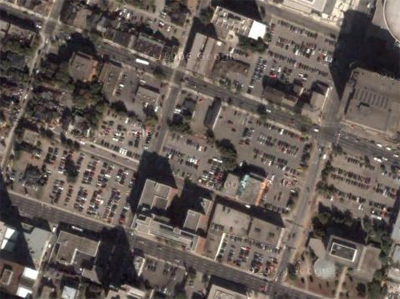 Surface parking in downtown Hamilton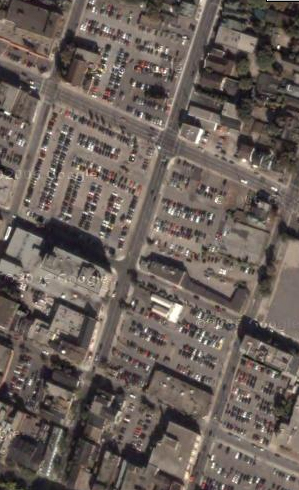 Block after block of surface parking
I remember seeing such downtown parking lots gradually disappear in Vancouver, starting in the early 1980s. It's strange that Hamiltonians still seem to believe that keeping up to 50 percent of its prime downtown real estate as unproductive surface parking is actually good for the economy!
The article goes on:
Vancouver has been remade dramatically, rendered into a thickly vertical city jammed with people and activity. Its combination of high population density in cozy downtown neighbourhoods, intimate street life and popular public transit has become one of Canada's leading exports: When I visit cities in Europe and the United States, their officials talk earnestly of adopting "Vancouverism."

[...]

To Vancouverize, in the minds of mayors, is to make residents realize that having a crowded, people-packed downtown core is not a problem but a solution.
Here in Hamilton, our Mayor and Council still seem more concerned about the parking and traffic problems created by a people-packed downtown than the overwhelming benefits.
The attitude seems to be, 'downtown would get so busy and crowded that no one would go there any more.'
It is this kind of overly cautious approach that only looks at the costs, not the benefits, that seems to be bogging LRT down. The opportunity costs of leaving much of downtown as 9-5 weekday surface car storage is enormous.

Half-empty parking lot at Main and Bay (RTH file photo)
Saunders concludes, "We lived for six decades with sprawling outskirts and the anomie of parking-lot downtowns. Now that we're famous for inventing an alternative, it's time to embrace it."
Post a Comment
You must be logged in to comment.