The Walkability Dividend
By Ryan McGreal
Published January 08, 2013
While the City of Hamilton tries to decide how to deal with an annual $200 million infrastructure spending deficit, we could do worse than consider the potential for a walkability dividend to help ease the financial pressure.
Jeff Speck, author of Walkable City, explains in a recent interview in The Atlantic Cities:
The Walkability Dividend is a concept advanced by the economist Joe Cortright and the non-profit CEOs for Cities, a group that has brought me into a small handful of downtowns with the understanding that all the events and amenities in the world won't make a difference in the absence of pedestrian culture.

In his 2007 white paper "Portland's Green Dividend" [PDF], Cortright showed how that city's urban growth boundary, coupled with its investments in bike lanes and transit, resulted in a remarkable phenomenon: Portland's per-capita vehicle miles traveled peaked in 1996.

Now Portlanders drive 20 percent less than the national average. This 20 percent results in financial savings and time savings that total almost four percent of GDP, ignoring all the wonderful externalities such as cleaner air and slimmer waistlines. Unlike driving dollars, 85 percent of which are sent out of town, much of those savings are spent locally, on housing and recreation. Portlanders are said to have the most roof racks, independent bookstores, and strip clubs per capita — all exaggerations, but only slight ones.
Not only that, but the best way to make our street infrastructure more affordable is to stop building more of it and to start realizing more productive use of the infrastructure we've already got.
We absolutely should not be rezoning and servicing far-flung rural farmland as long as the built environment of the lower city still looks like this: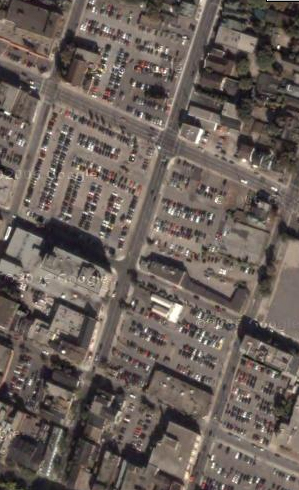 Blocks of surface parking in downtown Hamilton
Post a Comment
You must be logged in to comment.