Gore Pedestrian Plaza Pilot to Proceed this Summer
By Ryan McGreal
Published April 02, 2012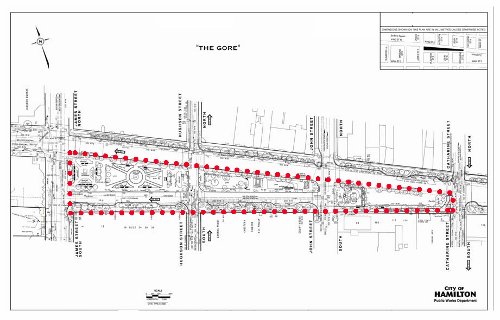 Gore Master Plan study boundaries (Image Credit: City of Hamilton)
Today's Spectator reports that the City will proceed with a pilot project to close part of the south leg of King Street East at Gore Park this summer.
The pilot project, which would run in either June or July through to August, is a test run for the proposed promenade in the city's Gore Master Plan, which includes the concept of raising the roadway between the park and the storefront sidewalk along the south edge of King.

"What we're trying to do is simulate a pedestrian space that blends with the park ... We're providing a seamless connection between the park and the businesses between James and Hughson," the city's acting manager of landscape architectural services Steve Barnhart said.
This is welcome news after the pilot project was cut out of last year's budget and metered curbside parking was installed on the south side of Gore Park instead.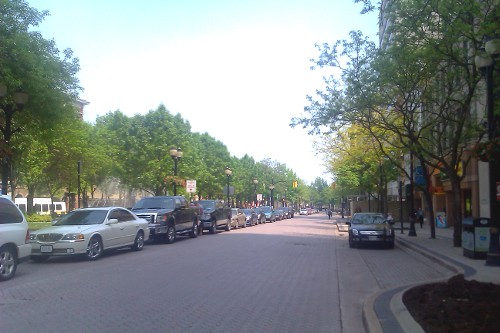 Curbside parking on the south leg of King Street West at Gore Park (RTH file photo)
Last August, City Urban Renewal manager Glen Norton was quoted in the Spectator saying the Gore Park Pedestrian Plan wouldn't be completed before the 2015 Pan Am Games:
Norton said plans to turn the south leg of Gore Park, between James and Catharine streets and adjacent to the hotel, into a pedestrian walkway won't happen before the Games.

"I don't see it starting before Pan Am because you don't want your downtown street torn up during the largest visitor event in our history," said Norton.
However, Norton subsequently clarified in an email reply to RTH that he was talking about the planned complete rebuild of the South Leg, which will cost approximately $10 million and take several years, but has not yet been funded. He explained that the pilot could go ahead with a much smaller budget on the order of $125,000:
This money would allow meters to be bagged, the south leg temporarily closed, and things like street furniture to be installed, for events similar (but bigger and more of them) to what is happening now on Wed through Friday under the auspices of the Downtown BIA.
Last summer, the Downtown BIA held a Gore Park Promenade three days a week, with a series of small commercial and cultural vendors set up around Gore Park.
This summer's pilot project to close the south leg of King between Hughson and James will allow the BIA to expand its Promenade the second time around.
Post a Comment
You must be logged in to comment.