Heritage Canada Foundation Reports Demolition of Old Revenue Canada Building
By Ryan McGreal
Published August 22, 2011
The Heritage Canada Foundation has just published an essay on the old Revenue Canada building in its magazine on Endangered Places [PDF].
Although the latest draft plan for the redevelopment of the former Federal/Revenue Canada Building in downtown Hamilton no longer calls for its total demolition, only part of the west façade will be kept intact in order to preserve the bas-relief sculptures by artist Elizabeth Holbrook. The remainder of the structurally sound 1950s federal heritage building, however, will be razed.
The report notes that the building at 150 Main Street West was "given 'Recognized' heritage status by the Federal Heritage Buildings Review Office in 1993" and was identified in the 2006 Hamilton Residential Intensification Study as a good candidate for adaptive reuse as a condominium.
When Vrancor bought the building in 2004, Darko Vranich signed a covenant with th Federal Government to protect the building's heritage features and "ensure the building is in good and sound state of repair as a prudent owner would keep it." Instead, the developer left the building vacant and derelict for years, at one point illegally using it to store hotel mattresses and propane tanks.
Last week, without announcement, Vrancor began demolishing the building, though the plan now is to preserve the southwest end. The remaining structure will be incorporated into a new condo planned for a future phase of a multi-year investment in the area.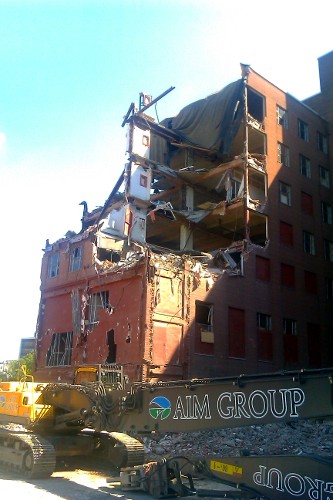 Demolished northeast corner of Revenue Canada building
The first phase is a hotel planned for the property at the northwest corner of George and Caroline Streets. It is unclear how long the old Revenue Canada Building will remain partially demolished before Vrancor proceeds with its condo plans.
Post a Comment
You must be logged in to comment.