Ask Management if Parking Matters
By Trey Shaughnessy
Published June 07, 2011
Rumours abound that a multi-national coffee shop chain wants to build a two-story building in downtown Dundas, a building that will fit in well with the existing streetwall.
However, the City and its almighty open-for-business mantra won't let a successful multinational network open a store without - wait for it - a parking lot.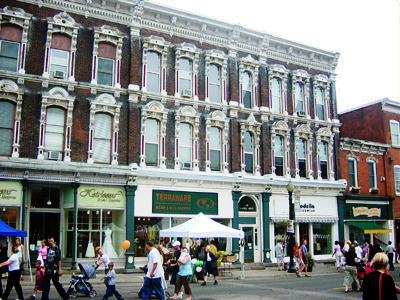 Downtown Dundas has an urban streetwall that does not require off-street parking in front of buildings (RTH file photo)
I'm sure we're all familiar with how downtown Dundas works. It works like all successful downtowns, large and small. From Stratford, to London, to massive Toronto we can see how cores and multiple cores work. It's friendly and walkable and cyclable.
It has a density of population within a kilometer or less that creates a critical mass. This critical mass, within a walkable distance of residential homes, is exactly, what I can assume this multinational network's management saw when they chose this location.
Instead, our City leadership somehow knows more than this company about their business model.
This parking requirement by-law has been the bane of Hamilton's and our communities' cores. It prevents us from having more successful patios, coffee shops, and restaurants in our historical urban cores, from Dundas, Stoney Creek, Ancaster, Waterdown, Westdale, International Village, to King West - the list goes on and on.
These are places where people like live and patronize. It might not be everyone's ideal, but if we look at other successful communities and downtown cores, there are enough people that can walk to these retail and walkable business cores.
Parking spaces shouldn't have to be a requirement. If the prospective owner/management of the parcel has done their business plan and thinks their plan will work, let their management decide.
I wonder why our City refuses to acknowledge that property values also increase the value - and property tax assessments - of the homes in desirable neighbourhoods, within an existing neighbourhood that already has sewers, roads, policing, emergency range, and schools.
The answer to increased assessment is not to keep expanding the urban boundary for more sprawl; it also can be to infill the existing spaces and make them more desirable places to live.
Demanding parking lots does not increase walkability.
If the City is truly open for business, and we have a business willing to build and operate a business that functions just the way the community was meant to function, and their management has done their research and believes that their store will work, that should be more than enough.
Ask management.
Post a Comment
You must be logged in to comment.