Special GIC Meeting: Labour Relations, Potential Market Litigation
By RTH Staff
Published May 31, 2011
this blog entry has been updated
The City Clerks' Office just announced that a special General Issues Committee (GIC, formerly Committee Of the Whole) is confirmed for June 2, 2011 at 10:30 AM. The two items on the agenda are:
a) Labour Relations Update
b) Potential Litigation - Hamilton Farmers' Market
The City is in contract negotiations with 3,200 city workers represented by the Canadian Union of Public Employees (CUPE) and the two sides have not reached an agreement on wage demands.
The Union is asking for 4.25% pay increase over two years, or a little over 2% per year. The City is offering half that amount.
The average inflation rate has been just under 2% since January 2010, but rose to over 3% in April of this year.
The City Clerk was not able to provide additional details on the second agenda item, because falls under section 8.1 (b) of the City of Hamilton's Procedural By-Law, which states that a meeting shall be closed to the public where "the subject matter being considered is ... personal matters about an identifiable individual, including City employees".
However, it most likely refers to the recent suspension of Ethilda "Tilly" Johnson from Hamilton Farmers' Market for allegedly hitting a customer.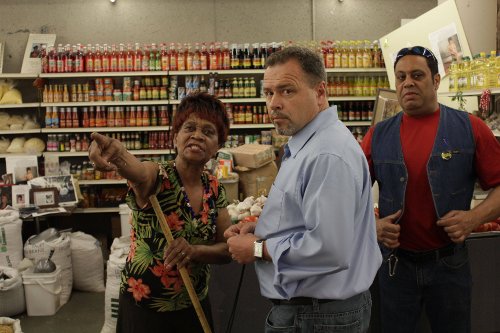 A defiant Tilly Johnson talks to Market staff (Image Credit: Matt Thompson)
Without a hearing, Johnson was suspended for 30 Market days after a customer complained that Johnson slapped her hand for touching produce. She has retained a lawyer and is threatening legal action against the city.
While the discussion will be in camera, the City Clerk noted, "Should a decision be reached which requires Committee approval, it will be done in open session."
---
Update: The City Clerks' office just announced: "a special meeting of City Council will be convened at 12:45 p.m. on Monday, June 6, 2011 to consider the General Issues Committee Report of the June 2, 2011 meeting."
Post a Comment
You must be logged in to comment.