Modern Infrastructure Transformed
By Adrian Duyzer
Published August 20, 2010
An innovative design by Choi+Shine Architects for high-voltage hydro pylons in Iceland proposes turning them into statues of human figures carrying the lines.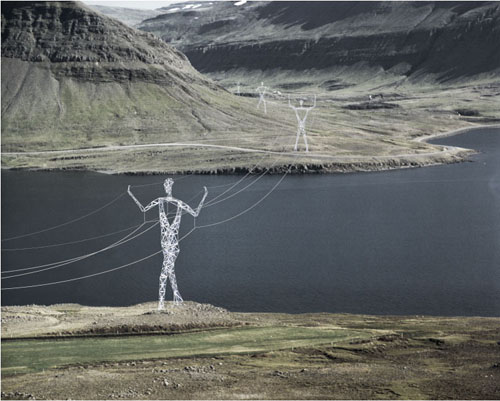 Hydro pylons as sculptures (Image credit: Choi+Shine Architects)
They describe the effect as unforgettable:
Making only minor alterations to well established steel-framed tower design, we have created a series of towers that are powerful, solemn and variable. These iconic pylon-figures will become monuments in the landscape. Seeing the pylon-figures will become an unforgettable experience, elevating the towers to something more than merely a functional design of necessity.

The pylon-figures can be configured to respond to their environment with appropriate gestures. As the carried electrical lines ascend a hill, the pylon-figures change posture, imitating a climbing person. Over long spans, the pylon-figure stretches to gain increased height, crouches for increased strength or strains under the weight of the wires.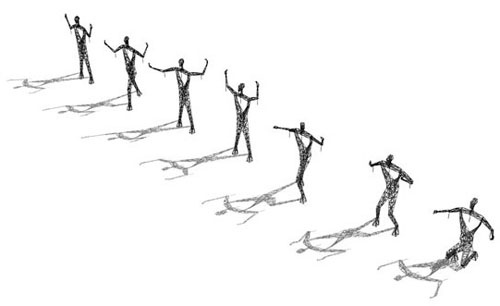 Multiple positions (Image credit: Choi+Shine Architects)
This is a truly interesting demonstration of how the built form of industry and infrastructure can be modified to take on significance beyond just pure functionality. Rather than scarring the landscape, these pylons work with it. They communicate both the immense power of the electricity carried over the lines and the human effort required to transport it across great distances over often-harsh terrain.
I'd be very curious to see what First Nations artists could do with a concept like this. Imagine what First Nations-inspired hydro pylons could look like stretching across Northern Ontario.

Male and female figures (Image credit: Choi+Shine Architects)
Post a Comment
You must be logged in to comment.