Stop Trying to Attract Visitors Downtown
By Ryan McGreal
Published June 22, 2010
Trying to get people to come downtown is a conceptual error. It leads to foolishness like the idea that what downtown needs is broader one-way streets or more parking. It conceives of the city as a kind of theme park for suburbanites to visit and 'experience'.
It also runs up against physics. The only way to make room for more lanes and more parking is to take out actual destinations - and without destinations, there's no point in going downtown no matter how easy it is to do so.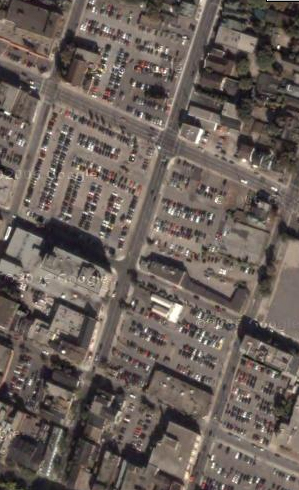 Lots of parking, but no destinations (RTH file photo)
The right approach - the successful approach - is to cultivate an environment in which people want to be in the first place. If downtown is lively enough, visitors will find their own way in.
The squelchers gnashed their teeth and tore at their hair shirts when Toronto rolled out the landmark King-Spadina plan, asking how on earth people would get there with no parking requirements and lane capacity sacrificed for a streetcar line.
The answer, of course, is that the once-barren neighbourhood's population quadrupled after 1996, with $56 million in new investment just between 2000 and 2007, 700 new jobs, and 230,000 square feet of property.
These days, visitors are happy to make their way there to enjoy all the livelihood that burst forth once the city stopped smothering it with car-friendly rules.
Post a Comment
You must be logged in to comment.