Highlights from Hamilton 350 March
By Ryan McGreal
Published October 26, 2009
Some 350 people met on Saturday, October 24, 2009 at Gore Park and marched to the Federal building at Bay and Market Streets to help send a message to the Canadian government about the importance of climate change.
Hamilton's march was one of over 5,200 events across 181 countries to celebrate the 350.org International Day of Climate Action.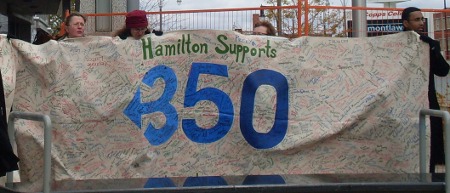 Hamilton Supports 350 banner, with hundreds of signatures
350.org is the brainchild of American environmental activist Bill McKibben, who wanted to draw public and political attention to the scientific evidence that the world must commit to reducing the concentration of atmospheric carbon dioxide to 350 parts per million to avoid catastrophic runaway global warming.
Right now, CO2 concentration is nearly 390 ppm, a level higher than at any time in human history.
World leaders are meeting in Copenhagen this December to negotiate a follow-up treaty to the Kyoto Agreement. The 350 campaign hopes to persuade our political leaders to commit to a meaningful goal that is actually supported by the scientific evidence.
After live music at Gore Park and workshops around the downtown core, hundreds of Hamiltonians congregated back at Gore at around 3:00 PM and prepared for a march over to the Federal building at Bay and Market Streets.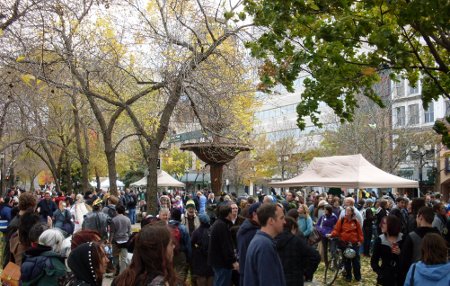 350 Marchers congregate at Gore Park for 3:00 PM
The festivities and planned march coincided with the Hamilton Zombie Walk, a fundraiser to collect non-perishable goods for Hamilton Food Share, and several zombies ended up joining the 350 march.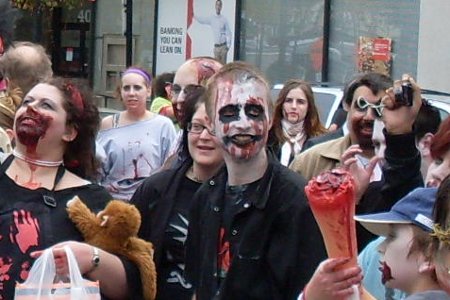 350 Days Later?
Shortly after 3:00 PM, the march toward the Federal building began, buoyed by supportive honks from passing motorists.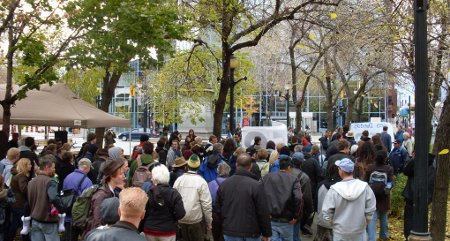 People begin the march to the Federal building
When the rally reached the Federal building, a group of young activists led a cheer of "3-5-0! 3-5-0!", whom Hamilton and District Labour Council Don Fraser later celebrated as the next generation of advocates to replace "us grey-haired guys".

Young people lead the cheers
After rousing speeches by Fraser, McMaster Biology Professor James Quinn, Greg Reader of interfaith group TrueCity, NDP MP Chris Charlton (Hamilton Mountain), NDP MP David Christopherson (Hamilton Centre), two volunteers with Burlington Green, a youth group that organized the first annual Environmental Youth Conference in Burlington this year, and MCing by Don McLean, the group closed by posing for a photo at 3:50 PM.
Also at 3:50, several churches on the Mountain collectively ran 350 church bells to commemorate the event.
Post a Comment
You must be logged in to comment.