SHOP on James North
By RTH Staff
Published November 14, 2005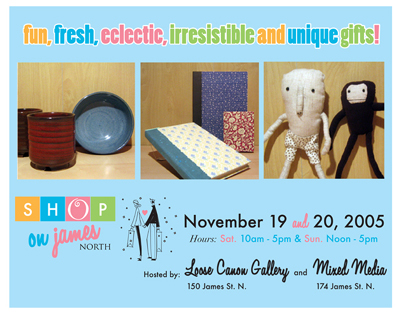 SHOP on James North
For anyone who hasn't noticed, James St. North has sprung back to life in the past couple of years, and is now packed with galleries, restaurants, and shops.
To celebrate the revival of Hamilton's cultural scene, Mixed Media (174 James St. N.) and Loose Cannon Gallery (150 James S. N.) are presenting an arts and crafts sale on James North this weekend, featuring the work of local artists and artisans.
Admission is free, but the organizers are asking people to take a non-perishable food item for local food banks.
The sale features work by:
Chelsea Treahy – knitted goods
Jessica Vellenga – fabric art (clothing, pillows, etc.)
Rowdy Media – one inch buttons! Choose from hundreds of designs – made on the spot!
Rosemary Travale – handmade books and art prints
Jarah West – pottery
Marta Cela – photography
Tobyn Pearson – candles
Kathleen Nazar Corbett – Jewellery
Andrea Flockhart – greeting cards, stuffed animals, art prints
Bliss Designs – Jewellery, handbags, fleece scarves
Frances Ward – Art
Sprouts Press - Handbound journals and notebooks
Historical Perspectives – Hamilton greeting cards
Jean Crankshaw – Photography
Screenprinted Rock posters from Serigraphie Populaire, Daygristle
Screens and Yo Rodeo
For more information, contact Dave Devries-Kuruc at 905-529-2323 or mixedmediahamilton@gmail.com.
Post a Comment
You must be logged in to comment.