Police Hate Crimes Report Targets Anarchist Bookfair
By Ryan McGreal
Published June 01, 2009
Hamilton Police has released its annual year end Hate/Bias Crime Statistical Report [PDF link], and it has at least one activist group fuming. In addition to a statistical breakdown of hate-bias related crimes committed in 2008, the report highlights potential sources of trouble for 2009 - including the upcoming Anarchist Bookfair organized by Common Cause.
The police report defines a hate/bias related crime as:
a criminal offence committed against a person or property which is motivated solely, or in part, by the suspect's hate/bias against a person's race, religion, ethnicity, sexual orientation, disability group, age or gender.
Then the executive summary identifies "several upcoming international, national and local events" that the police have identified as "having the potential to impact hate-bias related crime incidents in Hamilton." Included in the list are the 2010 Olympics, the 2010 G8 Summit, the "anarchist movement" and the economic recession.
It is not immediately obvious why the police should think that either the 2010 G8 Summit or the anarchist movement should "have the potential to impact hate/bias related crime incidents", given the legal definition of a hate crime.
Political Events Highlighted
Yet in the 2009 Outlook section, the report specifically identifies the 2010 G8 Summit in Huntsville as a potential source of hate/bias related crimes, to wit: civil disorder in surrounding areas; anti-capitalist, anti-globalization and environmental protests; and a religious counter-conference planned in Winnipeg, featuring such notorious haters as Archbishop Desmond Tutu, Aga Khan IV and the Dali Lama.
Also under scrutiny is what the police report calls the "anarchist movement", including "Anarchist graffiti/Anti-police graffiti" observed in Hamilton. It even includes a sample photo: a stencil that reads "Still not ♥'ing the Police".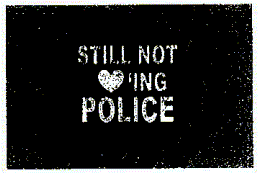 After Outlandos D'Amour, it was all downhill
Chilling, I know.
It also specifically mentions the upcoming Anarchist Bookfair on June 6 at Westdale High School.
That fair is organized by local members of Common Cause, an anarchist organization that seeks to promote "social transformation" through working class struggle against oppression. Organizers describe it as "open to the public and family-friendly, featuring free child care and a kid's workshop."
According to their website, they "actively oppose all manifestations of oppression such as racism, sexism, [religious] sectarianism and homophobia". Its methods entail raising consciousness of oppression by taking part in revolutionary organizing and mass actions.
After discovering that their organization had been identified as a potential source of hate/bias related crimes, Common Cause stated in a press release that they are "deeply disturbed" by the report. Ontario Treasurer Alex Diceanu is quoted stating:
This is a manipulation of hate crime laws to criminalize activism. At this time of economic and environmental crisis, alongside increasing political disengagement, activism and educational events such as the book fair should be encouraged, not chilled with surveillance.
Activism Not a Crime
Raise the Hammer contacted Hamilton Police for a statement but did not receive any response. However, Acting Sergeant Michael Goch, who wrote the report, told Hamilton Mountain News that last year's Anarchist Bookfair, which drew 300 people, was not associated with any incidents - of hate/bias related crimes or otherwise.
He added, "I'm not saying all anarchists have issues. They seem to have quite a few good causes, but I think we get involved with it if it does involve violence and criminal acts."
He acknowledged that he should perhaps have written the report to clarify that "Protesting is not a crime," and that the police do not need to get involved except "when there's incidents of violence and community issues."
What Sgt Goch did not make clear is why the Anarchist Bookfair event warrants mentioning in the hate crimes report at all. Like the other events the report identifies, it is not so much a potential source of hate crimes as it is a potential source of political activism.
Unfortunately, political activists have not always had reason to feel confident that the police will respect their right to nonviolent protest. Consider, as a recent example, the violent "protestors" at the 2007 Summit of the Americas in Montebello, Quebec who turned out to be undercover police agents provocateurs.
Activists with the Communications, Energy and Paperworkers (CEP) Union released video footage of agents provocateurs clearly trying without success to incite a riot among the peaceful protestors.
I'm not suggesting that the Hamilton Police plan to do the same thing with the Anarchist Bookfair. What concerns me is that the same tendency to assume a short step from activism to criminality seems to be on display here.
Post a Comment
You must be logged in to comment.