GO Train an Awesome Sight Throughout Corktown
By Sean Burak
Published March 02, 2009
Since Today is the first day for the new train out of Hamilton, GO has begun to use the overnight storage yard. The trains were sitting there all weekend - an awesome sight throughout Corktown.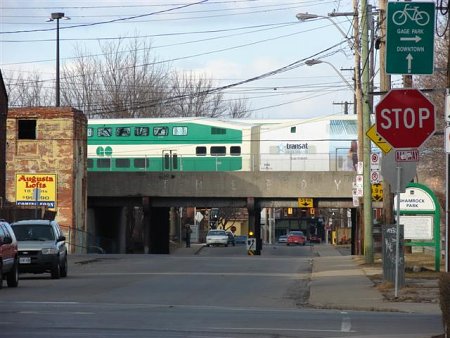 New GO Train overlooks the city (Image Credit: Sean Burak)
Full kudos to Councillor Bob Bratina (Ward 2) for spearheading this initiative. When I first moved to Corktown, he told me, "Mark my words, if I have my way you'll see go trains parked atop the bridge over our street".
It took a couple of years but here we are. I believe he was the biggest proponent for this on council, and as a member of the GO board was able to help make the case for this.
With the announced improvements at the high level bridge, I hope this will just be the beginning for GO expansion here.
I know I'm gushing a bit here, and for now it's "only" one new train but the sight of the trains above all of the north-south streets downtown brought a whole new feel to the city for me this weekend.
Post a Comment
You must be logged in to comment.