Elevated Walkways an Admission of Failure
By Ryan McGreal
Published February 04, 2009
Today's Spectator editorial raises some valid concerns about our councillors' recent enthusiasm for a proposed $2 million glass foyer on City Hall, even if it does misattribute the architect (Stanley Roscoe) who designed the building.
But amid the suggestion that the money would be better spent fixing up the space around the building, the editors coughed up this idea:
At some point in the future, it could even by linked by a pedestrian bridge with Commonwealth Square, the south side of the Art Galley of Hamilton and Hamilton Place.
How does this utterly failed idea in urban design still draw breath? When are our civic leaders going to learn the basic principle that city life does not occur in rarefied spaces elevated above the street? It takes place, if at all, on street level?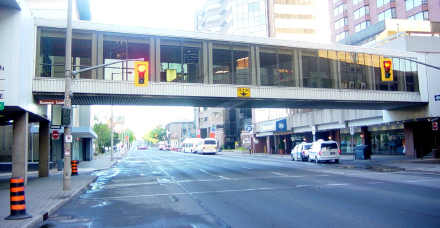 Elevated walkways: not a solution for unfriendly streets but an admission of failure (RTH file photo)
Any attempt to make the public space in front of City Hall less appalling needs to start with converting Main Street to two-way traffic. As long as it continues to function as an urban expressway, it will never be pleasant to walk or congregate near it.
Again, the answer is not to escape the street on an elevated walkway, but rather to reclaim the street for human use.
Post a Comment
You must be logged in to comment.