Fringe Festival Review: Because I Can
By Ryan McGreal
Published August 21, 2008
Written by Allison McWood and directed by James Henderson, Because I Can is a screwball comedy that parlays a simple premise into a lively hour of very funny entertainment.
Karina Berschteyn plays the lovely, innocent Shylie, an archetypal smalltown girl in the city. Referred by her doctor for a plantar wart, Shylie ends up in the care of the deranged, moody podiatrist Dr. Mendax (Randolph J. Johnston), who gives her six months to live.
Mendax roars, grimaces, leers and ogles his way through an energetic (if sometimes overwrought) performance.
He is aided and, indeed, worshiped by his assistant, Nurse Floyd (Douglas Morton), who gets some of the biggest laughs as he struggles to assert his masculinity - to himself as much as to the other characters.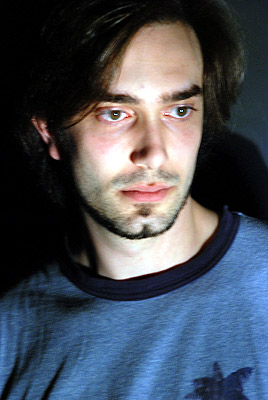 Jeff Ulrich plays Bogdan (Image Credit: Fringe Festival Promotional Photo)
The heart of the play is Bogdan (Jeff Ulrich), the intense, frustrated custodian who keeps miscommunicating with the other characters through piecemeal snatches of phrasebook English and aggravated bursts of fluid Romanian.
This failure owes as much to the others' blithe preconceptions about an immigrant janitor as it does to his own limitations.
With his furrowed brow, stilted movements and world-weary exasperation, Bogdan struggles to reveal the mystery surrounding Dr. Mendax and his office, but he lacks the key to share his discoveries with the others.
The ending will surprise few viewers, but the journey, leavened with excellent timing, laugh-out-loud dialogue, smart physical comedy and some squirmingly uncomfortable exchanges, is definitely worth attending.
Because I Can will play at the Hamilton Fringe Festival until Saturday, August 23.
Post a Comment
You must be logged in to comment.