HGA?
By Ryan McGreal
Published May 24, 2005
So the new Art Gallery of Hamilton will finally be unveiled to he public this Thursday. The golden walls may be more mustard than gold as such, but the new collection is breathtaking and the overall design admits for the first time in decades that the Gallery actually has surroundings.
Drive down King St. West past James and you see the huge AGH sign looming above the elevated walkway no one uses. So far, so good.
Now try walking up King St. West from Bay St. toward the Gallery.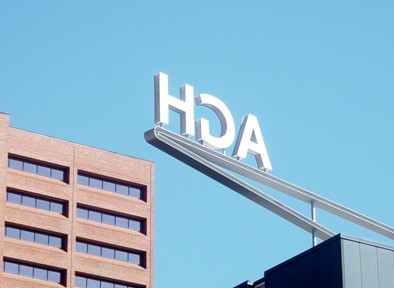 AGH sign from the point of view of someone not in a car
The car so dominates all thoughts of urban design that architects and planners seem to have completely forgotten there are other ways of getting around. The Art Gallery of all places should be designed with pedestrians in mind. It's supposed to be an anchor that draws people downtown and gets them onto the streets. Presumably, that's why the architects decided to move the entrance from the dungeon of Summer's Lane onto King Street in the first place.
That people who are dedicated professionally to spatial thinking - looking at a design in three dimensions and placing it in a larger context - could get it so wrong on such a basic matter demonstrates just how pathological our car dependence has become.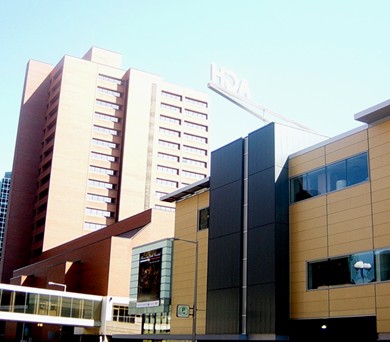 The sign as seen from the sidewalk in front of the Stelco Tower
One last thing: even though the city is dragging its heels, Hamilton has already committed to making King St. two-way eventually. Maybe the prospect of having actual cars rather than mere citizens approach from the west will be enough to highlight just how ridiculous this sign is.
Post a Comment
You must be logged in to comment.