Review: 'Islands Disappear' by Said the Whale
I defy anyone to listen to it and not come away feeling refreshed and even inspired by Said the Whale's youthful charm, optimism and energy.
By Ryan McGreal
Published October 08, 2009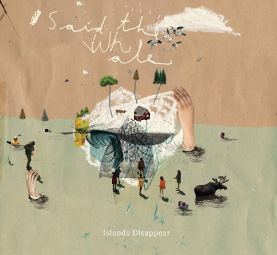 The creation of singer-guitarists Ben Worcester and Tyler Bancroft, Vancouver's Said the Whale released a four-song EP, Taking Abalonia in 2007. They gradually expanded into a five-piece - Peter Carruthers on bass, Jaycelyn Brown on keyboards, Spencer Schoening on drums - and grew their EP into a 15-track full-length album under the heading Howe Sounds/Taking Abalonia in June, 2008.
Where their first album served as a love-letter to the West Coast, Said the Whale's new album, Islands Disappear, branches out into a beautiful road trip across Canada composed of musical stories, character sketches and settings collected during the band's cross-country tours in support of their earlier material.
Co-producer Howard Redekopp, sharing production work with Tom Dobrzanski, is known for the crisp, melodic indie sound exemplified by fellow Vancouver indie band The New Pornographers, whose long musical shadow can't help but stretch across this new collection of shimmering pop songs rich in warm harmonies and smart lyrics.
(For more of Redekopp's production work, check out Vancouver's Mother Mother and You Say Party! We Say Die!.)
Worcester and Bancroft do an excellent job sharing the vocalist role; but the impossibly full backup vocals work as an equal musical partner. It's a testament to the album's production values that a five-piece can harmonize and come off sounding like The Polyphonic Spree.
The opening and closing tracks - "Dear Elkhorn" and "Holly, ON" - form musical and thematic bookends to the album, sharing the same chord progression, albeit with a melancholy piano-driven beat in the former and a folky guitar melody in the latter. Holly could be the band itself, "far from home / First time on the road."
Released this past summer on a teaser EP, "Camilo (The Magician)" is beefy power pop at its most upbeat. Following track "Emerald Lake, AB" starts restrained but blooms rapidly over its three minute running time into a full-spectrum exclamation.
In "Out on the Shield", the exuberant melody and rich harmonies mask a desperate small-town ennui worthy of Tracy Chapman's "Fast Car":
I promise, honey, that when we get paid
we'll pack our things and we'll move away
A thousand miles from this frozen lake
Find a place where we both can stay
We'll find a city with a million people
Find an apartment where the rent is real low
Disappear and no one will notice
How about it, Darling? We could both live downtown.
But unlike Chapman's lament to being stuck in Anywhere, USA, "Out on the Shield" places the listener in the specific trap of a failing mining town:
We never meant to stay here
We were here for the gold, here for the gold, here for the gold
We never meant to stay here
But we're just dumb animals with our paws in the hole, grasping hold
The self-deprecating, lovelorn "Gentleman" charmingly wishes for "a small-town girl to follow me home and teach me how to be a real man."
"The Gift of a Black Heart" shows the band stretching their musical abilities, building layer upon melodic layer of sound around a complex song structure.
Right on its heels is the small, pretty "Goodnight Moon", a delightful homage to the classic bedtime story by Margaret Wise Brown that has lulled millions of children to sleep over the past six decades.
All in all, this album is a delight from bookend to bookend. I defy anyone to listen to it and not come away feeling refreshed and even inspired by Said the Whale's youthful charm, optimism and energy.
You can sample a selection of Said the Whale's music on their MySpace page:
Said the Whale is set to play at The Casbah, 306 King st. W., Hamilton, on Monday, October 12, 2009.
Post a Comment
You must be logged in to comment.