National Post Lobs More Hyperbole Across Manufactured Car/Bicycle Divide
Should the blatant and unapologetic opposition to cycling initiatives in Toronto make us thankful for our own media's apathetic feigned concern?
By Jonathan Dalton
Published September 30, 2009
I was flipping through a discarded copy of the National Post on the ride home from work yesterday. Normally I fall asleep somewhere around Aldershot, but just as I was nodding off, this piece caught my attention.
Entitled "Time to Stop Giving Cyclists a Free Ride", it makes a case for bike licensing as proposed by Toronto Councillor Michael Walker, and then some. The online version is strangely anonymous, while the print edition appears in the Toronto section under columnist Terence Corcoran.
At first I expected the usual moral grandstanding from another law-abiding, gas-tax-paying Toronto driver, frustrated by not only paying the highest insurance rates in North America but also because his fundamental right to mobiliy by single occupancy vehicle through Canada's largest urban centre was being further eroded by recent initiatives to improve cycling infrastructure.
As it turned out, it wasn't that simple:
When car drivers cruise Yonge Street on Saturday night, their metabolisms are more or less flat-lined. They just sit there, burning up little energy personally but paying for the cost of their automobile's carbon footprint via taxes and fees.

Bike riders grinding up the same route burn up a lot more carbohydrates, which their bodies convert into carbon dioxide and exhale, adding to their carbon footprint. The volumes are small, but it all adds up, and bicyclists don't pay.
Wait, this is a joke, right?
Bicycling has gained much of its popularity in recent years because bike riders are free-riding on services and infrastructure that they don't have to pay for. Maybe a licence and tax system would be too costly to administer, but in principle it's the right thing to do.
Or is it?
Paying the full cost of biking is more important than a rules test to get a licence to ride. Many bike rules are dangerous. There's nothing scarier than an amateur bicyclist making a left turn at an intersection across multiple traffic lanes diligently following the rule with one hand steering the handlebar and the other stuck in the air signalling a turn.

Councillor Walker has half an idea. Licensing is a waste without a tax to the social and environmental costs of biking. Would $100 a year do it?
I really can't tell. But it got me to wondering: should the blatant and unapologetic opposition to cycling initiatives in Toronto make us thankful for our own media's apathetic feigned concern?
Is reactionary extremism more or less harmful than pseudo-supportive defeatism to the activist's cause? But I feel that to even begin to formulate an argument would be to miss the point. The point was to lob another hand grenade full of ill-concieved hyperbole across the car/bicycle divide in the media-fabricated 'war on cars.'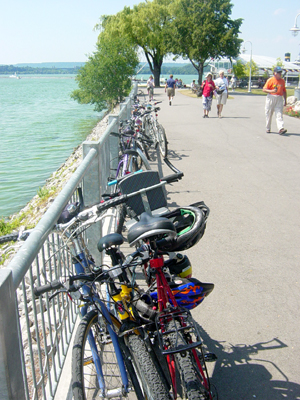 Who will make these miscreants pay for the burden they place on society? (RTH file photo)
But if I were to argue, here is where I would start:
Gas taxes and automobile licensing and registration fees do not cover the full cost of automotive infrastructure.

Cyclists pay for municipally funded cycling infrastracture through property tax.

The cost of cycling infrastructure is negligible in the context of any city's annual roads budget.

Cyclists and motorists are not two mutually exclusive subsets of the general population - thus, it is irrational to suggest that one group pays for the other.
Post a Comment
You must be logged in to comment.