Postcards from Quebec
Quebec is a cool tourist destination for many reasons. Its greatest asset is its abundance of pleasant, unique and modest tourist attractions, all within easy walking distance of each other.
By Ben Bull
Published June 09, 2009
Greetings, Raise The Hammer!
Well, guess where I am today? Oh wait, I sent you a postcard with the name of the place, didn't I? Damn it! Okay, well, I'm in Quebec City. Why Quebec City, you ask? Well, I've been riding out the recession at home (that's right, I'm unemployed again...) but then my wife muttered something about renovating the bathroom so drastic measures were called for and - Voila! Here I am!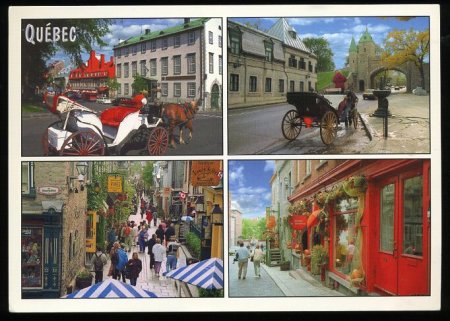 Quebec City - lots of old houses and French people
I brought my two middle kiddies - Jack, 11 and Annie, 9 - with me so they can enjoy some father-and-son / father-and-daughter bonding and miss even more school.
So, now that I'm here, what can I say about Quebec? Well, in a nutshell: This place rocks! Seriously, I've been delaying sending this postcard because I can almost think of nothing bad to say about the place. And, as you know, that's a very awkward situation for me. Still, I'll forge ahead.
Let's start with my preconceptions. I had heard that Quebec was full of French people and, you know, what with me being British this was never much of an advert for the place. Hell, I've pretty much avoided anything French since my High School Mademoiselle insisted on calling me Bunoir. Apparently it's French for "Ben" but that didn't impress my classmates, who felt the pronunciation Bumoir was more apt.
Anyway, preconceptions aside, I have to say that the folks in Quebec City are wonderfully friendly. They don't even roll their eyes when I massacre their language, which I do often - my French is terrible.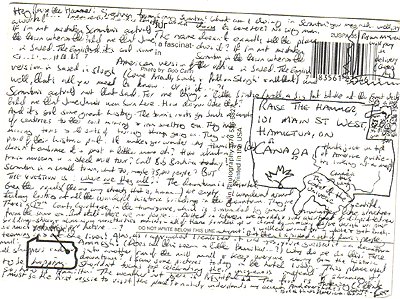 A Postcard from Quebec
According to one of the zillions of pamphlets I've been given, or perhaps it was that intoxicated horse-and-cart guide we hired the other day, Quebec is the only North American walled city north of Mexico. Who would have known? The Old City - the walled-in part - is amazing. Cobble stones streets, four-hundred-year-old houses, and quaint little knickknack stores that sell everything you could possibly never want.
It all reminds me of York - without the obese Americans and the garbage.
Speaking of garbage, guess what: there isn't any. Well, let me correct that; I did spot one piece, propped up against the Presbyterian Church, wrapped in a brown paper bag. It was a wine bottle.
Yes, in Quebec, even the garbage is cool.
I wore my RTH hat, of course, as I strolled around town, and so here are some of my insightful urbanistic observations:
1. Many of the downtown Quebec streets are one-way, but they work! How could that be? I wonder. Well, they are all pretty much one lane and narrow, which helps. The traffic zips along a little too quickly for my liking but Main Street Hamilton this ain't.
2. The pedestrian crossings are configured to stop traffic in all directions. That's right, no rights on red, no left turns into little clots of children - it's all stop for everyone! This means a little longer to wait but when you cross, it is sooo nice. I don't have to look over my shoulder for antsy drivers or herd my kids across like cattle.
3. All Hail The
Ecolobus
! On some transit routes you can hop aboard these cool little battery powered Ecolobuses. And guess what, HSR fans? They're free! They seat about 20 people and look like little
Postman Pat vans
.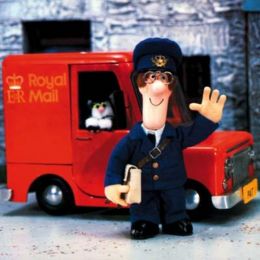 What's in his bag?
They are also very quiet. I've nearly been run over several times.
And finally, 4. There's no graffiti. Well, not much, anyway. The only graffiti I've noticed reads "Québec Libre". I've no idea what that means.
You may be wondering what the hell I've been doing here in Quebec City? Well, I'm all out of postcard for now but hang tight - I'll get to that next time! Right now it is
plus tard
(I'm practicing my French - pretty good, eh?) and time for Bunoir to
aller dormir
!
So until next time, Adios! (Eh, hold on, that's not right...)
Ben
---
Bonjour Raise the Hammer!
Comment-appelle tu?
Well, I'm still here in Old Quebec City. I'm here for three days, in fact, a duration that had me a little worried before I set off because of the two wee ones I have in tow. You know how kids are, they have endless energy. You take them for a three-mile swim and a bike around Centre Island and they want to climb the CN Tower. You scramble after them up Mount Everest and they point to the moon, 'let's go there'.
But as this is Quebec and I have almost nothing bad to say about the place (man, this is sooooo hard), I needn't have worried! Turns out Quebec has a zillion little fun and affordable kid-friendly things to do. It is day two as I write this and I'm already knackered. Et nous seulement avons juste commence ! (OK, is all this French getting annoying for anyone? No worries - I'll keep it up).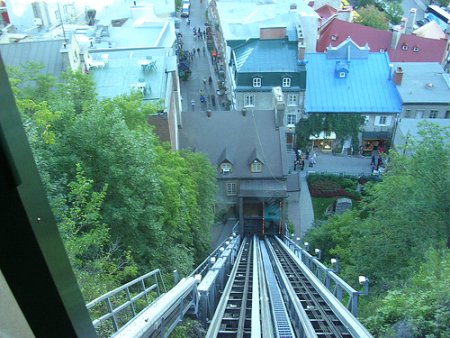 Quebec's Funiculaire - Great views. But at $1.75 the price was bit, ahem - steep
Anyway, in case you don't believe me, I've made up a little chart of all the things we've done, with some ratings and comments from the me and the kids (see sidebar below).
As we trolled around town sampling the touristic treats I started thinking - what's the deal with tourism in the Hammer? Is there any?
There's the Royal Botanical Gardens, I suppose, but isn't that branded as a Burlington destination? Obviously a town like Quebec has huge advantages when it comes to attracting tourists, but isn't tourism all about making the most of what you've got?
Quebec's Funiculaire is a great example of this. It's basically a fancy elevator, but my kids, and most of the grown-ups I rode it up and down with, loved the 30-second trip against the cliff.
And it wasn't cheap either - $1.75 each way. Which brings me to another thing - tourists are stupid! They'll pay anything for the sake of an experience or trying something new. Hamilton should take note!
Well, that's enough for today. I am je suis fatigué (I tell ya, I'm impressing myself now).
So, bon nuit por favor and arrivederci! Uh oh, I screwed it up again didn't I? Bloody foreign languages, I'm reverting to loud English from now on...
GOODBYE RAISE THE HAMMER!
Ben
---
Bonjour Raise Le Hammer!
Well, it's day three here in Quebec and today I fancied chillaxing a bit and lazing around the B&B. I mean seriously, I'm knackered. This place is exhausting. It's like Disney World without the rides and with, erm, a lot more old buildings and French people.
Well, it's not like Disneyworld at all but it's very tiring - you get my point. Of course, Dad wasn't allowed to relax because you know the kids just want to allez, allez, all freaking day.
So instead we went hiking. Our inebriated horse-and-cart guy had suggested we go to the Jacques-Cartier National Park, a 35-minute drive from the Old Town, so that's what we did. And man - what a park!
This is just another great feature of Quebec City - the mountains to the east. I always have the urge, whenever I'm not feeling lazy, to climb a mountain when I see it, so I really wasn't overly fussed about going along with Annie's outward bound idea.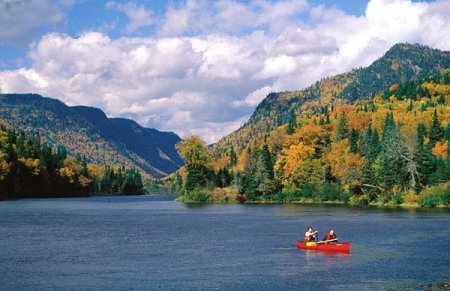 Parc national de la Jacques-Cartier - I've no idea who this Jacques is but his park is amazing.
The Park is a glacial valley. The Jacques-Cartier River meanders down the middle and rolling hills and a stunning green canopy straddle the sides. We did a three kilometre kiddie hike, which was very peaceful, serene and, most important - short. We could have gone biking (there are numerous bike trails) or paddling but Dad finally put his foot down and went to sleep.
When we got back we lazed around in one of the hotel pools - the Hilton, an open air third floor pool with a view of the old city (ah, bliss...) - and all-in-all this seemed like the perfect end to a thoroughly exhausting trip. That was until Annie decided we should walk into town again, around the Plains of Abraham and up the cliff...Ug!
Did I mention that Quebec is very hilly? I mean really very hilly. Hasn't anyone heard of a bulldozer out here? They should bring some Hamilton developers into town - they'd have this place flattened out in no time.
As we strolled along - OK, well, nobody strolls along in Quebec - as we heaved and retched our way up one of the hills, I thought back on some of the sights and experiences of my trip and wondered:
Why is there no garbage? And why have I never seen anyone picking any up?
How come our horse and cart guy was drunk - at 9 o 'clock in the morning?
Why does French graffiti look so much cooler than English graffiti?
How is everything here so cheap? And why is everything so much more expensive in Toronto?
Why do I wave my arms around when I speak French?
What's that sharp pain in my chest? Why am I falling over? Is that a siren? Oh, God, urg, Help!
OK, I have to go now and breathe into this mask. "Je pense qu'il meurt"? What does that mean? Why doesn't anyone understand me? Can't you see I'm waving my hands?
Oh God, ouch - that hurt. Everything's going dark... Ah, sleep at last.
Bon nuit, RTH! À bientàt!
---
Sidebar: Jack and Annie's Quebec Journal - What we did in Quebec
Rating System:
* Non Bon
** Assez Bon
*** Grand
**** Fantastique!
***** Incroyable!

| Attraction | Description | Price | Rating | Comments |
| --- | --- | --- | --- | --- |
| Horse and Buggy Ride | 40-minute horse and buggy tour of Old Quebec | $80 plus tip | *** | A great way to experience the flavour of the old city. Very informative, and a cool experience for the kids. |
| Funiculaire | Glass elevator up and down the cliff. Takes you to the port area, Laval ferry and shopping district. | $1.75 each way | *** | Cool views and "something different". Price is like the cliff - a bit steep - especially if you're heading up and down all day. The guy at the bottom snapped at Annie for putting her hands on the glass. Dtendez mon amis. |
| Laval Ferry | 15 minute ferry ride to Laval side. | Approx. $1.75 each way | *** | Great views of Quebec (the Frontenac, in other words0 from the other side of the St. Lawrence. On the way back an old blind guy played the accordian for tips - only in Quebec. |
| Plains of Abraham / Promenade des Gouverneurs | Sprawling fields and boardwalk at the edge of the cliffs where some sort of battle took place. | Free | **** | We walked along the city walls, past the Citadel, onto the Plains and along the Governors' Promenade, which goes all the way down the cliff. The free telescopes at the top were a big hit, as was the amazing view form the edge. There is so much to do in Quebec for free, and this was a real highlight. |
| Hilton Swimming Pool | Third floor open-air pool with views of the old city. Non-residents need to buy a weekly pass. | $20 for adults and $10 for kids for a weekly pass. That's right: I said $40 for one swim! | *** | Lovely outdoor swim with a froecourt area for viewing the old city. |
| Delta Swimming Pool | Second floor outdoor pool with a view of - not much, really. | Approx. $20 for family of three | ** | Nice heated pool and sauna. No real views. Pool got invaded by unruly teenagers 40 minutes in so we had to leave. I noted that the Delta and Hilton hotels are a bit of a blight on the Quebec skyline. Why do towns build ugly 30-40 storey structures in 10-12 storey neighbourhoods? |
| Parc national de la Jacques-Cartier | National park 35 minutes east of Quebec. Hiking, biking, paddling, camping | $5 for adults, kids are free | **** | What a bonus to have such a park so close to town! Beautiful views and hikes and very reasonably priced. |
| Chez Victor, 145 Rue St-Jean | Healthy burger joint near our B&B | $40 - meal for three | *** | Great food, nice service, kid friendly, healthy veggie food, free candies on the way out! |
| Chateau des tourelles, 212 Rue St-Jean | B&B | $139 plus tax per night for a basement apartment for three. Includes breakfast. | **** | Fantastic basement apartment with kitchen, which allowed me to make some meals and save money. Breakfasts were healthy and delicious, and staff were very friendly. Ten minutes walk from the Old Town - it's definitely a bonus to stay as close to the old town as possible (and preferably inside it). |
| Window shopping and strolling, Old Quebec | | Free | **** | There's not much you need to buy in Quebec's shops. You can easily while away many hours just looking at the old buildings, reading the plaques and searching for garbage (you won't find any). |
| Museum de Civilization | Museum in the Port de Quebec (port area near the base of the cliff) | $11 for adults, kids under 12 are free | **** | We spent a whole morning checking out the alien and Egyptian Mummy exhibits. Great interactive displays. Excellent value. |
| Aquarium | Lots of fish in tanks | $33 for a family of three | ***** | This was the kids' favourite attraction. Free shuttle from the downtown tourist information centre or the Hilton and Delta hotels. Usual assortment of fish, octopuses, valruses, seals, polar bears. Great seal show. Fantastic outdoor picnic area and play areas for kids. Aquarium sits on edge of St. Lawrence - more great views. Shuttle guy told us that admission is subsidized by the feds - very reasonably priced. |
Places we didn't go:
Citadel
Many of the churches in Old Quebec were closed until high season (July 1st - Sept).
Lots of museums the kids weren't that interested in
Whale Watching (a 3 hour drive or expensive cruise trip away)
Frontenac - hotel looks beautiful but I hear it's very pricey. Anyway, why would I want to stay inside somewhere that is so nice to look at from the outside?
Overall impressions:
Quebec is a cool tourist destination for many reasons. Its greatest asset is its abundance of pleasant, unique and modest tourist attractions, all within easy walking distance of each other.
Quebec is an easy place to visit - a pedestrians' paradise! Hamilton should keep this in mind. You don't need to have a huge attraction to bring in the tourists. If you can create `tourist clusters' - concentrated areas of attractions, or dispersed attractions that are efficiently linked - tourists will appreciate that.
Tourism in Quebec is effortless. Unlike say, Cleveland with its Hall of Fame. Once you leave Cleveland's riverside pyramid there is nothing else to do - a wasted opportunity.
So come on Hamilton - get busy!
Post a Comment
You must be logged in to comment.