Word on the Street
Ben Bull serves up a generous helping of local events, rumours, and rumblings.
By Ben Bull
Published May 16, 2005
This month's Word on the Street is brought to you with the generous contributions of our very own Mr. Jason Leach! Yes, that's right, for the past month Mr. Leach has single-handedly pestered an entire population of unsuspecting downtown business owners, city staff and Hamilton Councillors to find out all sorts of interesting facts that were none of his business in the first place.
At least that what he'd have you believe. What do you call all those meetings I went to? Sure, nothing happened, but at least I went. Just 'cos you go to a bloody sandwich shop and find out that they've added brown bread to their menu, all of a sudden that makes you Word on the Street Boy? I don't think so!
OK, that's that straightened out. Hello and welcome once again to Word on the Street! By me, Ben Bull - the Accidental Activist, and not Jason Leach.
Without further ado, here is the down and the dirty, the nitty, the gritty, the good news and the bad, the what's up and the what's going down in our hip hop shit hot happening town!
This months WOTS is packed to the rafters with Hamilton Happenings! Is it just spring in the air or is something really stirring in this town? I'll let you be the judge.
Let's start with everyone's favourite pub crawl - Hess Street! There's lots happening in Hess these days, including:
KOI has now taken over the corner spot of their building that used to be occupied by the Bald Spot. This will become the final piece in the KOI puzzle which now includes 3 full floors of happening vibes and food. The patio will wrap around the outside with ample seating on both Hess and George.

Also, it looks like someone is working on the old Mermaids Lounge space across from KOI. We'll see what happens there in the heart of the village.

Rumour has it that the Roti Hut, formerly at Main and Tisdale, is looking for a new location near Hess Village. Here's hoping they find one - they serve the best Roti anywhere - according to ME (and NOT Jason...even though I've never had Roti...) and would be a welcome addition to the downtown core.

Finally - Rumours abound that both Shoppers Drug Mart and Staples are scouting downtown properties - including some Hess Street sites - for new locations. While we at RTH welcome new investment in the core we DON'T want Hamilton to become Anytown Ontario anytime soon.

Rest assured that we at Raise the Hammer have been poring over the city's new zoning bylaw and the downtown secondary plan and we'll be ready to stand up and be heard if anyone tries to get approval for a tedious big box store in our core. While downtown projects are very welcome, it's time for our city to insist on mixed-use projects with street facing shops, not suburban style parking lots surrounding ugly warehouses. OK Soap box over!
The Lister Block is all over the news these days. We at RTH are delighted that a deal is getting done. Here's hoping LIUNA makes us all proud with their redevelopment of the space, and helps to bring a bit more life back to this part of the downtown. Here's also hoping that this is not the last of the City's downtown investments. More projects like this, and some traffic management around the Gore, would be very welcome next steps - hint hint.
Are we ever ready for a Summer of Celebrations! What, they've all been cancelled? Well not quite. In fact, we have a brand new one coming up this August! Be sure to check out the first ever annual International Bluesfest hosted by the downtown Hamilton BIA. It will be held in Gore Park - check out www.hamilton.ca for more info.
Speaking of festivals, last we heard there was still work being done in preparation for Hamilton's first ever...Wingfest! Wingfest? Where do we get this stuff? I couldn't make it up...watch this space for more info on...Wingfest! (Unless we really are making it up and then we probably won't mention it ever again.)
OK, what's new on the café scene? Well here's a few goings-on I heard about recently from, erm, someone who works here at RTH...
Need two good reasons to visit Infusions on King St? This cool café is adding pita pizzas and pasta to their menu! Take a trip to the south side of King and James and try some today.
The new café at the AGH will be called 1010 Café. It's going to be operated by the same folks who brought us the amazing 1010 Bistro in Westdale. These folks will also be the caterers at the new AGH for weddings and other private events.
Imagine hitting the AGH for a coffee and dessert and sitting outside in the sculpture garden. This is sure to become a great hit - a new oasis in the heart of downtown. Opens May 28.
Three new patios have been approved - KOI, Mahal, and Café Limoncello on Ottawa Street. Also, the city is proposing to begin waiving fees for "patio encroachment charges" - no clue what that means, but having one less arbitrary fee for local establishments to pay is all-round common sense.
Speaking of the AGH, these folks are really starting to take the lead in driving the rebirth of the arts downtown. The latest AGH initiative is a campaign called "Come Play in the Core" - check out http://www.artgalleryofahamilton.com for more details.
James Street South had a wildly successful fashion show last month, emceed by Bob Bratina. The event featured a marketplace of local businesses with door prizes, hair cutting and styling, and great food. This looks like the next great destination for shopping downtown. Check out the latest issue of 'H' for the James Street south tour, and go there today!
On the subject of 'H', April saw the first of many launch parties around town. The unveiling of Dave Kuric's snazzy little mag on April 23 was a great success. Dave got a call the night before to join CBC's "As It Happens" - one of many interviews he held that week. Way to go, Dave - and thanks for the RTH plug! Check out Trevor Shaw in the first issue and get your copy today!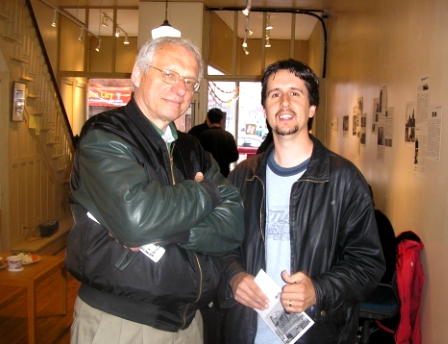 Jason Leach hob-nobbing with Ward II Councillor Bob Bratina at the H launch recently.
While you're at it, pick up a copy of the first ever edition of MayDay magazine! Mayday's launch party was April 30 and featured Matt Jelly's band Squirrel something or other - sorry Matt I lost the e-mail and it's just such a...weird name? MayDay is Hamilton's first ever tabloid newspaper in a long-time and it looks great. Pick it up at the Staircase, downtown art galleries and all the usual cool hangouts.
Don't miss an upcoming launch of the Kensington Art Gallery at the old Macedonian Orthodox Church at 235 Kensington Ave North. This looks like a great space in another part of town that seems to be sparking a revival. Check out Jason Leach's article in this issue of RTH, and visit http://kensingtonartgallery.com for more info.
OK, now let's catch up with the city crews and find out what's getting fixed up in the downtown this summer:
Bay St between King St. and Cannon St. will be reconstructed this year. The tender closed a couple of weeks ago so construction should start soon. Check out the new streetlights along Bay St. next time you are there. Nice to see the City has no plans to go cheap on these important little details. We're told to expect the same sort of thing between King and Cannon Streets.

Ferguson St. between Main St. and Grange St. will also be reconstructed this year. Word is that this will bear the trademarks of the rest of Ferguson - which can only be a good thing.

Finally, King William St. between James St. and Catharine St., and Hughson St. between King St. and Cannon St., are targeted for reconstruction this year. However, the city tells us they have not yet received confirmation from the Public Works Department on the timing for this. Soon, we hope.
Other City Hall news this month - The city recently heard from a speaker extolling the virtues of saving energy. Looks like they are getting ready for a big energy reduction plan at the hall.
A plan is in the works for the City to buy Robert Land School in the downtown and turn it into a community centre and housing. RTH took a look over the plan and it looks amazing. An excellent project - here's hoping it goes ahead.
The rumour is that the City is planning on promoting the Hammer as "The City of Waterfalls"! Methinks Jason Leach did suggest that in the Spec's One Big Idea series recently (me also think that Jason did steal it from Vision 2020 but I would never say that to his face).
Anyway, a quick visit to the city's website would seem to confirm that this is true. Check out their home page http://www.city.hamilton.on.ca and see if you can spot the subtle subliminal images.
·
Restaurants, renovations, Grand Openings! Here's another smattering of downtown goings on that I could be bothered to categorize:
A Raise the Hammer exclusive! Work is expected to begin in July on the old Century Theatre on Mary Street. Apparently it's being converted into 60 loft apartments. More Lofts! What is this, Toronto? Whatever - Bring on the downtown housing! It's all good.

A new jazz club is opening at Aberdeen and Dundurn. It will be called "7 Windows". The owner is Ronn Mattai who brought us the amazing Junction Café and Lounge on King William. No, don't worry, the Junction isn't going anywhere. But the sweet sounds of jazz will be coming to the southwestern edge of downtown.

Jason wanted me to tell you about Room Forty One on King William. Apparently Jason and his wife went on a "long-overdue date" recently Jason says, "good riddance, La Costa! Welcome Room Forty One!" It was the "best meal we've ever had. No exaggeration."
Finally let's end with some hardcore activism! Yes, you've guessed it - more meetings!
The Hamilton Civic Coalition had the first meeting of their Downtown Revitalization Sub-committee last month. It was well attended and featured some illustrious names including Spec columnists and even the Chair of the Port Authority. RTH was also represented and we can tell you that this group looks to be very promising indeed. First order of business is to get the traffic around Gore sorted out - starting with the buses on the south leg of King. We'll keep you posted.
Another grassroots group of Downtown advocates has decided to organize an Ideas Conference to try and get Hamiltonians brightest minds together to keep the good ideas flowing. Tentative date is October 15. Look out for more details on this in upcoming issues.
The grassroots group working to get a better quality of Councillor elected in the next election met two weeks back and came up with - a name! They will be called the "Community Action Network" (as in CAN - being positive and all that) and are actively recruiting in a neighbourhood near you! Please look out for them and join in if you can. We all need to work together to get a decent level of representation at City Hall.
And now two little items to end this months WOTS. Firstly, the following was overheard at a recent activist meeting:
"Out of 37 City Managers that worked at City Hall before amalgamation - only THREE remain." Scared yet? OK, if that doesn't alarm you, how about this. The recent battle to turn the downtown streets back to two-way started not this year, not last...but back in 1991! Yes, in 1991 a two-way streets committee was set up to lobby the city for the reintroduction of two-way streets downtown. It goes without saying how well the council listened.
Our citiy's revitalization progress is impressive, and exciting. But we at RTH believe that none of us can afford to forget the sheer size of the task ahead of us. There are many obstacles to overcome if we are going to be the beautiful, clean, thriving, kick-ass city that we know we can be. So please - keep reading RTH, support all the other activist, artistic and alternative media groups out there, and continue to do what you can to make Hamilton a wonderful place to live!
Long Live the Hammer! And thanks very much to Mr. Jason Leach for his incidental and sometimes interesting contributions to this edition of WOTS. Here's to more abusive commentary next month. Who shall I pick on then? How about Mr. McGreal? Did you hear about the time he skipped out on the bill? It's outrageous! Tune in next month, folks, when I promise to tell all! (And what I can't remember I'll just make up...)
Post a Comment
You must be logged in to comment.