City Hall Rally Draws 150 Supporters
A rally on Saturday to maintain City Hall's heritage value has launched a citizen campaign to sponsor the added cost of using limestone instead of concrete for the building's facade.
By Ryan McGreal
Published November 26, 2008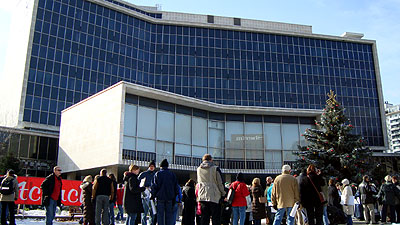 Supporters met in the sunny lee of City Hall, sheltered from the cold wind
Some 150 people braved the Baltic cold on Saturday to attend a rally and wave "Save Our Hall" posters in defence of Hamilton's City Hall, the beleagured International Style masterpiece of architect Stanley Roscoe.
Organized by Mary Louise Pigott, Dave Kuruc, and Graham Crawford, the rally was an expression of support for City Hall's status as an internationally renowned Modernist heritage building and an important civic icon in light of Council's decision to replace the marble exterior with precast concrete.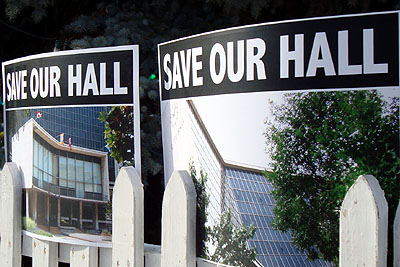 'Save Our Hall' posters: cheaper than a chunk of marble
The rally featured a speech by Joan Roscoe, the wife of Stanley Roscoe (who is in ill health and was not able to attend). She gave a moving defence of the spirit in which Stanley designed the building and expressed dismay that none of the politicians responsible for the building's renovation plans have made any attempt to consult with him.
She also reiterated his warning, given back in 1960 when the building was constructed, that the city needed to invest in regular maintenance or else the building would require expensive repairs later. Unfortunately, over nearly five decades of use, successive City Councils have taken the politically expedient path of deferring maintenance to the extent that it now requires $70 million in rehabilitation costs.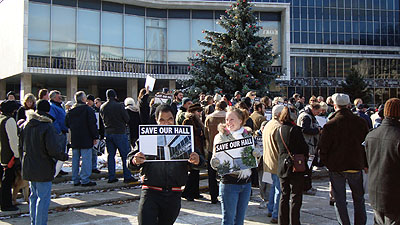 150 enthusiastic supporters attended the rally
Council voted in 2005 to designate City Hall as a municipal heritage building, citing the marble exterior as an important heritage feature (among many others). That marble cladding is in poor condition after decades of neglect, and City Council voted recently to replace it with cheaper precast concrete.
The decision has been highly controversial, with supporters arguing that Hamilton is not a wealthy city and cannot afford the much more expensive replacement marble cladding or even the less expensive but still architecturally consistent limestone.
Heritage advocates and architects opposing the decision argue that concrete violates the building's heritage designation (Council had to grant itself permission to violate its own heritage law), ages very poorly, and communicates the message that Hamilton doesn't take itself very seriously.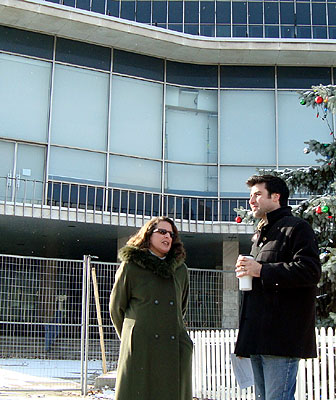 Mary Louise Pigott and Dave Kuruc
Mary Louise Pigott, the granddaughter of Pigott Construction's J. M. Pigott, chastised the city for failing to learn from the experience of the old City Hall, which was demolished after decades of neglect. She pointed out that concrete needs ongoing maintenance "to keep it from becoming stained and shabby" after a few years, and pointed to the city's abysmal track record on building maintenance.
Classical building materials age gracefully, taking on an elegant patina of endurance. Think of the verdigris on a copper roof, or hardwood furniture worn to a dark shine from decades of use. They actually improve aesthetically with age.
Concrete and aluminum, by contrast, quickly start to look stained and dilapidated from exposure to the elements. They require frequent power washing to retain even the minimal beauty they possess when still new.
Unfortunately, the City has an embarrassing record of neglecting to maintain its own properties, which is why the City Hall marble is in such bad shape to begin with. Across the street, the stained and streaked concrete of Hamilton Place is a painful warning of what lies in store for the planned City Hall facade.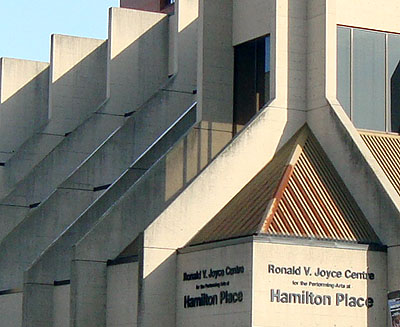 The concrete on Hamilton Place is stained and discoloured
Pigott also spoke about the dangers of falling prey to the false economy of cut-rate materials and short-term expediency:
When some of our leaders declare that "we are not a wealthy municipality", or that our "untrained eyes" can't tell the difference [between concrete and limestone], they are telling us that we don't deserve better. ... If we make an irreversible decision now, based on this supposed lack of wealth, it will become a self-fulfilling prophecy. Will talented, creative people want to bring their gifts to this city when they see how we treat the gifts that we already have?
Mayor Eisenberger took up this theme as well, recommending a limestone facade instead of concrete, which will cost an additional $2.9 million. Limestone is slightly more expensive but is longer-lasting, will age more gracefully than concrete, and as a natural ornamental stone is consistent with the building's heritage value.
Eisenberger, who originally advocated demolishing and rebuilding City Hall, now says, "If we're going to renovate this building, let's make sure we look after the heritage and put limestone on the building, which I think is the right way to go."

Mayor Eisenberger confers with Dave Kuruc
Councillor Brian McHattie pointed out that while political leadership ought to come from Council, sometimes Council doesn't take the lead and that leadership needs to come from the community. Since Council is unwilling to spend the extra money to upgrade precast concrete to limestone, McHattie is soliciting pledges from residents to help raise money. You can sponsor a square foot of limestone for $65. You can send your pledge to Councillor McHattie by email or phone:
So far, supporters have already pledged over $38,000. McHattie says of the pledges, "I am impressed by the quick response. Hamiltonians have proved they have a lot of civic pride." If you haven't already, please consider adding your pledge.
At the same time, Mayor Eisenberger is reaching out to "major benefactors in the community, who may come forward with some resources and some dollars" to support the effort. Eisenberger also drew attention to the forecourt, the renovation of which is also not funded. He said the court "needs to have a 'wow factor' that says: We are proud of our city. We are proud of our major civic institution, we hold it in high regard, and we want to let the entire province and Canada know that Hamilton has enormous civic pride."
Post a Comment
You must be logged in to comment.