City Hall Photo Tour
Hamilton City Hall is a national landmark. Let's preserve it properly while we have the chance.
By Jason Leach
Published November 26, 2008
Back in 2005, I was lucky enough to attend a guided tour of City Hall with Stanley Roscoe, the architect who designed it, as part of Doors Open Hamilton.
These photos have sat on my computer ever since, and with the rapid downward spiral of events surrounding the renovation of the hall I decided to pull them out of hiding to share with you.
Roscoe had a grand vision when he built this place. Solid materials were used both inside and out. Beautiful woodwork abounds, along with gleaming stainless steel that looks as new today as it did in 1960. Each floor of city hall has a different theme in the tilework and different colours. Retro, stainless steel clocks abound.
And the bathrooms - wow, the bathrooms. They're masterpieces.
One of the more intriguing points made by Roscoe was that he hired an artist to work with him in designing the building. The results are visible both inside and out: beautiful murals, wonderful Italian tile mosaics and wonderful detail to design not seen in many buildings.
Finally, Roscoe saw the future quite clearly when he designed our Hall. He included foundations and pillars on the south side of the hall for a future eight-storey addition that would turn the V-shaped building into a Y. He foresaw the growth of our city and future need for more office space.
With City Council currently facing major decisions regarding the fate of this building, I encourage you to go for a walk, not drive, around City Hall. It can only be truly appreciated from every angle, on foot. Zipping past on Main Street it can actually seem somewhat boring. That is simply not the case when the building is observed on all sides with time to gaze.
Let's hope that a proper urban space can be created around city hall so future generations will grow up playing, skating, singing and dining in the shadow of this marvelous building. Perhaps then a sense of appreciation will be fostered for this building that clearly hasn't been fostered by an unfriendly pedestrian realm and speeding highway out front.
Hamilton City Hall is a national landmark. Let's preserve it properly while we have the chance.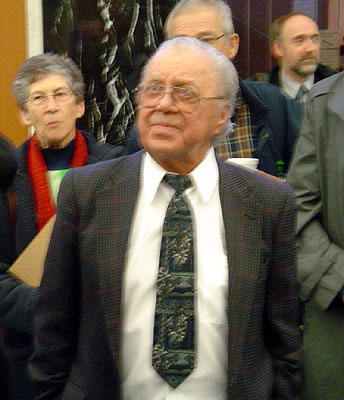 Stanley Roscoe, the architect who designed City Hall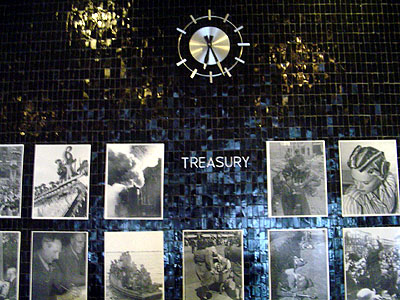 Treasury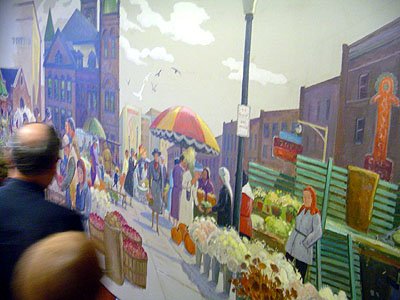 Old City Hall, Hamilton Farmers Market mural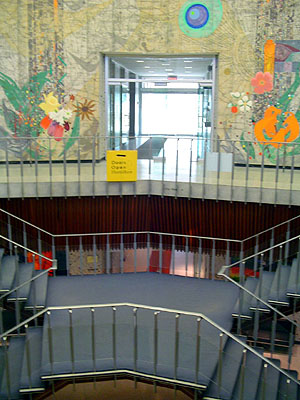 Floating staircase, mural, stainless steel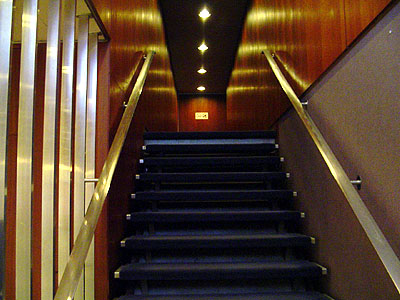 Stairway to Heaven?? Well, actually Council chambers. Stainless steel and beautiful wood.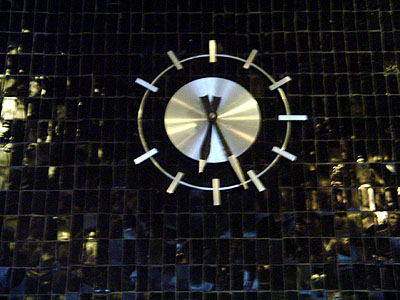 Art Deco beauty. If they destroy this place, I want first dibs on one of these clocks!

More proof that Stanley worked closely with his artist in the design. Italian mosaic tiles.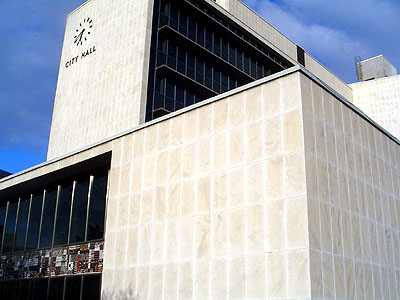 Nobody will notice concrete from this view....sigh.

Wonderful context with the AGH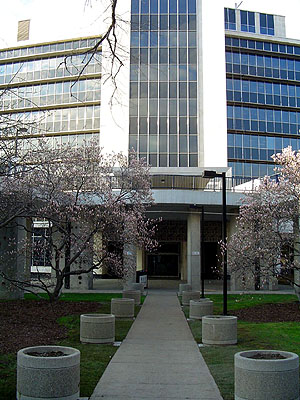 My favourite side of City Hall. Stunning.
Post a Comment
You must be logged in to comment.