Downtown Update
There's plenty going on in business, politics and advocacy across the city.
By RTH Staff
Published October 02, 2008
Council Caves on Concrete, Leaders Loath to LEED
Talk about pound-foolish: City Council has worked overtime to, er, cement Hamilton's reputation as a cartoon outpost run by a gaggle of bickering adolescents in the ongoing debacle that is the City Hall renovation.
First the City Hall Renovation Committee decided to save a million dollars by replacing the designated heritage building's iconic marble cladding with limestone. Not too bad, given that the original plan called for limestone, but still a step down from the more elegant marble.
Then they realized they could save another two and a half million by using prefabricated concrete cladding instead. They also decided to replace the stainless steel trim with (wait for it) aluminum. Why stop there? They could probably save even more money with corrugated metal and/or vinyl siding.
Asked to defend the decision, committee chair Lloyd Ferguson explained, "We're not a wealthy municipality. We can't afford these luxuries."
Since City Hall is a designated heritage building, the city needs a permit to replace its heritage elements. The Local Architectural Conservation Advisory Committee voted unanimously to deny the permit, but Council can ignore the heritage committee's decision. The recommendation will go to the planning committee on October 7.
At the same time, councillors are also cutting costs by jettisoning a recommendation to add a "green roof" and to seek Leadership in Energy and Environmental Design (LEED) certification - at the same time that the Emergency and Community Services Committee was asking council to study mandating green roofs on all new buildings and to offer incentives to put them on existing buildings.
A staff report called "LEEDing The Way" argued that certification produces "a number of private and public benefits, including less energy consumption, less potable water use, less solid waste, healthier indoor environments and less overall environmental impact." Following a LEED standard "is increasingly seen as good business and good for the community as a whole."
The Public Works Committee voted against the green roof and LEED certification on Monday, September 22 because, as Councillor Ferguson argued, the measures would cost $1.7 million.
On September 26, Council voted against the LEED certification but agreed to take another look at putting a green roof on part of the building.
Mayor Fred Eisenberger tried to no avail to argue that leaders should demonstrate leadership, saying, "Some things we have to do because it's the right thing to do and shows leadership. The benefit of having a demonstration that we are as committed to this process as we can be is priceless."
Instead, Council seems set on a "Do as I say, not as I do" stance toward both heritage requirements and sustainability. The October 7 Planning Meeting is a last chance to change their minds on this.
LIHN on Me
When Hamilton Health Sciences developed and promoted a new plan to convert McMaster University to a pediatric-only ER and intensive care unit without any public consultation, opposition came fast and hard. The Hamilton Spectator's letters to the editor page lit up and councillors demanded an explanation. At a September board of health committee meeting, representatives from HHS showed up not to hear and address councillor concerns but rather to defend the plan against challenge. That is, it amounted to apologetics, not outreach.
Yet HHS President and CEO Glen Murray had the audacity to claim, "we certainly want to have the community as partners in making sure" the plan goes ahead.
The issue moved next to the Hamilton-Niagara-Haldimand Local Health Integration Network (LHIN), an appointed body that is supposed to "plan, integrate and fund local health care". The LHIN sees its role as "work[ing] with its communities to enhance accessible and acceptable services as close to home as possible. The LHIN plans, integrates, and funds services based on community needs."
Yet none of that was on display during the September 29, 2008 meeting. It had the option to delay a decision for 60 days to solicit more information, but decided instead to approve the plan right away, outraging city councillors and some local MPPs. Rather than subjecting the plan to tough scrutiny, they essentially rubberstamped it. According to Spectator columnist Andrew Dreschel in a searing October 1 column, the vice chair actually indicated that he supported the plan based on the opinions of his golfing friends.
The LHIN board's decision was unanimous, but only because the sole board member who opposed it, Stephen Birch, could not vote as his position as a health economics and policy professor at McMaster University put him in a conflict of interest. He later resigned in protest against what he calls a lack of empirical evidence to support the plan.
Cycling Master Plan Gears Up
In 1999, the city adopted "Shifting Gears", an ambitious plan to improve cycling infrastructure in Hamilton. However, a lack of political will left the plan in limbo and most of its initiatives languised until recently.
Last year, the city discovered a new enthusiasm for cycling and hired an alternative transportation project manager, Daryl Bender, to kickstart development of a continuous active transportation network. Early accomplishments included connecting the Waterfront Trail in the east end, adding robust bike lanes on York Blvd between the RBG and Dundurn St. and building a secure bicycle parking facility in the York Blvd Parkade.
Now the city's Public Works Department has launched an initiative to update the city's cycling master plan to improve the city's burgeoning bicycle network further.
Its goal is to encourage healthy, active transportation and to make cycling accessible to all residents and tourists in Hamilton. Toward this end, the city will conduct an environmental assessment (EA) to study best practices and engage residents in public consultations.
The city will issue more details about public information centres in the near future, but in the meantime you can read the city's cycling master plan or send feedback via email: cycling@hamilton.ca.
Gore Revitalization Study
With the buses set to move out of the South Leg of King Street at Gore Park in 2010, this presents a real opportunity to revitalize the Gore. To that end, Public Works staff have launched the Gore Master Plan Study to revitalize Gore Park and its surroundings.
A year ago, Mayor Fred Eisenberger called on the city to re-establish Gore Park as "a popular social gathering place, a hub of retail and commerce," including "closing it off to through traffic and creating a public plaza."
Supporting his initiative is a recent review of the 2001 Downtown Transportation Master Plan, which recommends closing the South Leg of King Street to vehicles to create a pedestrian-friendly environment.
The Gore has a nearly 200 year history as Hamilton's social and geographic centre, and thie study aims to restore the Gore to its former prominence. The city will consult with citizens, businesses and other stakeholders and present a recommendation report to council with the hope that implementation can coincide with moving the buses out.
More Downtown Happenings
A new business quickly moved into the location of the former Infusions Cafe. Al Centro is a family business, featuring homemade pasta, pizza, panini, panzerotti, and so on. They also open at 7:00 AM for breakfast with omelettes, frittatas, and wraps.
The back area, which used to house couches when it was Infusions, now has a massive oven and kitchen area. The owner says they pumped a lot of money into the electrical, water, and other major upgrades. It's definitely worth checking out, and many people are doing so: it was busy at lunch.
Jackson Square continues to lumber along, with a new People's Jewelers getting ready to move in across from Roots.
White Elephant Vintage, an online store for antiques, is opening a bricks-and-mortar boutique on October 10 at 152 James St. N. to coincide with the James North Art Crawl.
The Staircase on Dundurn North is being converted to a new cafe called Tapestry Bistro. More to come as we learn more details on when they plan to open and what they plan to offer, but their menu sampler mentions risotto, organic greens and, er, beer. Make of it what you will.
Council Missed Automatic Rezoning Rule
Last year, council voted to approve a change to the city's comprehensive zoning by-law without noticing that the change automatically rezones school lands to single-family residential if the school closes. The public notice that the city circulated about the change mentioned a "Neighbourhood Institutional (11) Zone" (oh, one of those) but made no reference to the change in rules. Council didn't notice the change either.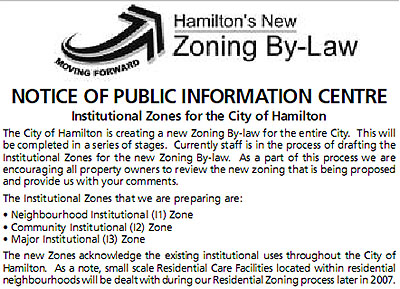 Public Announcement of Zoning By-Law change that automatically rezoned institutional properties to single family residential once closed
In response to a complaint by John Norris about the automatic rezoning of James Macdonald School at a recent planning committee meeting, Councillor Lloyd Ferguson acknowledged, "I read this thing and I don't understand it either and I'm on the planning and economic development committee."
When another closed property, Lawfield School in Ward 7, was also automatically rezoned, it caught the attention of Councillor Scott Duvall, who confirmed with several other councillors that no one knew about the rule. Councillor Brad Clark admitted, "I think everyone on council missed that one."
Duvall and some other councillors intend to revisit the rule.
Kirkendall Walks
Environment Hamilton has launched a pilot project to improve the walkability of Kirkendall neighbourhood in Southwest Hamilton. A public meeting planned for October 2, 2008 at 7:00 PM, Stanley Avenue Baptist Church, 115 Stanley Ave. at Locke St. S. will report on the street-by-street canvas of this neighbourhood, sharing resident concerns from safe street crossings to cycling friendliness. It will also offer Kirkendall residents a chance to meet and discuss how best to resolve these problems and improve the neighbourhood.
Guerilla Gardening at King William Parkette
An intrepid group of "guerilla gardeners" descended on the King William 'parkette' next to Reardon's Deli in late September to plant approximately 200 perennial spring bulbs and make the lot look less like the site of a recently demolished building.
They generated some interest from passersby and even from the Downtown BIA, but everyone was supportive and Reardon's deli next door even offered the gardeners coffee and lunch on the house. Reardon's also offered the use of their taps to water the bulbs.
Affordable Housing and Energy
Ontario Premier Dalton McGuinty recently claimed that his government's ability to make a comprehensive poverty reduction plan will be constrained by the impending economic recession (no idea on why they couldn't make a comprehensive poverty reduction plan when the province was still booming a few years ago...). In the absence of real leadership, non governmental organizations are stepping up to try and empower people living in poverty, including nearly 90,000 Hamiltonians living below Statistics Canada's Low Income Cut-Off (LICO). Here are a few upcoming events.
Hamilton Tenant Education Project is hosting its first annual Tenant Town Hall this Saturday, October 4, 10:00 AM to 2:00 PM at the Central Branch of the Hamilton Public Library. It includes a panel discussion and workshops for tenants on understanding and exercising tenants' rights and dealing with racism and discrimination in rental housing, plus a discussion on how to get tenants' issues on the political agenda. To register, contact Madhavi Reddy at 905-526-9119.
Hamilton's Social Planning and Research Council is hosting "Shovel Ready", a conference on affordable housing opportunities across Ontario on Monday, October 6, 2008 at the Hamilton Convention Centre (1 Summers Lane at Main St. W.) from 8:30 AM to 4:00 PM. The conference will bring business and community stakeholders together to share best practices and discuss challenges. Registration is $25. Contact Dierde Dixon at 905-522-1148x0 for details.
Low Income Energy Network (LIEN) is hosting a free workshop on Wednesday, October 29, 2008, 10:00 AM to 3:00 PM, College Avenue Community Centre, 3325 College Ave., Windsor, on how tenants can conserve energy. Facilitated by the Toronto Environmental Alliance (TEA), the workshop will feature step-by-step guides for tenants, real world examples of energy conservation, and opportunities to network with other tenant advocates. You can register online or by contacting Zeenat Bhanji at 1-866-245-4182x5167 or email bhanjiz@lao.on.ca .
Events
Green Venture's volunteer gardeners are hosting a Fall Harvest Party this Saturday, October 4 from 12:00 PM to 2:00 PM at the EcoHouse, 22 Veevers Dr., Hamilton. Come and enjoy organic produce samples, displays on solar cookers and edible weeds, a recipe swap, community garden tours and more. For more information, contact Sapphire Singh at 905-540-8787 x18 or email garden@greenventure.ca.
This year's annual Spirit of Red Hill lecture will feature Tony Clarke, director of the Polaris Institute and author of the new book, Tar Sands Showdown: Canada and the New Politics of Oil in an Age of Climate Change. The lecture will be on Monday, November 10 at 7:30 PM in First Unitarian Church on Dundurn Street South.
The International Festival of Authors, Canada's biggest literary festival, is coming to Hamilton on October 30 with readings by Helen Humphreys, Donna Morrissey and Sue Sinclair at Gallery on the Bay. Buy tickets at Bryan Prince Bookseller at (905) 528-4508.
To commemorate its 175th anniversary, St. Paul's Presbyterian Church is presenting a lecture by Dr. Peter Richardson, author of the book Canadian Churches, an Architectural History on November 9, 2008 at 7:30 PM in the church, 70 James St. S. There is no charge but they are asking for a donation to help cover the event. RSVP by telephone - 905-522-0171 - or by email - stpaulspresby@on.aibn.com.
---
with files from Citizens at City Hall (CATCH), Jason Leach, Ryan McGreal, and Ted Mitchell
Post a Comment
You must be logged in to comment.