Two Great Willies
Each in his own way, Willie O'Ree and Willie P. Bennett have made indelible stamps on the arenas in which they have passionately lived their lives.
By Kevin Somers
Published March 24, 2008
When Willie O'Ree of the Boston Bruins took to the ice in Montreal on January 18, 1958, he made history as the first black player in the NHL. It's been 50 years and Willie still carries himself with the grace and dignity that make him a role model for everyone, everywhere.
Hockey has been blessed with a lot of great players over the decades. Skilled, smart, selfless, and hardworking guys like Wayne Gretzky, Dave Anderchuck, Jean Beliveau, and Steve Yzerman are emblematic of the sport's goodness. Amongst the greatest to have ever dignified the great game of hockey is Willie O'Ree.
Willie was born in Fredericton in 1935 and still speaks fondly of his childhood. His was one of only two black families in Fredericton, yet O'Ree never experienced racism until he left his hometown as a young man.
An exceptional athlete, Willie was offered a tryout with baseball's Milwaukee Brewers and travelled to southern Georgia in 1956. The segregation and hostility he experienced were unknown and unconscionable to O'Ree and he was glad to be released by the Brewers and return to Fredericton, where he planned to stay.
Punch Implach persuaded Willie to play minor pro hockey for the Quebec Aces, however, and that changed history. In his second season with The Aces, The big bad Boston Bruins spotted O'Ree, a fast skater and skilled playmaker, and brought him up to the big league in 1958 for a game against the mighty Montreal Canadiens. Without fanfare, Willie had made it.
There were only six NHL teams back then, so getting close to the league was a feat, regardless of race. He was in only two games that season, but Willie O'Ree had defied the odds and played in the NHL.
After another season in the minors, Willie worked his way back to the bigs in 1961 and played 43 more games for Boston. In total, O'Ree played 45 NHL games (44 more than Don Cherry), and had four goals and ten assists (14 points more than Don).
Like Mr. Cherry, Willie had a great career in the minors and he continued playing professional hockey until he was 43. O'Ree's achievements are even more remarkable when you consider he was blinded in one eye after getting hit by a puck in junior. Doctors told Willie he was through with sports, but O'Ree kept his handicap to himself and, for 23 more years, played with one good eye, a great mind, and a big heart.
There have the inevitable comparisons between O'Ree and Jackie Robinson, but Willie O'Ree stands in no man's shadow. There was a Negro league and all its fans pushing and pulling for Jackie Robinson, but there wasn't a lot of support for a black hockey player. O'Ree said of the day's headlines, "The big news was that Bruins shut out the Habs 3 - 0 in the Montreal Forum."
Into his 70s, Willie still works tirelessly to promote the game and provide opportunity for disadvantaged children. He is the Director of Youth Development for the NHL/USA Hockey Diversity Task Force, a program that encourages and helps minority kids play hockey.
Willie personally conducts hockey clinics each year to inner-city kids. As well, he speaks at schools and clubs about the importance of perseverance. Youtube hosts a few interviews with Willie O'Ree and he's something to see; Gretzky meets Ghandi.
I imagine everyone who ever knew him or saw him play was sad to hear of the recent passing of Willie P. Bennett.
Willie, a Juno Award winning, internationally acclaimed singer, songwriter, musician, mentor, roadie, driver, friend... was an exceptional performer and he loved to share his gift.
We came to know Willie and his music through Fred Eaglesmith. Willie did a lot solo work, as well, but for much of the past 25 years, Willie sang and played harmonica and mandolin with Fred.
Fred and Willie, along with other band members, toured tirelessly and played constantly (hundreds of shows across North America, Australia, and Europe every year), and it was obvious: watching them together was something to behold. Two talented, creative, hardworking guys, who spent a lot of time together, were capable of awesome performances.
We saw Fred and Willie play countless times and they always went full-on. Although Fred was the front man, Willie never took a note off, either, and his unbridled love of playing music was infectiously evident. Regardless of the venue or size of the crowd, Willie would blow frantically into his harmonica, or sing manically, while pounding his mandolin and stomping the staging.
Fred stays streamlined, and the band are also the roadies, drivers, mechanics, managers, merchandisers, and so on. One highlight of a Fred show was watching Willie come out and make sure everyone's gear was good to go a few minutes before they started.
Like an accomplished gunslinger, Willie wore a belt of harmonicas and was quick and slick on the draw. He could change a string and tune a guitar in the amount of time it took Fred to tell a funny story or joke.
One of the all time greatest stories is Fred describing Willie's cavity search at a border crossing years and years ago. Willie would make (in)appropriately hilarious faces at the precise moments: priceless.
Willie's from Peterborough, but has some Hammer Town connections. He has worked with the Lanoises and recorded at Grant Avenue Studios. Tom Wilson's band's name is an open homage; Blackie and the Rodeo Kings is the name of a Willie P. CD.
There was a memorial service and reception in Peterborough for Willie on Saturday March 8th - the day of the big storm. Despite the weather, fans, family, and friends came from all over to pay their respect.
In one corner of the reception hall were a variety of instruments: guitars, mandolins, fiddles, stand up bass, and spoons. A revolving, evolving jam session went on for hours with as few as two and, at times, 10 or 12 musicians singing and playing.
Willie's friend and former band mate, Washboard Hank kept things lively, as did a couple of seventeen year olds; Sam Gleason and the shockingly talented Jimmy Bowskill.
I never met the man and can't speak his mind, but I think an afternoon of good music and laughter was exactly what Willie would have wanted.
This is a letter and photo that came in from a fan. I think it sums up Willie's essence, nicely.
My sympathies to Willie's family, friends and fans. What a loss to the music world.
This picture has been sitting on my desk for months, it seems weird that Willie is gone. I should have sent it a long time ago.
The picture was taken at a show in Fargo, ND.
The show was great and the kids were mesmerized by Willie and he was so cool with them, he signed their shirts and showed them all the harmonicas on his belt.
Rochelle Cicha
Farley, MO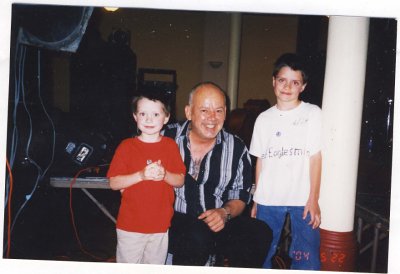 Post a Comment
You must be logged in to comment.