Downtown Update
Good, bad, ugly: Hamilton's got it all, and we love it.
By RTH Staff
Published January 18, 2008
It's Aliiiiiive! (Maybe)
We at RTH hope that the latest effort to finalize a deal between the city and LIUNA over the poor, neglected Lister Block will bear fruit in the form of a restored building. LIUNA has indicated that it's willing to sell the building to the city - after completing the renovations - and that this may turn out to be cheaper than leasing space.
CBC in Hamilton: Update
The effort to bring a CBC radio station to Hamilton is moving slowly but steadily forward. According to Ted Kennedy, Program Director of English CBC Radio:
The Standing Committee for Heritage, who are conducting the CBC mandate review, has not yet tabled their report in the House of Commons. We believe it can be expected in the few weeks after the House begins sitting again in mid-January.
London Tap House Still Progressing
It's been looking as though construction is stopped on the new London Tap House at the corner of Main and John. Not to worry: Scott Rowe, the general manager, assured us that they have "just been working really hard on getting the interior finished up." They hope to have the renovations completed by some time in March.
CityHousing Energy Retrofits
Hamilton's affordable housing provider, CityHousing Hamilton, announced this week in a press release that it is launching a $1.9 million Energy Retrofit Plan to reduce energy and water use in the buildings it manages. The retrofits will include energy audits, boiler replacement, water conservation, energy efficient lighting, new refrigerators, and a solar water heater pilot project.
Future City
This week's Future City Hamilton scenario comes courtesy of your intrepid editor. Check it out. Also, be sure to watch the video commentary by RTH contributor Adrian Duyzer, who is also one of the programmers behind the Future City website.
CUPE Contract Talks Break Down
Contract negotiations between the city and CUPE Local 5167 have broken down as negotiators from the two sides "reached an impasse". The city held a special Committee of the Whole meeting on Thursday afternoon to discuss the situation. No details on what was said yet, but we'll keep our ears close to the ground.
Faster GO Service On the Way
The Ontario government announced that it's buying faster and more fuel efficient engines to operate GO train service out of Hamilton, which should improve service. GO is also looking at opening a second station in downtown Hamilton, and the ever-dangling prospect of restored VIA service is still a possibility.
Ottawa Street Farmers' Market
The Centre Mall Farmers' market will soon move to a new, permanent home on Britannia Ave. between Ottawa St. N. and London St. N. City Council just approved a zoning variance to allow the market on two parking lots that gird Brittania - and the BIA actually supports the loss of 20 parking spaces.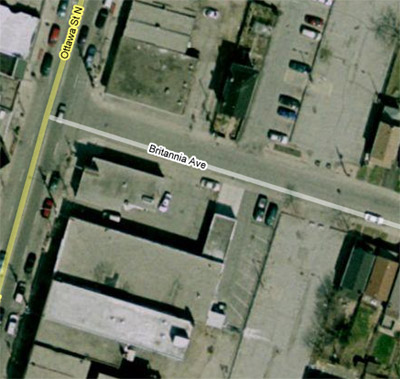 Satellite view of the Farmers' market location (Image Credit: Google Maps)
Heritage Property Standards
In the wake of last week's Lister Block antics, City Council is taking a fresh look at a proposal to penalize property owners who don't maintain heritage buildings. CATCH reports that city staff had recommended establishing "minimum property standards for the maintenance of heritage attributes" in September 2007, but the idea didn't get past the Planning and Economic Development committee.
Last Wednesday, Councillor Brian McHattie moved [PDF] to resuscitate the proposal and seek public consultation. In what is sure to surprise you, Councillors Lloyd Ferguson and Maria Pearson opposed the move. Ferguson objected to the idea of forcing property owners to "fix up properties that they either don't have the ability to do or the desire to do."
Pearson objected to the idea making its way to Council after the Planning Committee defeated it, but the city clerk confirmed that the proposal was appropriate because Council had not previously voted on it.
McHattie's motion passed 12-2.
McMaster Still Trucking
Last September, Council passed a by-law banning trucks from accessing McMaster University via Sterling St. The McMaster Daily News reports that the by-law takes effect on January 31, after which trucks will have to access the school via the centre of campus.
The University is worried that the additional truck traffic will present safety concerns for students walking across campus, and has asked the city to reroute 25 buses a day to stop just off-campus to offset the trucks. The city is considering pushing back the deadline so it will have enough time to re-route the buses.
Summer Jobs
Are you a student and looking for a summer job [PDF] with the city? [Insert obligatory city worker joke here.]
To qualify, you must: be legally entitled to work in Canada, have a Social Insurance Number, and be currently enrolled full time at a high school, college or university program and returning to school in fall, 2008. Resumes are due by February 22.
Summer Gigs
Are you in a band or involved in making a film and interested in playing/showing at Toronto's North by Northeast festival on June 12-15? Visit their website and follow the links under "Do NXNE" to apply. Applications are due by January 31. Seriously, this will be more fun, albeit less lucrative, than picking up trash from the flowerbeds on Main St. West.
Starbucks the Trend
It's confirmed: coffee goliath Starbucks is opening a new location on Locke Street in the former Robert David store at 158 Locke St. S. The general vibe seems to be that this is a positive sign about Locke Street's vitality and will actually benefit the local independent coffee shops.
Creative City Report
Finally, the Hamilton Creative City Initiative, which conducted a survey last year on creative organizations in the city, has published its first report summarizing the responses of the survey participants. RTH will be publishing a more detailed review in the next few days, but here are some highlights:
Most respondents were small businesses with modest profits.
Most of their business interests (clients and employees) were locally based.
The organizations surveyed are collectively responsible for over $60 million in annual revenues.
70% of respondents do not collaborate with other creative organizations.
The respondents are clustered geographically in the downtown, the southwest, and Dundas.
Most respondents said they wanted moreo support in marketing and promoting their organizations.
The HCCI, which is a collaboration of the Imperial Cotton Centre for the Arts, the Centre for Community Study and the Community Centre for Media Arts, is now set to begin phase two of its study, which will "garner a more holistic view of the impact of this sector on Hamilton" by studying creative workers, audiences and consumers in more detail.
Post a Comment
You must be logged in to comment.