Hamilton Light Rail Website Launch
A new organization is forming to promote modern light rail in Hamilton.
By Ryan McGreal
Published November 08, 2007
For some time, Raise the Hammer and other individuals and groups have been pushing for a modern rapid transit system in Hamilton to spur downtown economic development, attract new riders, and improve air quality, among many other benefits.
With the exciting announcement in May of a provincial commitment to help pay the capital costs for two new rapid transit lines in Hamilton, light rail started to look like a serious possibility and not just wishful thinking.
However, the city's transportation strategy, developed before the provincial announcement, is committed to investing in Bus Rapid Transit (BRT), like an enhanced B-Line.
After some preliminary discussion at a Transit Users Group meeting in September, 2007 and a more detailed strategy session in October, we're happy to announce the launch of Hamilton Light Rail, a new organization dedicated to promoting the concept of light rail:
The site's purpose is to organize public support for light rail in Hamilton, with timely information, news, resources, presentations, and other tools for outreach and education.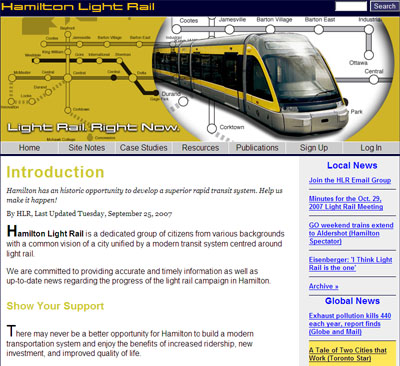 Hamilton Light Rail website
After a discussion about affiliations, the group decided to focus initially on the content and strategy and not get too hung up about organizational formalities.
The two major action items that came out of the October meeting are to create a draft of a presentation we can make to various individuals and groups, and to establish an outreach strategy that we can deploy starting in January.
(You can read the minutes of the October meeting.)
If you're interested in getting involved or just showing your support, you can join Hamilton Light Rail. You can also join the email discussion group via Yahoo! Groups.
The next meeting will be held:
Date: Tuesday, November 20
Time: 7:00 PM - 9:00 PM
Location: FRWY Coffee House
Address: 333 King Street East (at Wellington St. N.) Hamilton, ON L8N 1C1 [see map]
Post a Comment
You must be logged in to comment.