More Than a Feeling: A Boston Travelogue
Boston provides abundant lessons - both hopeful and cautionary - for a revitalizing city like Hamilton.
By Ryan McGreal
Published October 22, 2007
Your intrepid editor recently returned from a family trip (and fact-finding mission) to Boston, Massachusetts. Don't scoff: despite Boston's reputation as one of the most livable cities in North America, I noticed many similarities between Boston and Hamilton that we could cultivate here to make our own city more vibrant and people-friendly.
Introduction
Boston dates back to the 1630 purchase of what is now Boston Common from William Blaxton by Puritan colonists from England. It started out as a peninsula with three hills (the Trimount), but developers in the 18th and 19th centuries excavated the hills to fill in the back bay (an estuary of the Charles River) and increase the city's land area (only Beacon Hill remains partially intact).
All in all, Boston proper is home to six hundred thousand people on 130 square kilometres (50 square miles), for a population density of 4,600 people per square kilometre (12,000 per square mile). Only New York, Chicago and San Francisco in the US are denser. Between its density, its beautiful architecture and its wide sidewalks with shade trees, Boston is tremendously walkable.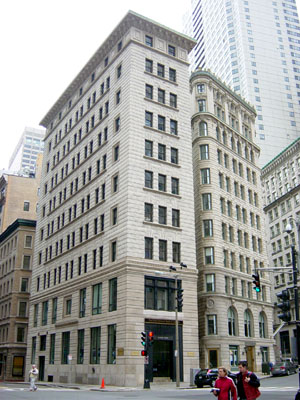 Downtown Buildings
Aside from the small financial district, Boston achieves this vibrant density mainly through rowhouses and three- to five-storey mixed use streetwalls.
Compare Hamilton's urban area, which is 228 square kilometres and has a population of approximately 350,000 people, for a density of 1,530 per square kilometre. So much for the Hamilton-Halton Home Builders Association fearmongering about 140 Century 21 towers.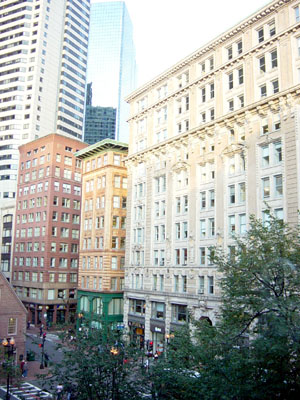 Boston's Financial District
Boston is rich in historical sites, as it was the crucible of the American independence movement and home to the Sons of Liberty. Many of the most significant events in the formation of the USA took place in this small, compact area, from the bar where the conspirators met to drink to the Boston Tea Party in protest against the Stamp Act of 1765.
Many of the buildings that featured prominently in the events leading to the 1776 Declaration of Independence and subsequent war against British governance still stand today, and a robust historical preservation community works hard to maintain the Freedom Trail, a four kilometre (2.5 mile) walk that runs from Boston Common to Paul Revere's house in the North End, connecting historically significant sites along the way.
Historic Neighbourhoods
Throughout the city, architectural styles range from identifiably medieval through Georgian, French Second Empire, Greek Revival, Renaissance Revival, Federal Style, Queen Anne style, Beaux-Arts, and on into the modern and postmodern styles.
The oldest parts of the city - the North End, Financial District and Beacon Hill - predate planning and zoning by centuries. Roads go any which way and intersect at odd angles, and development follows the rise and fall of the land.

A typical corner: streets in old Boston rarely meet at right angles
Beacon Hill, arguably the most famous neighbourhood in the US and commanding some of the country's highest real estate values, is a warren of tall, Federal style rowhouses on narrow cobbled streets with gaslamps that burn around the clock.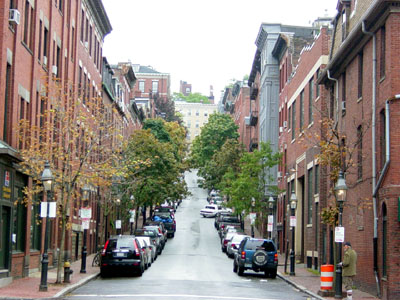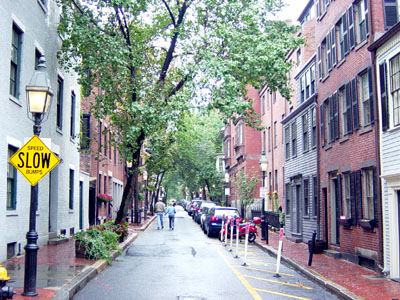 Two Views of Beacon Hill
The North End is the oldest continuously populated neighbourhood in the city. Waves of immigration over the past two centuries have created a multi-layered urban neighbourhood with a rich physical and cultural tapestry, though today's population is predominantly of Italian descent.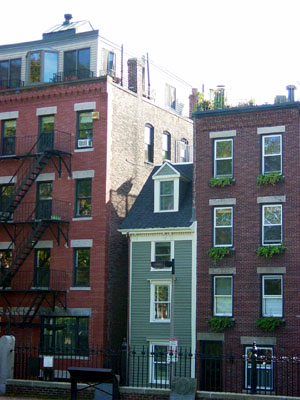 Narrowest house in Boston: 44 Hull St., opposite the Copp's Hill Cemetery in the North End, is just over ten feet wide
The main route through the North End is Hanover Street, dense with restaurants and also a major tourist draw. Tourists who want to avoid going where all the tourists go are advised to try Salem Street instead.
(Aside: We ate at a little Italian restaurant on Salem called Antico Forno. I had the Linguine Con Puttanesca Di Calamari with a glass of red wine - I didn't know it was possible for food to taste this good.)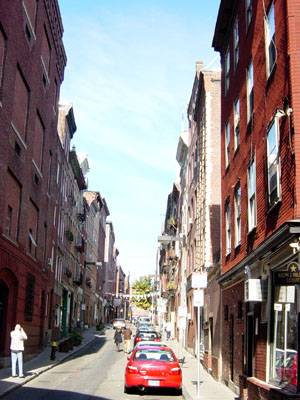 Salem Street in the North End
The Back Bay and South End, by contrast, are flat and platted to a grid, though their development dates to the mid-19th century and is still dense and urban in character. In fact, the Back Bay consciously borrowed from the openness, order and uniformity of Eugene Haussman's Paris, though at a slightly lower density.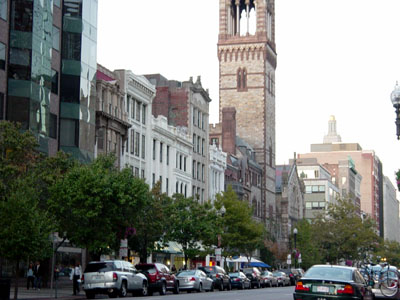 Streetwall across from Copley Square
Today, the Back Bay contains Boston's fashion district, which runs east-west along Newbury and Boylston Streets. It also features the stately Boston Public Library and Trinity Church, possibly the most beautiful church in America.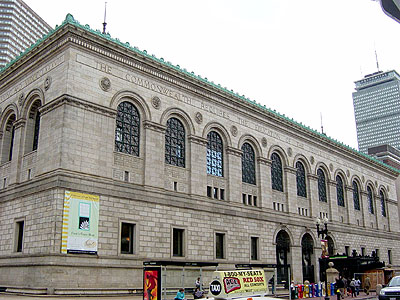 Boston Public Library: 'The Commonwealth Requires the Education of the People as the Safeguard of Order and Liberty'
Boston Transit
A city of American firsts, Boston was also the first to build a subway line. This eventually expanded into the five colour-coded lines and connecting commuter rail lines, all operated by the Massachusetts Bay Transportation Authority (MBTA), which today link the city and its suburbs in a fast, efficient light rail network of subways, streetcars, commuter trains and buses.
Not wanting to use our car in Boston, we found a hotel near a subway station. (For help doing this, combine your search for a hotel with this mashup on thrall.net, which helpfully embeds the MBTA network on a Google Map.)
In a week of using the system regularly, we never had to wait longer than five minutes for a train. It was a tremendous pleasure not having to drive but still enjoying the convenience and sheer mobility of a robust transit network. It was also encouraging to see the subways packed with people at all hours of the day.
The system is aging - parts are a century old - and many stations are in dire need of repairs and upgrades, but with a daily ridership of almost 500,000 on 105 km (65 miles) of track, the MBTA carries a huge proportion of Boston's commuters. The city's famous traffic congestion would be incomparably worse without it.
Note on Transit Integration
Here's an observation that may be germane as Hamilton contemplates building some form of light rail: the lines are at their best when they're most closely integrated with the neighbourhoods they pass through. They're all grade separated, meaning they don't run on the street level. This increases the speed by keeping the transit lines out of automotive traffic, but the disconnect can cause problems if not done properly.
The downtown subway stations integrate nicely with the street level, accessible through terminal entrances in buildings or stand-alone huts (as in the Park Street station on Boston Common). They're easy to find, easy to use, and take up minimal space on the street.
Outside of downtown, many lines run on elevated tracks that bisect their communities and look ugly - especially the ones in disrepair. The elevated lines actually impair their own transit-oriented development potential by degrading the public realm and taking up valuable space. Their principal benefit is integrating with equally ugly highways.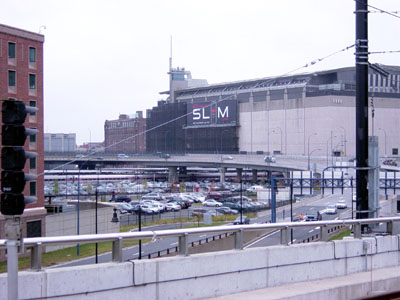 View from an elevated rail station: Boston's many concessions to driving have produced the city's ugliest regions
Brutalist City Hall
Like most cities, Boston went through a period in the 1950s and '60s of embarrassment with its own architectural heritage and desperation to halt, somehow, the steady declines in its industrial base. In response, the Boston Redevelopment Authority (BRA) went on a binge of demolitions and modernist renewal projects.
Among the abominations this self-loathing produced is the Brutalist City Hall, built in 1969 and characterized by raw concrete and merciless jutting angles.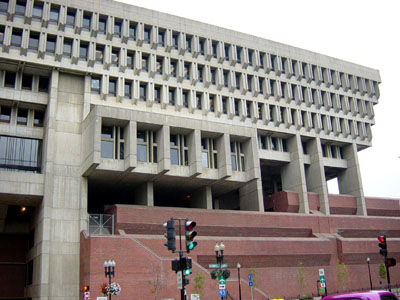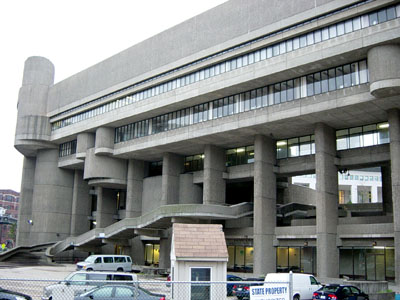 Boston City Hall
In front of the building (or perhaps behind; it's difficult to tell) is a pedestrian plaza that more or less completely fails to provide an attractive public space.
Overshadowed by the hulking City Hall and surrounded by one-way streets, this unsettling expanse of concrete lacks even the small comforts of trees or benches to break up its monotony. It's not clear what, if anything, one might do here, so few people stick around.
Just a block away, the Faneuil Hall/Quincy Market plaza bustles by comparison. It's a kitschy tourist trap, but even so, the pedestrian space is well framed and the buildings are convivial and inviting.
Fortunately, due to the public outcry over additional planned demolitions and proposed beltways as well as the city's crucial role in American independence, the BRA was relatively early to recognize heritage value and embrace restoration, starting with the revitalization of Faneuil Hall and Quincy Market.
Big Dig
No discussion of Boston is complete without mention of the Big Dig, formally titled the Central Artery/Tunnel Project.
Like Toronto's Gardiner Expressway, which cuts the city off from its waterfront, Boston's north-south I-93 once cut that city off from its North End. Starting in 1991, Boston undertook a megaproject to bury the highway and restore the city's street level for public use.
Laudable and ambitious as this goal is, the project ran billions of dollars over budget, took years longer than expected to complete, and has been plagued by substandard work, hundreds of leaks, criminal charges, and a fatal ceiling collapse in 2006.
At $15 billion, it is the most expensive public project in US history (so don't feel so bad about Red Hill) and an example of what can go wrong with public-private partnerships (P3s) that insulate private contractors from transparency and accountability.
Caffeine Fix
It proved surprisingly difficult to get a decent cup of coffee. Downtown Boston is completely overrun with Starbucks. This is okay if you like their coffee; but if you're like me and think it tastes like crap, the monoculture is distressing.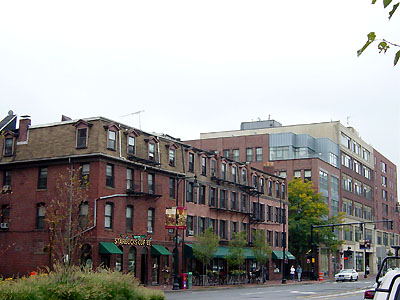 Downtown Boston is overrun with Starbucks
If Starbucks controls the upscale market segment, Dunkin Donuts has cornered the downscale cuppa-joe market in much the same way that Tim Horton's has cornered the market in Hamilton. Again, this presents a problem if you don't like their coffee (I don't).
I'm sure it's possible to find good boutique coffee shops given enough time, but the corporate duopoly that pushes such places to the margins and values consistency above distinction tends to attenuate the very creativity, innovation and entrepreneurship that makes cities exciting places in the first place.
Still, as the following photo demonstrates, the urban spirit is hard to stifle, even in a corporate environment.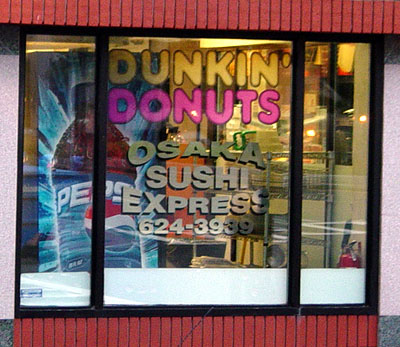 Density and mixed use produce novel combinations: A Dunkin Donuts sells sushi
Conclusion
I spent much of my time in Boston thinking that it looked a lot like Hamilton, only with narrower streets, more tree coverage, fewer empty buildings, and a lot more people. The worst areas of Boston look like the worst areas of Hamilton: those areas given over entirely to the needs of the automobile.
Outside the downtown core, highways snake around the city and wide, multilane streets carve neighbourhoods into pieces. Our hotel was nice, but the area immediately around it had all the charm of a convention centre (across the street from the hotel was a convention centre).
We were fortunate to have a grocery store within walking distance, but the walk itself was a sharp study in contrasts with our experiences walking downtown. We had to trudge down a narrow sidewalk next to a high-speed collector road with a highway embankment on the other side, then cross several wide laneways and finally weave our way through the off-street parking lot in front of the store.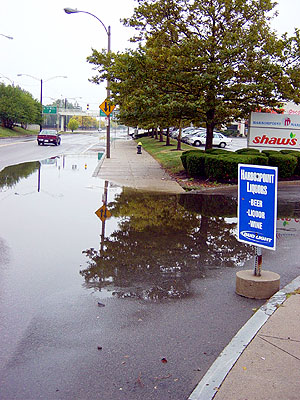 Car-friendly places lose the pedestrian focus necessary for livability
The low priority placed on pedestrian access was evident the one day it rained, when huge standing puddles blocked our path and forced us to dodge out into traffic to avoid getting soaked.
Similarly, on the way in we tried without success to get some dinner in a suburb called Natick. It was a monumental fustercluck of six-lane avenues, gargantuan parking lots, and chain stores and restaurants, surrounded by a congested ring highway and connecting to the I-90.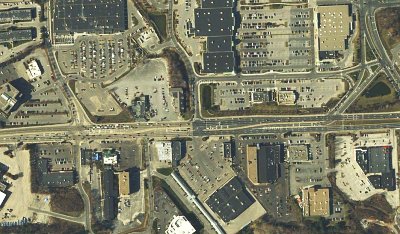 Satellite view of Natick's commercial zone (Image Credit: Google Maps)
With Boston so close by, how could the suburbs have gotten it so wrong?
The trip demonstrated amply that the needs of cars and the needs of pedestrians are in direct conflict. Each city, and each neighbourhood, needs to decide if it wants to cater to the former or the latter. Places that choose the former inevitably end up ugly, dangerous and degraded.
It's no coincidence that places that choose the latter become the most desirable destinations for both tourists and residents.
Post a Comment
You must be logged in to comment.