The West Hamilton Rail Trail
A journey through the Hamilton part of the Brantford - Hamilton rail trail, the one that follows the old TH&B line, but does not officially exist.
By Ted Mitchell
Published June 27, 2007
Maybe you know about the picturesque official trail, touted on sites such as this, this, this, this or this. Nice pictures, nice trail.
But the name is somewhere between a bit optimistic and downright dishonest. When you get to the Wilson Street Bridge, watch out, because just 0.3 kilometers east into West Hamilton, the trail ends abruptly.
This article pictorially explores a journey through the Hamilton part of the Brantford - Hamilton rail trail, the one that follows the old TH&B line, but does not officially exist.
We begin at the Glenside trail through Chedoke Golf course, traveling westbound in search of the official trailhead.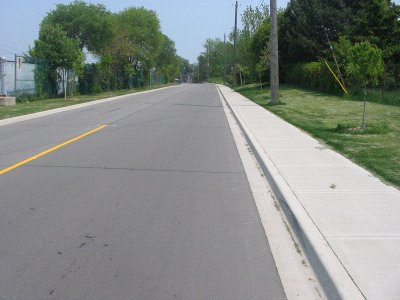 To get to the trail, there are a few entrances to the CPR yard off of Studholme Road (above, recently redesigned as a raceway for cars in typical Hamilton fashion).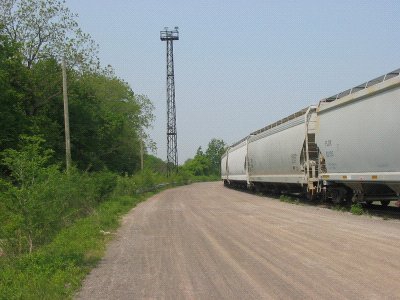 This is the right place, just watch out for trucks and trains. Rumour has it that the CPR is planning to donate the use of their land for a rail trail, though no word of when that might happen.
In recent years, they seem to turn a blind eye to cyclists. I've been though the yard hundreds of times without a word from the crew. Just don't do anything dangerous. Remember, it is a working yard (and it's less dangerous than getting hit by golf balls, appparently).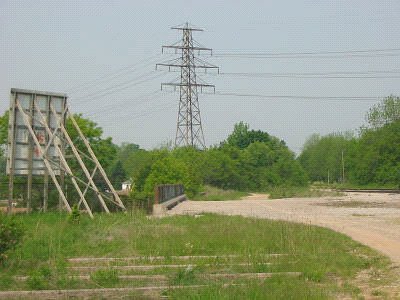 Some might think the scenery is lacking. Mark Fenton is probably not one of them.
The blue sign says "You are entering the greenbelt". Denis Corr of Clean Air Hamilton recently measured the highest nitrogen oxide (NO) pollutant level ever recorded in Hamilton on this stretch of climb.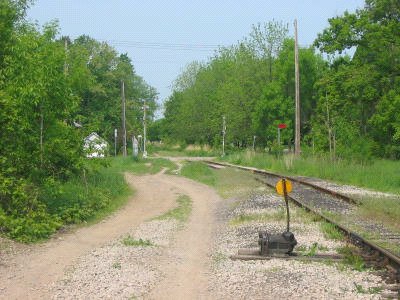 This is Stroud Road, the most eastern part of Ainslie. This is the shortest, fastest and in my opinion, safest cycling access from Kirkendall to McMaster University.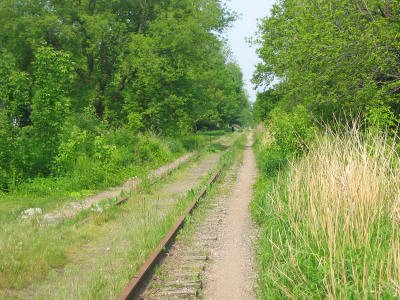 The trail is obviously well used by locals.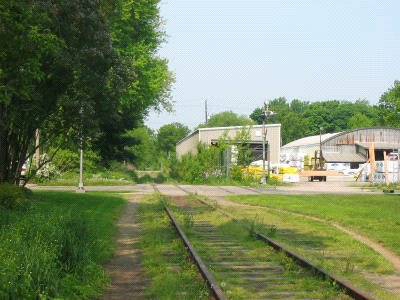 Once upon a time, there was no Home Depot. Use it or lose it!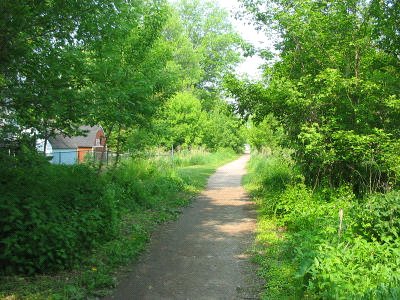 It is ironic that homes once backing onto a noisy train track now have a lovely trail and a place for flower and vegetable gardens. One day, highways will be like this too.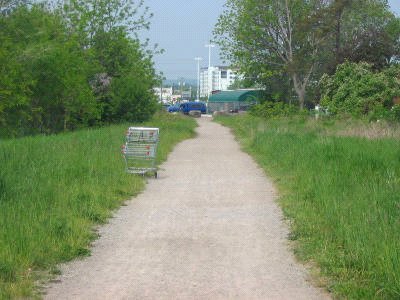 But all good things must pass. Let's look back for a second and take a deep breath, because pictures can say 1000 words!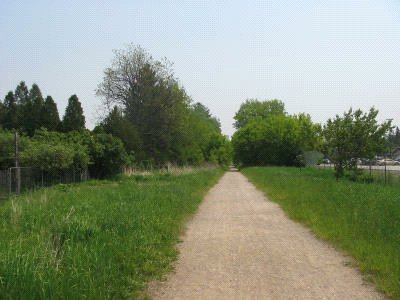 Ready?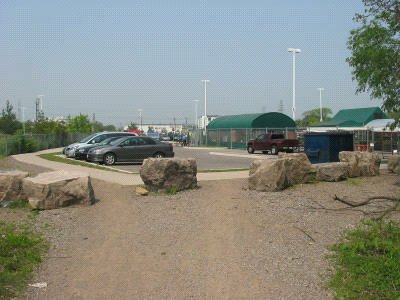 The ancient stones of Rifle Rangehenge. Hint: if in doubt turn right. Maybe.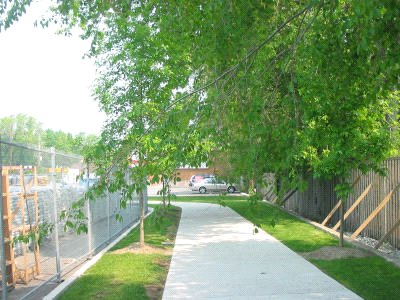 Duck! Yes, this is the trail. Isn't it obvious?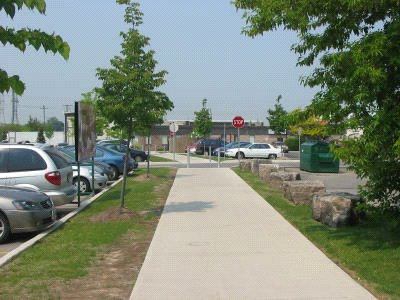 Designed for cyclists in the best Hamilton tradition.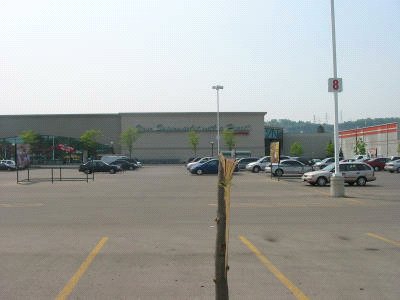 'Nuff said.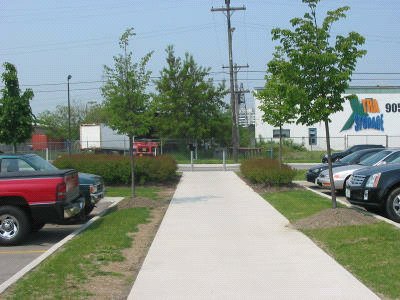 Now what? If in doubt a second time, turn left.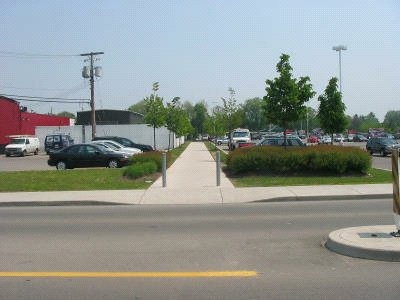 If you want to find it from the west side, it looks like this. No word on whether one should dismount and walk, or just ride on the trail, if it is a trail.
Did you notice a sign about this that I missed? I am thinking that the city is too embarrassed to admit that this counts for urban mixed use planning by putting up a sign.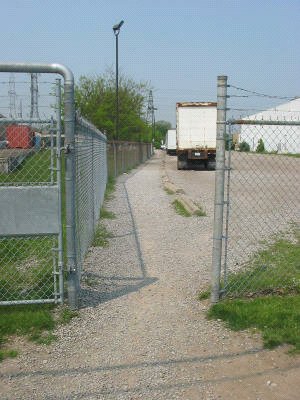 A quick jog left and right brings you to this precariously narrow trail. If there is any other pedestrian or cyclist, you will have to dismount.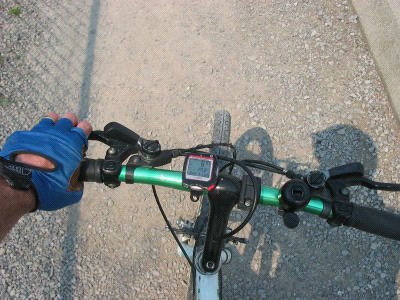 Watch to avoid wiping out on big round loose gravel.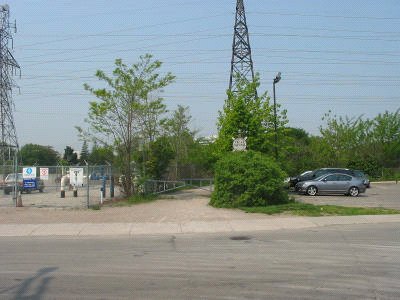 Congratulations, this is it! If my directions though that labyrinth were too confusing, you may need help from a satellite map.
This shows the bright concrete path in all its glory, and the parking lot that interrupts the old TH&B line like some huge asphalt alien defecated on it.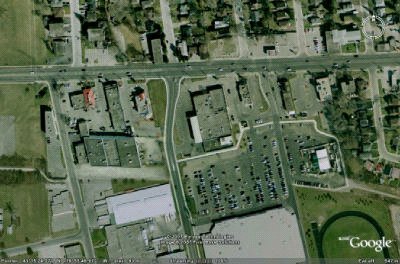 Happy riding this summer!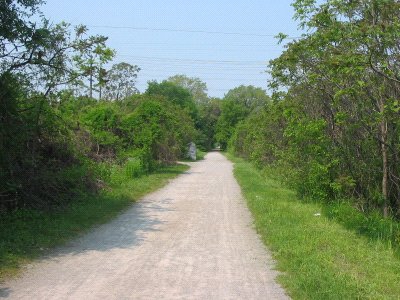 Post a Comment
You must be logged in to comment.