Stay In Your Lane
On plucking the low-lying fruit of safe driving.
By Ted Mitchell
Published June 27, 2007
Summer is here, and with it the season of death and carnage on the roads. It's a hectic time for emergency physicians: lives are at stake. You must be thinking constantly to avoid making mistakes.
Even so, that is not the job I take most seriously. That task is getting behind the wheel of a car. Driving safely is far less difficult than practicing medicine, but it demands even more attention, with less allowance for lapses.
Ponder this figure on death rates versus driver age: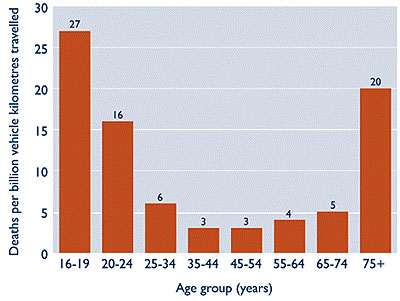 Deaths per billion vehicle kilometres travelled by age group (Source: Traffic Accident Information Database, Canadian Vehicle Survey, 2001, Transport Canada, Statistics Canada)
* includes fatally injured drivers of light duty vehicles
Notice that there is a nine-fold difference between the risk of middle-aged drivers and teenagers. For young drivers, I would argue that inexperience is a minor factor.
Most of that huge bar is accounted for by stupid decisions and aggressive driving by teens who, simply by account of age, have not yet developed most of their brain's frontal lobe function.
This is raw data, uncorrected for any other factors. So it is not a stretch that the risk difference between a particularly aggressive teenager and a very careful middle-aged driver is easily 100 fold or more.
So, while in the past I've discussed vehicle engineering in some depth, the statistics argue that far and away the most important factor in road safety is the driver.
I could compile a long list of ways that the average driver doesn't measure up, like for example:
Not signaling turns and lane changes (I know, it is so difficult)
Distraction (a cell phone counts as two distractions since you are talking and listening simultaneously, which is extremely demanding of attention)
Speeding
Excessive speed for surface conditions and/or visibility
Excessive speed in the presence of cyclists and pedestrians
Aggressive, emotionally influenced driving
Following too closely
Having no clue how to properly pass a car in front of you
The list could go on forever, so I'm going to leave you with just one thing to work on this summer, since chances are about 99 percent that you already screw this one up:
STAY IN YOUR LANE.
It is that simple and no, I am not joking. Remember that you are only 12-18 inches from the middle of the vehicle. You are not sitting over the left wheels.
If you can do this, it has several positive consequences on your driving:
Since you have to concentrate more, distraction is reduced
Slower overall speed
More attention to the road and sidewalk
More chance of adopting other safe, courteous driving practices
Much decreased risk of collision
Take a few minutes at an intersection to observe how many left turns are made with a much bigger radius compared to the actual lane design.
These cars will start turning just as they enter the intersection or even before it, and are usually committed to this turning radius well before there is enough visibility to the left to ensure the lane is clear.
They will cross the centre line of the lane to the left and then have to overcompensate, often taking part of two lanes just to get the car straightened out again.
This is more than just lazy, sloppy driving in an effort to keep speed up. It is a collision risk to drivers and cyclists in the lane to the left.
It is a potential loss-of-control crash for the driver committing it, as if suddenly a car appears "out of nowhere" or the surface is too slippery, the only option you have when excess speed is involved is to enlarge the turn radius further. The final destination is thus vehicles, pedestrians, curb or snow bank.
The correct way to make a turn is this:
Do not turn the wheel until you are well into the intersection, completely clear of the crosswalk.
Quickly select a position of the steering wheel that lets you complete the turn with no corrections.
Once the turn is complete, return the wheel to the straight forward position.
The instant you enter the new lane, you should be positioned exactly parallel to the cars in that lane.
Good driving habits are contagious, and good driving is its own reward. This summer, start with this simple way to improve road safety.
Post a Comment
You must be logged in to comment.