How to Shift our Transport Paradigm: Learning from Grenoble
Re-balancing our urban transport network is possible, but it takes time and a real political campaign to change people's minds.
By Nicholas Kevlahan
Published May 18, 2007


A streetcar station in downtown Grenoble.
In a recent article for Raise the Hammer, I described the impressive public transport system the city of Grenoble (France) has developed over the last twenty years.
Its centrepiece is a modern streetcar network, but it has also included extensive re-engineering of the streets to make them friendlier to pedestrians and cyclists.
When compared to Hamilton, where transit use has actually declined over those same twenty years, one wonders how they did it.
Was it simply a result of progressive mayors? Did the national government mandate the changes? Has Grenoble always had an excellent public transport system?
I recently returned to Grenoble for a visit, and was lucky to meet the driving force behind many of these changes. It turns out that the change began over 30 years ago, in 1974, when Jean Sivardière helped found the Association pour le Développement des Transports en Commun (ADTC, association for the development of public transport).
Sivardière recalled that in 1973 Grenoble's public transit system had serious problems. Ridership was declining, service was poor and the system was in deficit. Only about eight percent of trips were made using public transit (similar to the figure for Hamilton today).
The mayor at that time was left-leaning and socially progressive, but he still thought of public transit as a social service for the poor who couldn't afford their own car.
Transport planning was based on the automobile: more freeways, road widening and increasing convenience and speed for motorists. Minor improvements to public transit might be considered provided they didn't interfere with motorists. This will sound familiar to residents of Hamilton!
Not surprisingly, Sivardière didn't get far trying to convince the mayor of the need for a profound shift in the Grenoble's transportation thinking.
He realized that it wasn't enough for individuals to write letters to the newspaper, or to try to lobby the mayor and city officials. In order to be taken seriously Sivardière needed numbers: he needed to form a sort of municipal NGO.
Fifteen concerned citizens founded ADTC in 1974, and just one year later they had over a thousant paid-up members! In 1976 ADTC organized a bicycle festival that attracted over six thousand people. City officials were beginning to pay attention.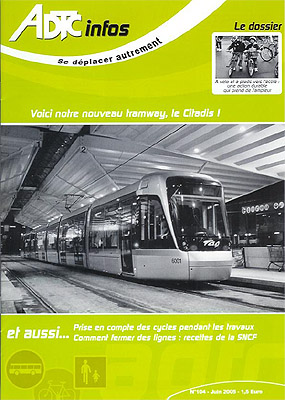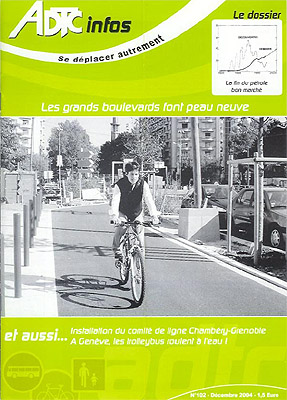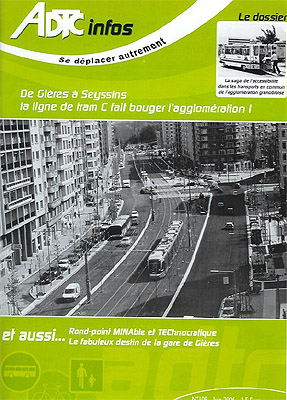 A selection of some of the ADTC magazine's recent covers.
ADTC's First Task
The first task of the ADTC was to fight for improvements to the bus system. Their strategy was to argue for:
Increased bus frequency
Fixed ticket prices
Priority for buses on downtown streets
Upgraded equipment
The ADTC also fought against the myth that one can improve public transit (and conditions for cyclists and pedestrians) without interfering with motorists. Driving has to be made less convenient and public transit more convenient before people will switch.
Sivardière emphasized, however, that it is important not to make motorists feel guilty. He himself owns a car and uses it for those trips where public transit is not practical. The goal is to get people to use public transit (or cycle or walk) for regular trips, like commuting and shopping.
Paradoxically, increasing transit use actually makes the occasional car trip easier and more pleasant! By cutting down on car use we reduce pollution, improve physical fitness and reclaim our city streets for people.
Main St in downtown Hamilton is clearly designed for cars only; there is no street life and few businesses. It wasn't always like this, and it doesn't need to be that way in the future.
Modern Streetcar Network
The simplest way of getting people to take transit is to build a modern streetcar network. The streetcars take space from the cars (putting the city on a "road diet", as recommended by one of the transportation experts at the recent Hamilton Pedestrian Workshop), and are much more comfortable and convenient than buses.
They also have a larger capacity (the current generation can carry 300 passengers each compared with about 75 for a standard bus). Furthermore, streetcar lines are a concrete demonstration of the city's commitment to public transit, and attract new investment wherever they pass.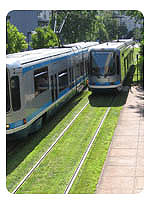 However, the mayor felt that although streetcars were okay for the orderly Swiss, they would never work in France. He was pushing for the POMA 2000, a futuristic system of small cable driven cars criss-crossing the city high in the air.
Thus began the ADTC's most difficult and most influential campaign. The mayor finally accepted that streetcars were the solution, but then lost power.
The new right-wing mayor was personally in favour of streetcars, but felt his constituency would never support it.
Small business owners in particular were against the plan as they worried that it would reduce parking and vehicle traffic outside their shops. In the end the new mayor decided he would hold a referendum.
The ADTC campaigned hard, countering many anti-streetcar myths, and in the end the yes side won with 52 percent. The first line was built in 1987, and the rest is history.
New Ways of Financing
How did Grenoble finance its public transport revolution? After all, the first objection is always cost. In Grenoble 25 percent comes from fares, 25 percent from the municipality and 50 percent comes from a special transport tax on businesses (one to two percent of employee salaries). In addition, the national government contributed 20 percent of the construction costs of the streetcar system.
It is interesting to note that in Hamilton 55 percent comes from fares and most of the remaining 45 percent comes from property tax. Users here are paying proportionally more than twice as much for an inferior service!
We should also be looking at more creative ways of financing public transit. Money from the gas tax is a step in the right direction, but the federal and provincial governments need to get more involved.
The ADTC continues to be very active (especially on pedestrian and cycling issues), and publishes a glossy monthly magazine for its members on issues related to public transit, cycling and pedestrians. It also distributes press releases, organizes public meetings and demonstrations, responds to the press and conducts research into transport issues.
In 1978 it helped found the Fédération Nationale des Associations d'Usagers des Transports (FNAUT, national federation of transport users) that now represents 150 similar organizations with about 40 000 members in total. Sivardière was president of the ADTC for ten years, and is the current president of the FNAUT.
If there is one message I took away from my meeting with Jean Sivardière, it was this: re-balancing our urban transport network is possible, but it takes time and a real political campaign to change people's minds.
However, if you visit Grenoble I'm sure you'll agree that the results are worth it!
Post a Comment
You must be logged in to comment.