Tenants and Taxes
Hamilton's lowest income earners are renters, but they pay among the highest property tax rates.
By Tom Cooper
Published May 18, 2007
There was a time, not too many years ago, when tenants in Ontario did not have the right to vote in municipal elections.
People who rented their homes were not considered to have a stake in the community because they were not property owners, and thus were prevented from having input into municipal decision making. Tenants were even barred from holding office.
When a young Robert Morrow, (an up-and-comer who would go on to become Hamilton's longest serving Mayor) was first elected to City Council in the late 1960s, he was disqualified from taking his seat at City Hall because he was not a 'property owner'.
The right of tenants to vote and hold public office has since been recognized and enshrined in legislation, but many municipal policy decisions still seem to be representative of an old mindset that believes the voices and concerns of tenants aren't really that important.
Close to one-third of Hamiltonians live in rental housing - but as a group tenants are economically fragile, politically vulnerable and significantly underrepresented in municipal decision making.
In Hamilton, no sitting City Councillors (with the possible exception of Bob Bratina who owns one property and rents another in his Ward) can be identified as tenants - all are homeowners.
Senior citizens, single parents with children, low-income working families, newcomers to Canada and persons with disabilities make up a significant percentage of Hamilton's tenant population.
Tenants Earn Less Income
Hamilton's lowest income earners are tenants. According to Statistics Canada, the average Hamilton renter household earns $29,000 a year while the average privately owned household earns $57,000.
Hidden in those numbers is the fact that many renters earn significantly lower than the average and are often left with difficult choices about whether to pay the rent or go without food or utilities.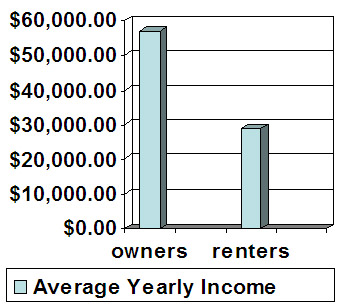 On average, tenants contribute a far greater percentage of their incomes towards housing costs than do homeowners, with 14,200 renter households in the City paying more than 50% of their monthly incomes towards rent.
Many tenants do not realize that they pay for municipal services through their rent. In fact, approximately one fifth of the rent tenants pay goes into municipal coffers.
If a tenant is paying $600/month for a one bedroom apartment - $120 or $1440/year can be considered their share of 'property taxes'.
Tenants don't see their building's annual tax bills and may be unaware that they are indeed paying a tax rate that is three times higher than the 'residential property tax rate' their neighbors in the bungalow down the street are levied.
An even greater disparity is the tax rate differential between owners of condominium apartments and renters of apartment units.
One particular example stands out: a one bedroom rental apartment in a high-rise on Charlton Avenue East pays $579 in rent plus hydro, contributing $1389.60 per year in municipal taxes.
Right across the street, a comparable one bedroom condominium apartment at 150 Charlton East paid $841.21 in municipal taxes last year according to City tax records - a difference of nearly $500.
Taxes Paid: Rental v. Condo (Charlton Ave. E.)

| | |
| --- | --- |
| 1br Rental Apt., $579+hydro | 1br Condominium |
| Taxes Paid (through rent): $1,389.60 | Taxes paid: $848.21 |
Hamilton has the highest multi-residential tax rate in Southern Ontario. Tenants don't see their building's property tax bills and don't see the cost breakdown.
If the multi-residential tax rate was lowered, by law, landlords would have to pass on those reductions to their tenants through decreased rent.
That is money that could be instrumental in assisting low income tenants with high costs of living and perhaps help relieve Hamilton's staggering poverty rate (the highest urban poverty rate in the province).
"I'm a Tenant and I Vote"
During last fall's municipal election campaign, the Hamilton Tenant Education Project and the Solutions for Housing Action Committee launched a joint voter education campaign for tenants.
The campaign, entitled "I'm a Tenant and I Vote," encouraged tenants in Hamilton to participate in political discourse and exercise their franchise.
The campaign recommended three key reforms:
The City of Hamilton should equalize the tax ratio for multi-residential buildings with residential homes.

The City should mail all tenants a copy of the tax bill for their multi-residential complex to ensure transparency.

The City should assign an independent task force (that includes tenant representatives) to review City services currently provided for tenants and determine whether people who rent receive proper value for the taxes paid to the municipality.
While the first two recommendations have not yet been addressed, City Council recently established a committee to review multi-residential taxation and tenant services.
There is hope that the committee will be able to report back before the 2008 budget on ways to ensure greater tax fairness and encourage more participation from Hamilton's tenants in the political process.
Post a Comment
You must be logged in to comment.