Tivoli Redevelopment Options Review
Trevor Shaw appraises the four current proposals for redeveloping the Tivoli and offers some suggestions.
By Trey Shaughnessy
Published April 04, 2005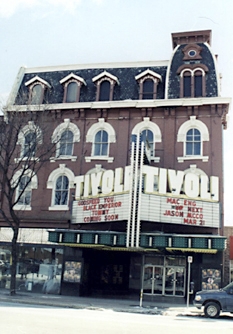 Tivoli Theatre (Photo Credit: Doors Open Ontario http://www.doorsopenontario.on.ca)
The following renderings are from the City of Hamilton, Planning and Development Section, Development and Real Estate Divison, Community Planning and Design and Heritage and Urban Design. They are available in PDF here (just click on the image of the redevelopment option to view the original PDF).
The redevelopment options are intended to appeal to land developers and business people in hopes of preserving what is left of the Tivoli Theatre at 108 James Street North in Hamilton. Raise The Hammer has undertaken a review of the possible redevelopments of the Tivoli.
Tivoli Option 1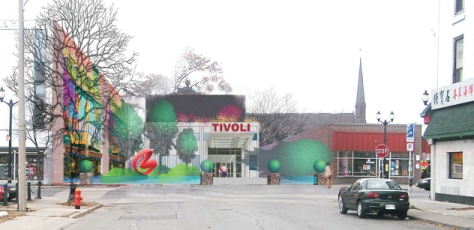 Click image to view Tivoli Option 1 in PDF format
This option breaks the streetwall and has a setback that also breaks the continuity. A streetwall is a continuous enclosure of the street made from buildings that are built close to the street - i.e. not set back from the sidewalk.
When buildings have a small setback and are continuous along a street, it creates an environment that almost feels indoors. In many ways - especially in good weather - it is more pleasant to walk and shop along a street that is designed in such a fashion, especially if there is on-street parking, then actually being indoors.
This option also designates an area for public art exhibition, but it seems like an afterthought, trying to justify the blank wall facing northbound pedestrians and cars. This space will eventually be leased for a paid advertisement.
The entrance looks like something more at home along Upper James. The marquis faces Vine Street more than James. The building is too dinky; I would miss it if I was walking or driving along James. It has almost zero street presence.
Move the building closer to the street, put a balcony over the courtyard, create a marquis presence on James Street and ignore the hideous strip mall next door on Wilson, and you might have something that I would endorse.
Tivoli Option 2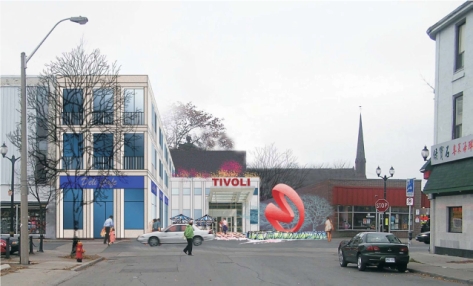 Click image to view Tivoli Option 2 in PDF format
This option is a little better than option one. I like the addition of a three-story office/studio complex; after all, the Tivoli administration will need office space and Creative Arts occupied the former Tivoli building for its administration.
The office space portion does meet the existing James Street wall but the set-back of the entrance to the theatre is too far. The flat roof pales in comparison to the former Mansard Roof, but at least it is three floors.
If those are real French Balconies then kudos, considering this is to replace a wonderful, rare, French Second Empire building. I would like to see more of a tribute to the old Tivoli.
This "courtyard", although well-intentioned, will not be used to its fullest purpose, and will be under-used by theatre patrons. I also think it has too negligible a street presence for a destination, unlike the Canon Theatre or the Elgin & Winter Garden Theatre on Yonge Street in Toronto. It should be calling out to everyone on James Street, Here is The Tivoli!, but it doesn't do that.
It looks like it is appealing to a wider suburban-designed street where people are driving by in their cars 50 metres away and it needs a 50 foot sign that reads "Theatre Depot" behind a five-acre parking lot.
It is our only downtown theatre and an historical one at that: it needs the recognition it deserves, but I feel this design doesn't do that. Put this on Burlington's Lakefront beside their Arts Gallery but not downtown on James Street.
Tivoli Option 3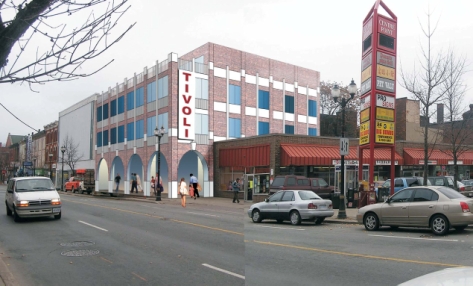 Click image to view Tivoli Option 3 in PDF format
We're getting somewhere with this option. It has a nice street presence, only I would prefer it to be more adorned with trimwork, moldings, stonework and detailing, not only to pay tribute to the former building but also to emphasize the building use.
The fourth floor with a terrace is a very good idea. It can be an exclusive lounge for theatre patrons and club members.
The marquis needs work and rather than being stuck on the side wall, it would be much more impressive and keeping with the theatrical style if it protruded from the front of the building.
I hope the neighbouring building (which violates a present by-law for being only one floor) is nearing the end of its lifespan and will be replaced with a more appropriate building. In that case it would obstruct this proposed marquis sign.
I like the sheltered outdoor lobby under the arches. This is a good aspect that will expose passersby - particularly pedestrians - to the theatre events, and could be lit up at night for an exciting visual street appeal.
Another good feature is the almost entirely enclosed courtyard. It is located behind the front building before the theatre, with access to the back of the building, this gives an optional entrance and access to potential parking behind the building.
It would be a wonderful space to enjoy intermission on a pleasant summer evening, and also lends itself to be used for a restaurant on days when productions aren't planned, so that the building is always in use.
Tivoli Option 4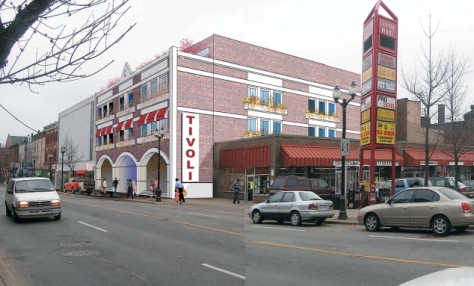 Click image to view Tivoli Option 4 in PDF format
Am I really looking at cheesy, red steel awnings to match the next door strip mall's awnings? Maybe they can put little colourful fake flags on top to match the Hamilton City Centre.
At first glance, this option appears to be on track. But a closer look reveals that the street-level entrance will be used for - get ready for it - access to parking. The front, entrance, focal point, the place where pedestrians walk, will be used for car access to surface level parking below a three floor structure housing mixed-use occupancy.
Oh, by the way, there is a beautiful theatre buried behind the parking garage. This is ridiculous. Pedestrians who only want to walk past the building will have to guard themselves from cars entering and exiting.
Since this is a major James Street North revitalizer, it needs to blend itself and complement the existing street life. It is not a stand-alone venue in the middle of nowhere. Are we afraid that people won't find the parking lot because it's down the street, behind the building, or at one of the many City-owned parking lots scattered throughout downtown?
I don't know why every car has to be parked a few steps from the front door. Does the busiest theatre district in Canada - Toronto - concern itself with where everyone will park their cars? No, it doesn't, and economically it does more then fine.
One of North America's finest examples of a downtown is 60 kilometers east on the QEW. I suggest we follow their example: do not cater to cars. I don't even want to mention anything else this building may offer because it is ruined by giving cars and parking more concern then the patrons, pedestrians, neighbouring businesses and residents.
(Furthermore, can someone notify the owner of the building next door to north about the façade improvement grants the city offers?)
Suggestions
I think we need to look at what the original Tivoli theatre offered in its design: a beatiful Second Empire Building, three floors and a fourth floor mansard roof pieced with decorative and useful dormer windows. This design made attic space more useful by giving more height and natural light.
The street level was fantastic. It had an outdoor lobby space that drew pedestrians into the building, or at least to look at posters of upcoming and current productions. The outdoor lobby space had tile flooring and was covered with a majestic marquis sign.
I know we probably couldn't rebuild what we had, even with today's technology - this makes no sense - or if we did it would cost too much. We have become accustomed to building disposable buildings, with stapled and glued-on facades and do-dads that will only last as long as the roof's lifetime (by then the interior will be as tired and out of date as well). This is why it is such a shame when we lose a building like the Tivoli. We fear what will replace it.
I was recently at an Opera Hamilton production and inside the lobby of Hamilton Place there was framed photo on an easel that almost made a grown man publicly cry. It was a picture of the Tivoli and, beside it, the Grand Opera House. The building that now occupies the site of this stunningly beautiful, can't-believe-that-was-in-Hamilton Opera House is a one floor, cinderblock strip mall, complete with just as much parking at the corner of Wilson and James Streets.
And we wonder where all the pride in Hamilton went?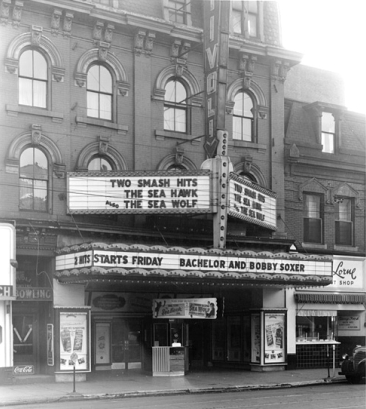 The historic Tivoli Theatre from across the street (Photo Credit: Ontario Government Archives)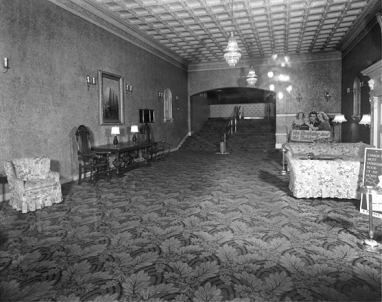 The Tivoli Lobby (Photo Credit: Ontario Government Archives)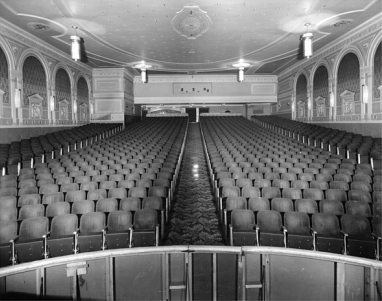 Looking out from the stage (Photo Credit: Ontario Government Archives)
Post a Comment
You must be logged in to comment.