Support the Anti-Idling By-Law
The proposed anti-idling by-law needs your support at the May 10 public consultation.
By Ryan McGreal
Published April 30, 2007
It's far past time for Hamilton to enact the proposed idling control by-law that has been kicking around for over a year and a half.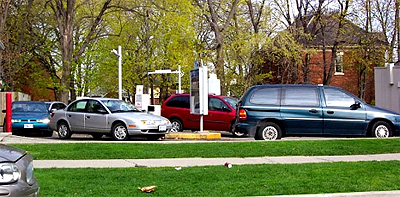 Idling vehicles (RTH file photo)
First proposed in 2005, the by-law was defeated in early 2006 by the previous council in favour of a less-costly public education program that inexplicably failed to reduce idling.
Incoming Mayor Fred Eisenberger promised to revive the by-law, but his efforts have been mired in procedural delays by a tiny group of councillors who oppose it dogmatically.
Councillors Lloyd Ferguson (Ancaster), Dave Mitchell (Glanbrook) and Maria Pearson (Stoney Creek) have actively opposed the by-law since its introduction, attempting at each step to stall and delay it by whatever means they can.
First, in January Mitchell and Ferguson insisted that the agricultural and rural affairs committee, on which they both sit, also review the by-law.
After five weeks and an amendment to except farm vehicles, Mitchell and Pearson then insisted on additional public input before voting. Before that could take place, city staff had to decide how to gather such input.
Once that was settled, Councillor Brian McHattie, a strong supporter of the by-law, moved to hold a special committee of the whole meeting "to receive input from stakesholders and the public on the draft anti-idling by-law".
Incredibly, Ferguson, Mitchell and Pearson voted to oppose the meeting they themselves had insisted on holding before the by-law came to a vote.
This led Mayor Eisenberger to complain that some councillors are "thwarting the process" of trying to vote on the by-law.
The public committee of the whole meeting will take place in Council Chambers on Thursday, May 10 at 6:00 PM. If at all possible, please register to make a public delegation in defence of this by-law.
If you cannot attend in person, you can still submit your comments in writing, but it is more effective to present in person.
Alternately, you could argue, along with Councillor Pearson, that the anti-idling education campaign failed because it did not include signs at entrances to the city (presumably the only people still idling are those who commute from elsewhere).
As CATCH reported:
"I think there's a lot more that can be done as an education process," [Pearson] argued. "Also I think we should publicize that we are an idle-free community to everybody coming into Hamilton."
Of course, if Pearson and her obstructionist cohorts get their way, Hamilton won't be an idle-free community.
Post a Comment
You must be logged in to comment.