Downtown Update
After a long and doleful hiatus, Jason is back with the best new happenings in the core.
By Jason Leach
Published April 10, 2007
Okay, so the Downtown Update is back. Have no fear: downtown Hamilton didn't fold up and die in its absence (despite the wishes of certain Flamborough/Ancaster area councillors, ahem).
Your humble scribe takes the blame for the lack of updates in recent issues. Has much gone on downtown in the past couple of months?
You betcha. Without further ado...
James North Continues to Hum
Two new eateries have opened up in the suddenly resurgent northern strip of 'the strip'. The area from LIUNA Station to the harbour has seen a total of four new eateries open up in the past few months.
Among the newest is Great Big Sea. This East Coast themed pub is brought to the north end by the same folks who brought us Slainte and the new Corktown. Let's hope they plan on losing the pink stucco out front. Some Corktown-style boards would be wonderful.
Further north at James and Burlington St the Route 66 Oldies Café has opened. Drop a line if anyone has checked this place out yet.
Two more buildings are being renovated in the James/Cannon area. No specific word yet on what is to come.
Speaking of James North, if you still haven't made it out to the monthly art crawl, get with it! The March crawl was a blast. I especially loved stumbling across a fabulous bluegrass band in the Blue Angel Gallery.
Also, the open studios in the Vasco de Gama Football building were awesome.
New Construction
Plans are in the works for new commercial/restaurant buildings to be built along George St from Hess to Caroline. This is part of a large commercial/parking complex that will include a Shoppers and LCBO store.
Sadly, it sounds as though the city is allowing these mega-box stores to skip the minimum two-storey rules recently adopted in the downtown secondary plan.
Perhaps we all need to email our councillors and demand that they stick to the intent of the secondary plan guidelines. Upper James this ain't.
York Boulevard
Each time I go for my exercise jog along York Blvd I remember how privileged I am to live in this neighbourhood as I gaze across the harbour at the city's skyline, ships coming and going and the greenspace of Dundurn and Bayfront Parks. The sun setting over Cootes never gets old.
The street itself is another infamous downtown highway, but city council is finally taking steps to beautify [PDF link] this fabulous entrance to our city.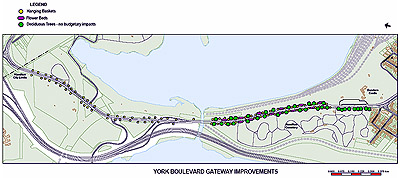 York Blvd Gateway Improvement (click on the image to view larger)
The new flower baskets, banners, trees and flower beds will greatly enhance this fabulous corridor over the west harbour. Now if only one could gaze out across the harbour and see a 400 foot water fountain...
Bridge Over Troubled Highway
Speaking of entrances to the city, council has approved the construction of a wonderful pedestrian bridge over the QEW near Confederation Park.
This structure will link several important greenspaces and residential areas. Kudos to council for desiring to spruce up our eastern entrance to the city.
Back Downtown...
Anyone still trying to kick downtown Hamilton is having a tough time these days. Bob Young is investing $4 million into downtown for a new head office for th Cats and other businesses of his.
In case you haven't noticed already this guy doesn't just throw money away. He's a sharp businessman and you can be sure he's calculated his investment before making it. Congrats to the Cats and to the International Village for landing them.
Speaking of kicking downtown, we at RTH have long complained that it seems to be a favourite past-time of the Hamilton Spectator, so I was pleasantly surprised to read this editorial in last week's Spectator.
As we've always said (because it's plain as day to see) the turnaround is well underway. It's not waiting to start. Nice job by Rob Howard.
More Downtown News
The Honest Lawyer appears to be doing a smashing business since opening last month. If you love chicken wings, you MUST try the wing buffet on Monday nights - incredible. Once again, more than enough proof of the booming population of young urbanites in our downtown core.
Workers are outside the restaurant building a sidewalk patio on King West. If you've been inside this place, you'll know that nothing is small or second-rate, and neither will this patio. They've been installing large steel beams that I'm guessing with be the fencing around the patio. Kudos to them for helping to animate this horrible stretch of the King St freeway.
This is exactly what this barren stretch needs: more people and a reason to slow down.
Perhaps the folks at Mountain Equipment Co-Op need to quit wasting their time looking for property in Halton or Peel and just get to downtown Hamilton where they belong. If you have no clue what I'm talking about, check out this website and sign the petition.
Despite not receiving an early grant from the city, the Hamilton Artists Inc were able to purchase the former Jerry's Man Shop building on James North. Let's hope they do something very special with this space as a gateway to downtown and James Street.
Bus

Rapid Transit Office

As previously mentioned, the city's new Bus Rapid Transit Office is now going to be called a Rapid Transit Office. Can anyone feel the gliding of modern streetcars on King Street? Let's make it happen.
Speaking of Transit
The city's new articulated hybrid buses are on the road and they look great!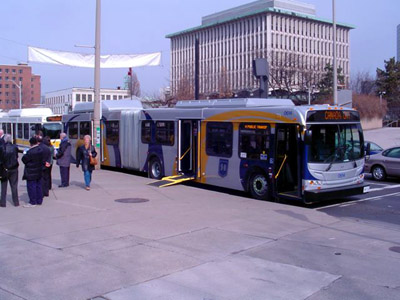 New HSR Articulated Hybrid Bus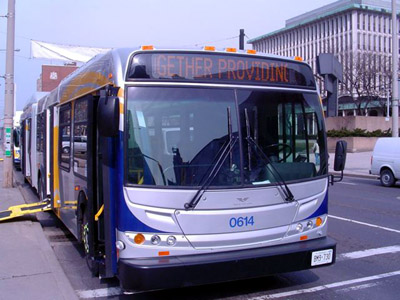 New HSR Articulated Hybrid Bus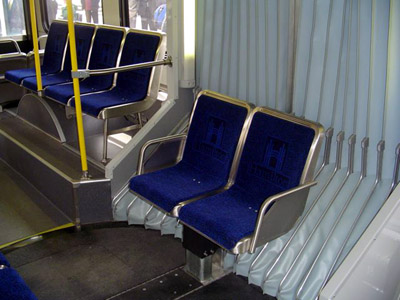 Seats in the divider
Miscellaneous Tidbits
Work continues to hum along at the Spallacci block on King East as well as the Hellenic apartments on Strathcona Avenue.

Plans are now in the works for two condo towers behind the Connaught Hotel on King East, but don't get too excited. Negotiations abound; this project looks to be headed for a long, slow completion.

Boo's Bistro and Winebar is opening soon in the old Sasso Basso space on James South.

One Duke has done some serious renovations and is re-opened for business.

Picks and Sticks music store is opening soon on Locke South near the Locke Street Bakery.

Amuse Bouche is also close to opening its new location on Locke South.

Chatelet furniture and gifts is opening on Locke South.

The Brunette Salon is opening in the old Mirabelli's store location on Cannon Street. Personally, I'm surprised to see such a business open so soon in this location. Perhaps the revitalization of James North is beginning to spill into the surrounding neighbourhoods?? Or maybe it's the constant rumble of transports?

Mike's Cuisine (I know, sounds exotic) opens soon on King East and Wentworth. This used to be the Hideaway Café. The reno job is surprisingly upbeat and the 'cuisine' being offered is Middle Eastern – shawarma's, falafels and the like. I will certainly try this place out...central Hamilton needs more Mid East establishments.

In one of the more intriguing business moves downtown a place called 'Crazy Bills Convenience' has just opened where the local landmark 'Boomspot' was located for many years.

Flat Spot Skateboards has moved from James North to more appropriate digs on King West at Caroline.
Finally, if you haven't checked out the 'new' Main Desserts, go for it. Organic, fair trade coffee, wireless internet and bigger crowds than were ever spotted in it's previous incarnation.
Post a Comment
You must be logged in to comment.