Postcards from New Glasgow
RTH jet-setter Ben Bull scours the world in search of exciting locales to share.
By Ben Bull
Published April 10, 2007
Hey Raise The Hammer!
Well today I'm in New Glasgow, Nova Scotia. How does Ben get to these exotic places? you may ask. First Scranton, then Blackpool, and now New Glasgow? Well, I guess I must deserve it.
I'm here for work, of course. Contrary to Ontario folklore, there is still some of that to be found out this way.
I'm staying at the Country Inn, although why it's called that when it's stuck in the middle of an industrial estate and right next to a major highway is beyond me.
What's with all the country music in these parts? It was the same in Scranton. What draws these out-of-the-way tumbleweed towns to this cowboy crap? There isn't a Stetson or a Corral for miles (what it a Corral anyway? I've never seen one, but I hear that they're OK. Way-hey! Ba-da-dum! Thanks for coming folks.).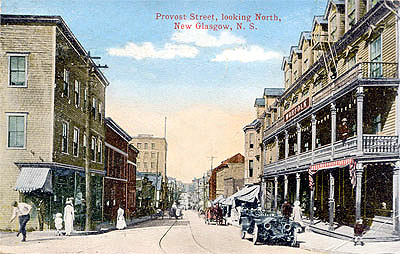 Postcard from New Glasgow
I rode into town yesterday and tied up at the local watering hole. The Dock is one of those almost authentic Irish pubs. It's nestled on the banks of the mighty East river which runs right through the town.
Accordingly to a plaque, the town launched over 1,000 boats into its waters in the late 1800s and early 1900s. Don't you just love that? A town with a tangible history.
I took a stroll along the shore and gazed upstream. I imagined the ships careening down the ramps and steaming off into the unknown. It was all very wistful.
After my fish, chips and two pints of Guinness, I staggered off into the downtown (I can't hold it like I used to). It didn't take me long to investigate – it's only one street (one and a half if you're being optimistic).
You know what? It reminded me of Scranton! Same old empty streets (well, to be fair it was almost six o'clock), same bedraggled buildings, same exquisite ancient architecture.
The Town Hall was spectacularly impressive. It had arches and turrets and leaded windows - the works. Built in 1884, or so the plaque said (so many plaques, so little time), I wondered what the top hats shuffling out of the place a hundred years ago would have made of their town today.
Apparently the area was settled by Scots, many of whom landed at the nearby port of Pictou. OK, so you already knew this, right? Nova Scotia. New Scotland. Well guess what – I just got it! I never did pay much attention to Canadian history (I didn't think they had any).
As you'd expect, the locals are luvely - friendly, laid back, interesting, and chatty. My workmate tells me it takes three years to get into the Nova Scotia 'vibe' - and "Nearer five if you're from Toronto." That's years well spent, I should think.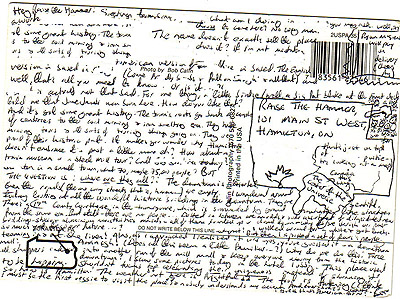 Postcard from New Glasgow (click on the image to view larger)
On the subject of Scranny, (which we were on, before you got me all side-tracked), the downtown here appears to have suffered the same 'hollowing out' that happened there, and indeed, in dear old Hamilton. I guess it's happening everywhere.
There's a bunch of malls on the outskirts, many of them featuring your Wal-Mart, Staples, Canadian Tire usual suspects. We all know how many little shop keepers /article/247 they've replaced, don't we?
It occurred to me, as I was walking around looking for more plaques, that in the 'olden days' we used to get a lot of our vibrancy from this little shopkeeper shopping experience, most of which took place downtown.
A bag of Oranges from Mr. Bishop's, a leg of lamb from Mr. Cratchet, Gob Stoppers from Woolies. And if we're not able to find new ways of getting people out and about together well then. it's quite the conundrum, isn't it? Not to worry. I'm sure Ryan is onto it.
Some bad news this afternoon. The local Trenton Rail Car plant is closing. Three hundred jobs. You really see the impact of these events in a small town.
People were moping around the cafeteria. Everybody knows somebody who's affected.
"There's going to be a lot of sad families this evening," someone muttered. "I hear the jobs are all going to China."
Home tomorrow. Thank God I don't have any borders to cross. After my England and America travel experiences I think I'll stay closer to home from now on. The world is a scary place. Did I tell you about Heathrow? Maybe later. In the meantime, three words: Don't Go There.
OK! Time to saddle up, gotta ride. Kelly Pickler's just come on the radio. I love this one!
Something about a rodeo, a broken heart and some deep fried Calamari. It's so deep.
Later Cowboys!
Ben
Post a Comment
You must be logged in to comment.