Alternative Power: Making Sense of New Technologies
The internal combustion engine's days are numbered. What will take its place?
By Ted Mitchell
Published April 10, 2007
The internal combustion engine's days are numbered.
It is quite remarkable how far the typical car engine has come since the U.S. Clean Air Act of 1970. Without question, modern engines are more reliable and have higher power output relative to engine size and weight.
They are much smoother, quieter, and above all, vastly cleaner when gasoline is the fuel source. (Diesels are about 30 percent more efficient, but in terms of emissions - well, use your nose.)
Then there is the second law of thermodynamics. All such heat engines have a theoretical ceiling on efficiency: mechanical energy produced divided by fuel energy used.
Even the most efficient heat engine, the Stirling engine, must follow this law; and more on those later. Hydrogen fuel cells, or even simple batteries, have no such limitations.
All new, efficient car technologies will use electric motors. The motors are small, light, reliable, quiet, and produce a torque/speed profile that is much better suited to cars than the internal combustion engine. Hence, a smaller, simpler, cheaper transmission is required.
Understand this point: Hydrogen cars are electric cars. You can use hydrogen in an internal combustion engine, but that is just stupid. It is much more efficient to use it to power a fuel cell, even counting losses from electric energy transfers. Thus, fuel cell cars are electric cars.
I am not clear on how large the future role of fuel cells will be. There are theoretical concerns about inefficiency relative to purely electric storage systems.
What's out there now?
The most visible and efficient hybrid in production is the Toyota Prius. This car is really complicated. It has both an internal combustion engine (a special one, using the efficient Atkinson cycle) and a similarly sized electric motor in what is termed a series/parallel hybrid.
There is also a high-tech continuously variable transmission and lots of computer controlling going on. Either engine or motor alone is fully capable of moving the car in most situations. A fairly large NiMH battery pack rides in the trunk.
There is one big problem with this impressive level of technology: cost. I am really shocked that the Prius is in production. It just does not make economic sense. There are two simpler alternatives:
1. Parallel Hybrids
The parallel hybrid has a large engine and relatively small electric motor. The Honda Civic hybrid is one of these; it cannot run on the electric motor alone because it is too small.
But regenerative braking and enhanced acceleration boost efficiency while also reducing emissions markedly. Honda stopped before the law of diminishing returns took over; Toyota did not.
The Civic hybrid is $5,000 cheaper than a less well equipped base Prius, and averages 4.5 L/100 km (62.7 imperial mpg). A Prius averages 4.1 L/100 km (68.7 mpg). The marginal difference in fuel burned, after 250,000 km, is 1000 L. Get the point?
2. Series Hybrids
The series hybrid has a small engine running a generator which powers a relatively large electric motor. This system is best known in diesel locomotives. In a car, you also need an energy storage device (a battery) to take advantage of regenerative braking.
Despite the simplicity, there are no such cars in production. Here's where the conspiracy theories come in (Who Killed the Electric Car?, GM Pulling Back on Volt). In the kindest words I can muster, why in bloody hell can't I buy one of these? It would be considerably less complex than a Prius.
You cannot buy this simple technology.
To reiterate: large engine, small motor: many examples in production. Small engine, large motor: no examples on the radar. The complexity and cost of both systems are roughly equal.
The series hybrid does not even have to be a hybrid. Once you have the simple, inexpensive electric motor and transmission, there are many options for the power source. It can be modular like a desktop computer. Modular means flexible to your unique needs and upgradeable in future. Modular means longer life and cheaper long-term operating costs. Modular means the best technology is always compatible regardless of the company that makes it. Modular means turning the established automobile industry on its head.
The energy storage devices can be:
Batteries. For low mileage needs, old fashioned deep-cycle lead-acid will do. NiMH is better in terms of power to weight, and Lithium polymer better yet. Lithium is currently expensive, e.g. converting a Prius to a plug-in hybrid by aftermarket companies such as Hymotion will run U.S. $9,500.

Supercapacitors. Still expensive, but these devices charge and discharge at high currents with small losses.

A combination of 1 and 2 has several benefits.
The power sources can be:
The existing hydroelectric grid's cheap overnight surplus power, assuming adequate battery capacity.

Fuel cells.

Internal combustion engines. These only need to be sized for average power output, if there is enough battery capacity. The average push lawnmower has enough power for this, but it has to be clean burning which means fuel injection and a catalytic converter.

External combustion engines. The Stirling engine has some examples in production (Whispergen). What is really useful about this engine is the ability to burn any fossil fuel on earth in the cleanest possible manner. They can even run on solar heat.

Solar cells (photovoltaic).

Whatever new technology comes along.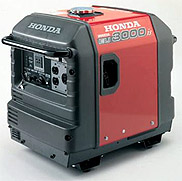 Potential series-hybrid powerplant: 3 kW Honda generator with 200cc gas engine. The power output is about 4 hp, enough to propel a compact car at city speeds indefinitely if adequate battery or capacitor storage is provided.
With a gas consumption of 1.78 L/hr at rated output, fuel economy would better that of a Prius and probably exceed 100 mpg. Adapting one of these to a pure electric vehicle like the EV1 requires only a DC to DC converter and is within the ability of a backyard mechanic. Generator cost: $2400.
A comparably sized fuel cell would be about $13500 @ $4500/kW.
The fossil fuel sources (2, 3, and 4) can be portable electricity generating devices that also power your home (currently, Honda or Whispergen cogeneration systems, not available in North America).
Think of this: a Stirling engine could provide both electricity and heat such that your house is totally off-grid. At night, the electricity charges your car batteries. For long distance trips, put the Stirling engine in the car for range limited only by the fuel supply. If you have a cottage, it can power that too.
The fuel supply, being external combustion, is whatever you can get (natural gas, diesel, even coal or wood) and is easily adaptable between fuel sources. It will be as clean burning as that fuel source can possibly be. It is also compatible with enhancement by solar and wind power.
Or maybe that sounds too complicated or expensive. If you only make a couple of trips a year exceeding 100 km, rent or borrow a generator for your electric car. My point is: range is not a problem unless your brain has ceased to function as a result of marketing propaganda.
This is not a pipe dream, but technology that is presently available, just not in mass production. In the next 20 years, there will be a war between engineering and the automotive corporations.
If engineering prevails, the scenario above will be commonplace. The laws of thermodynamics say so. If engineering remains as it is now, the slut of corporate power brokers, ideas like that above will be marginalized by marketing methods, and we are going to be screwed.
What can you do? Put pressure on politicians and automobile companies, like asking GM why they killed the EV1 and now the Volt. My hunch: the answer they give you is not the real answer.
Post a Comment
You must be logged in to comment.