The Cost of Convenience
The problem with convenience at any cost is that it can sometimes cause more harm than good.
By Trey Shaughnessy
Published April 10, 2007
Convenience – it's such a simple word, a word people like to hear, a word people respond to so much so that it's used in advertising copy as a selling feature. Product X is convenient and simple to use; it saves you time and money.
Convenience invokes a freedom within us a that allows us to do something we'd enjoy doing, like the bumper sticker that says "I'd rather be sailing".
We even benchmark human history with inventions that provide convenience - like the yarn spinning wheel, the aqueduct, the plough, alternating current, the ringer washer, the automatic washer, plumbing, the automobile, the drive-thru, the television remote control, paper towels, the microwave oven, and the plastic shopping bag - that make our tasks of everyday life more convenient.
Benefits

The plough was a significant invention and beneficial tool of convenience for humans. (Image Source: Wikipedia)
Many inventions have done a great benefit to humanity.
The plough allowed for greater per capita food production. That surplus food allowed other people to endeavor in other things. With a full belly of food and free time, humans have an endless capacity to learn, improve and create even greater tools and inventions.
Similarly, the automatic washer gave hours of extra time to the caretaker of the family unit, and allowed her (it was usually a woman) to do other things, including working for wages outside of the home.
Humans have developed and continue to develop more and more tools and inventions. Today, our activities of daily living are filled with tools. Some tools are even used to operate other tools. Most our viable inventions have been geared towards convenience and efficiency.
More Harm Than Good
The problem with convenience at any cost is that it can sometimes cause more harm than good.
Almost 10 billion plastic shopping bags are used every year in Canada.
One billion plastic bags are given out every day in the world. Only 20 percent are ever recycled, leaving 80 percent with a life span of up to 2000 years to contaminate the earth.
Plastic shopping bags are made from petroleum. Each one is equal to the fuel used to travel 100m.
Recently, the city of San Francisco - and last week the town of Leaf Rapids, Manitoba - banned plastic shopping bags. Portland, Oregon is considering the same.
Some may argue that such a move is a reversal of progress. How could they take away one of our inventions of convenience?
Plastic shopping bags are a poor example of human progress, at least not when put into the context of sustainability.
Some conveniences cause too much damage to the environment and not enough benefit to human progress. Shouldn't our inventions of conveniences be for all of humankind and not just to serve a generation or two?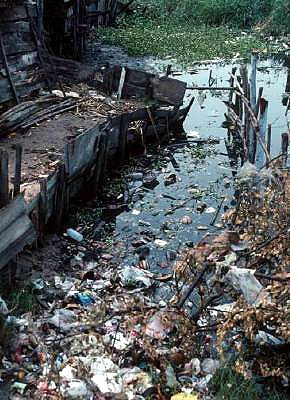 Plastic Bag on Bird (Image Credit: Plastic Shopping Bag Free)
Drive Thrus and Idling
Drive-thrus are another example of a convenient invention at an unacceptable cost.
Hamilton City Councillor Dave Mitchell thought an anti-idling bylaw would interfere too much with his 'convenience'. According to Mitchell, destroying the environment is a fair trade for his convenience and comfort.

Councillor Dave Mitchell: 'I did not believe we need an idling bylaw and it's a waste of our money.' (Image Credit: City of Hamilton)
It's fairly obvious that if an anti-idling bylaw were passed that limited idling to less than three minutes – with a few exceptions – that drive-thrus would be deemed illegal.
Other municipalities such as Burlington have passed mere token anti-idling bylaws. I'm not suggesting that Hamilton follow suit just to appear 'modern' and 'progressive'. I would prefer that the bylaw be enforced.
Hamilton council is still struggling over this, and the big issue seems to be enforcement.
The suburban representatives have trouble envisioning a city where they can't idle their cars, let alone a city that isn't car dependent or a city that has transportation alternatives to the automobile.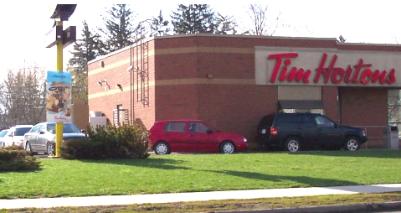 Vehicles idle at a drive-thru (RTH File Photo)
According to a study undertaken by the University of Alberta of a Tim Horton's in Edmonton over a 54 hour period, the average time spent idling at a Tim Hortons drive-thru was 5.08 minutes.
They estimated the daily CO2 emissions at a single Tim Hortons to be 385 kilograms.
According to a 2006 study by QSR Magazine, the average wait time in a fast food drive-thru was 198.5 seconds, well over three minutes.
For comparison, ten minutes of idling consumes three quarters of a litre of gas - enough to drive nine kilometres in a car that gets 12 km/l (30 mpg).
Real Human Progress
Drive-thrus and plastic bags are damaging to the environment. They are not an advancement of human progress. Realizing that some conveniences are backwards and banning them are steps in the right direction.
Real human progress would be to examine all our inventions and tools in our activities of daily living and determine if the convenience is worth it.
Post a Comment
You must be logged in to comment.