A Plan to Put Streetcars on Main St.
Jason finished evaluating Main Street and King Street and came up with a suggestion for Hamilton to develop a Modern Streetcar system from Mac to Eastgate.
By Jason Leach
Published February 26, 2007
I've finished my little pet project of evaluating Main Street and King Street and coming up with a suggestion for Hamilton to develop a Modern Streetcar system from Mac to Eastgate.
I received information below regarding the width of Main Street at various points and am happy to say that we can accommodate a two-way modern streetcar quite easily through most of the entire length of Main Street.
Main St. between Dundurn and Sherman is 50 feet wide. I suggest we have two contra-flow rail lanes on the north curb.
Each lane would be ten feet wide. Two eastbound vehicle lanes would also be ten feet wide.
On the south curb, a seven foot wide parking area could be housed. This could be turned into a short right hand turn lane at major streets.
At transit stations the westbound train which travels along the north curb would veer seven or eight feet to the north and an eight foot (roughly) median station would house the loading and unloading of passengers from both trains.
See the attached diagram from Portland for a basic concept of a median station.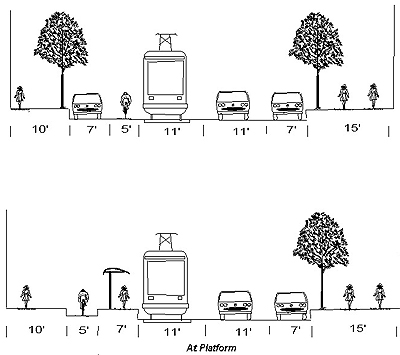 Moodie Avenue Modified Right Running Bike and Streetcar (Image Credit: Portland Transport)
Again, Main Street is 50 feet and this set-up fits rather easily. The only area where it gets a little tight is at stations where the entire width, including street parking on the south side and the median station, would add up to around 55 feet. Perhaps parking could be removed at these points, especially since stations would only be at major streets.
From Sherman to the Delta, the same set up would be used. Main is roughly 42 feet wide here so some slight shaving of the north sidewalk would be necesssary at stations and no parking on the south side at stations. This would only affect Sherman and Gage avenue as the only stops in this leg.
Delta to Kenilworth goes up to 45 feet and is two-way.
Three options can be used here:
Curb transit lanes with raised sidewalk stations and 'bump-outs' for regular HSR routes such as the 1-King to pull over for its stops. One traffic lane each way at around nine feet each with an eight to nine foot wide turning lane down the middle.

Centre of the road transit lanes with median stations (left turn lanes can be built on the opposite side of an intersection with a station). This leaves one lane of traffic each way with left turns only allowed at stoplights and on-street all day parking on one side of the street. However, this setup makes things more difficult for regular HSR service such as the 1-King.

Same as option 1, but allow seven foot parking bays on one side of the street. People would be parking on the opposite side of the tracks, but this is fairly common in other cities (Portland to name one).
The final stretch to Eastgate Square goes almost to 60 feet wide. Right now there is no street parking along here.
At 60 feet, there could be ten foot wide transit lanes on each curb with two full lanes of traffic (ten feet wide) in each direction. No turning lanes, but left turn signals at major lights. This is a total of 60 feet.
My suggestion for local buses 1-King and 5-Delaware is as follows:
1-King: Use King Street from Mac to Delta (one eastbound bus lane, two westbound car lanes, street parking on the north curb ­ this can be accommodated immediately with no street reconstruction). Eastbound buses have their own lane, while westbound shares traffic.
5-Delaware: Get rid of the 5E. All Delaware buses would use a two-way Hunter, and then regular routing along Stinson, Delaware, Maplewood, etc.
My final suggestion based on stop frequency in other cities and in keeping with the idea of this being a hybrid between LRT and streetcar service would be to have stations (roughly) at the following locations:
Mac
Dalewood
Westdale
Paradise at King
Longwood at Main/Innovation Park
Dundurn
Locke
Queen/Hess
McNab/in front of Hamilton Place
John
Wellington/Victoria
Wentworth
Sherman
Gage
Delta
Kenilworth
Parkdale
Nash
Eastgate
I know this is more stops than the current B-Line, but with exclusive lanes, signal priority and quick boarding/exit it will be a huge passenger benefit to have stops in this type of configuration.
I currently live in Ward 1 and work at Main and Gage. B-line is useless to me since there are no stops between Sherman and Delta. Perhaps in the future we could see an express service of some sort that goes from downtown to Stoney Creek with one or two stops.
However, if we're going to invest in a proper LRT or BRT (by the way, all of the above ideas and configurations work with BRT - there just isn't the same return on investment in terms of private development and urban revitalization like we'd see with rail) the service needs to be convenient as well as modern and quick.
Stations spaced too far apart will hinder ridership growth in huge segments of the central city.
By the way, these are the types of trains I'm talking about: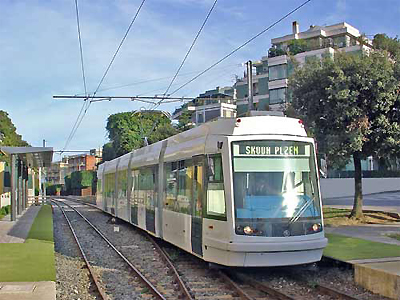 The 06 T low-floor tramcar in Cagliari, Italy. (Image Credit: Railway-Technology.com)
Portland uses the three-car variety because it's a local streetcar route: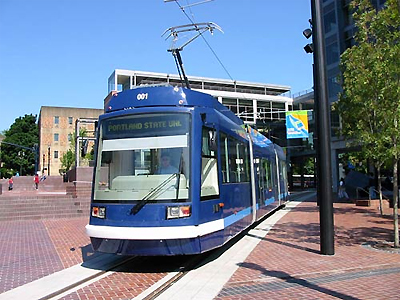 The 10 T low-floor tramcar in Portland, USA. (Image Credit: Railway-Technology.com)
My research has found that these trains can be built with the 'shallow slab' method, which allows track to be laid without moving much underground services. Electrical systems are placed underneath the raised platforms.
Note how simple stations can be: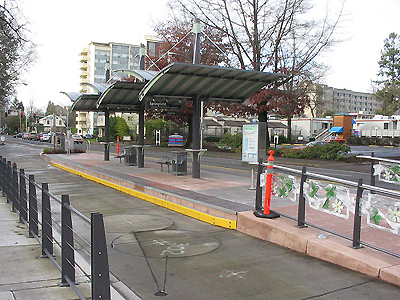 Hilyard Station, Eugene Oregon (Image Credit: Flickr)
Portland's streetcar uses shelters similar to our silver HSR shelters.
I've written various pieces on RTH about the return on investment for rail vs BRT. I used to be somewhat skeptical, but the trend is repeated in city after city that goes for streetcar/rail instead of bus.
Long term maintenance and replacement costs are way higher for bus systems as the buses generally last 12 years. Trains can last 25.
Portland and other cities have seen billions of dollars invested within a five minute walk of their streetcar systems. Hamilton could sure use that, and who knows, maybe we'll end up developing future lines to the water or along the Upper James BRT corridor (which by the way, can easily be median the entire length).
Post a Comment
You must be logged in to comment.