Once Upon a Time
I know, as well as many Hamiltonians, that our city is Canada's best-kept secret, but sshhh.
By Trey Shaughnessy
Published March 14, 2005
Once upon a time, in a place far, far away, there was a town.
This town was situated at the head of a great lake, with a natural harbour and sand bar. There were meandering rivers and dozens of magnificent waterfalls located nearby. The town was blessed with a temperate climate, Carolinian forest, rich soil, and hard-working, honest people.
The town was destined to be a great city. A city that would be the envy of a great land one day. A city that would provide steady employment for anyone that wanted it. A city that would be talked about overseas, one that people chose above all others to a start new life. It was a place where families thrived, established roots, and became equally as blessed as the small city itself, with prosperity and a future.
The town thrived. Its future was bright. A respected university relocated to this small city. Industry flocked to this little seaport on the shores of a great inland sea. Railways were laid down to meet the increased trade.
The city was home to workers and industrialists alike. Even a Prime Minister called this city home. Many great people and things came from here, and that was only the beginning of this young city in a developing dominion.
Though not without its challenges, the city persevered as if nothing could stop it, on its way to greatness. Those were good times, proud times and ambitious times. But did the city rest on its laurels? Did it become complacent? No. There were bigger fish out there to land.
The big fish came in the form of an emerging company in an emerging industry. This newly merged company was looking for a new home after outgrowing its former location on the shores of a great river.
This industry was a highly coveted prize for any city that could lay claim to its home, so valued that no land could claim to be "industrialized" without it having one of its own.
Every small town and big city in the land courted the company. The company was offered every imaginable incentive that a city could offer. After a long bidding process, the company chose this little ambitious city at the head of a great lake, with its natural harbour and sand bar, ancient escarpment, dozens of waterfalls, meandering rivers, and hard-working, honest people, as its new home.
The industry was steel. The company was The Steel Company of Canada, Limited, known today as Stelco.


Hamilton Steel Company logo
Stelco located on the shores of Hamilton harbour in 1910. It was a proud day for the city. It changed how Hamilton was to develop for the next hundred years. Other cities that failed to attract Stelco, Toronto, Kingston, London and others took a long hard look at themselves and some chose to pursue other industries such as insurance and banking.
Hamilton was firmly established as Canada's industrial powerhouse. The location was ideal, fueled by cheap hydro from Niagara, using a new technology called "alternating current" to transport electricity over a vast area, a close proximity to the U.S. border, a deep-sea port with access to the Atlantic through the St. Lawrence seaway and to the Ohio basin via the Welland Canal.
The city was well serviced by railway connections with the new Great Western and the T.H.& B. lines. The eastern harbour would soon be home to many more great industrial names - Dofasco, International Harvester, Westinghouse, Firestone, National Steel Car, Otis Elevator, American Can Company, Union Drawn Steel, Frost Wire Fence, Barnes Carriage Company, Studebaker, Berlin Machine Works, Proctor and Gamble, and Hamilton Bridge Works.
Hamilton joined the world-class industrial ranks, alongside fellow cities like Birmingham England, Belfast Ireland, and - closer to home - leading American industrial cities, such as Pittsburgh, Cleveland, Detroit and Buffalo.
The labour force grew to the demand of the employers, attracting skilled and general labourers from all over the world. At the start of The Great War (1914), Hamilton's population surpassed 100,000. Hamilton's 'rush hour' revolved around the "3 to 11", "11 to 7" and "7 to 11" shifts.
Hamilton made things for the world, like the underwater steel net that protected Halifax harbour from Nazi U-Boats to the fancy blouses ladies wore from Eaton's.
Other white-collar industries were attracted as well. The Gore Bank and Bank of Hamilton with branches across the country, today known as CIBC, Canada Life Assurance, and Birks Jewelers to mention to a few.
Hamilton was proud. Hamilton was world-class.
Fast-forward several decades. Hamilton is still home to many of these great factories, and consistently ranks in the top five cities for employment in Canada. Hamilton is the third most popular destination in Canada for immigrants. Hamilton is growing, recently passing Winnipeg and - as we speak - passing Quebec City as the eighth largest city in Canada (if Mississauga is counted part of Toronto).
Hamilton still enjoys a world-class notoriety in the same way as Detroit, Buffalo, Cleveland and Pittsburgh. Hamilton can still boast a unique character, and the only 'real city' in the Greater Toronto Area shadow.
So what is Hamilton's problem? The downtown could certainly be better, but it still beats other other cities. Hamilton maintains an urban fabric, rich architecture, an outstanding geography and a history that Hazel McCallion and Rob MacIsaac would give their left four-hundred-series-highways nut for.
The problem is image.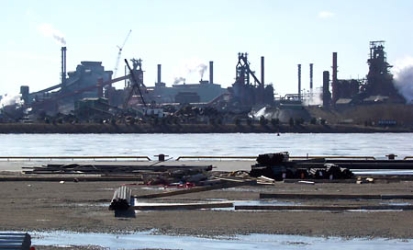 A view from the Skyway
Someone once said "perceived reality is reality" - probably an 'Ad-Man'. But this is no truer then when it refers to Hamilton's "perceived reality." Basically it means this: if something is generally thought to be true, then it becomes true, whether it is correct or not. This - real or not - truth spreads among people, usually preceded with, "Someone told me..."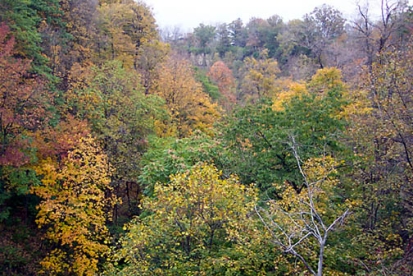 A view from the Escarpment
I know, as well as many Hamiltonians, that our city is Canada's best-kept secret, but sshhh. We don't boast, we don't brag, and we don't need to have our city perceived as "world-class." We're Hamiltonians. We are what we are. The word frig was probably invented in Hamilton, and if "those people" want to believe the view from The Skyway is all there is to Hamilton - then frig'em.

Nary a smokestack in sight
Maybe we can blame the media, the absence of a CBC bureau, the poor coverage of TV stations, one daily newspaper (whose publisher who lives in Oakville, and a parent company based in Toronto), but it is more than a media problem.
Maybe we can blame inept politicians whose biggest concern is getting votes and bankrolled campaigns. Maybe we can blame Toronto for being Toronto. Maybe we can blame it on the rain - or the wind for "not blowing the right way," as my father would say when the air pollution was bad.
The biggest problem I believe is based purely on the view from the Skyway Bridge. Anyone who knows Hamilton knows this as an unfair image. Dofasco is as high-tech as RIM and Stelco isn't nearly as manipulative as Nortel.
Since when did a lunch bucket and a hard hat become a bad thing? As a son, grandson, nephew of several uncles and a friend of many who earned a living and fed their families by being a steelworker, I say steel is great.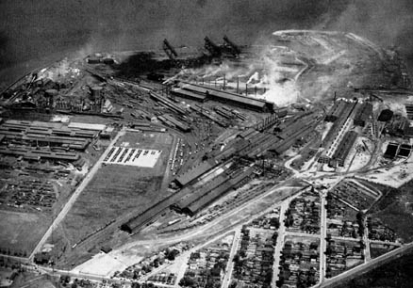 We have to stop looking down on steel
How can Hamilton get its story out and change its image? We can't change the view from the QEW; the solution is to get people here. Let visitors come and see what else Hamilton has to offer.
We can start with our own residents. Give our residents a reason to come downtown. Tell our story to ourselves and tell it well. We have a good story to tell.
Yes, Hamilton has its problems, but I love it. Hamilton has so much more potential and I can't wait to see it realized. After all, a city with a natural harbour and sandbar at the head of a great lake, an ancient escarpment, dozens of magnificent waterfalls, meandering rivers, temperate climate, Carolinian forest, rich soil, and the most hard-working, honest, fantastic people ... a city with all this can't loose.
Post a Comment
You must be logged in to comment.