Raise the Hammer Turns Two
Thanks to you, Raise the Hammer is celebrating its second anniversary.
By Ryan McGreal
Published December 13, 2006
After months of casual talk, and then more earnest talk, and then actual planning, Raise the Hammer unleashed itself on the world on December 14, 2004 with big plans to open up the way political decisions are made and to be a strong, eloquent voice for sustainable urbanism.
Well, almost no one actually noticed. In the entire month of December, the site had a total of 177 page views. Most of these were from us clicking on our own pages in wonderment.
Still, we persevered, eschewing advertisements and marketing to spend our limited energy on writing as well as we could. Over time, traffic to the site grew from a drop to a trickle.
In late January 2005 we launched a blog so we could post short, quirky, or time-sensitive articles between issues. By April we decided to increase our output from monthly to semi-monthly issues.
We also managed to get the site indexed by Google News, which looks for new content every day instead of once or twice a month.
Our traffic grew to a blistering 585 page views per day.
We begged local writers to contribute content and our roster of regular contributors started to grow. Soon, people were sending us article submissions unbidden (!), a struggling editor's dream.
The site never exploded but it did grow steadily. In September 2005 we started following the site's traffic more rigorously. By then the site was averaging 849 page views per day.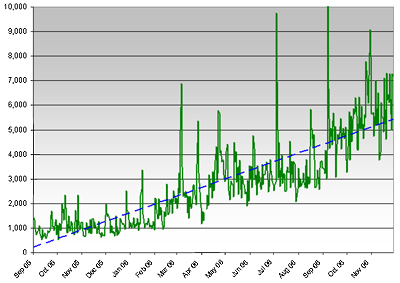 RTH Page Views by Day, Sep. 15, 2005 - Dec. 12, 2006
A site redesign in April 2006 made the articles and blogs easier to find and the site easier for search engines to index.
Traffic surged in April and again in October. A spike in the days leading up to the municipal election suggests that many readers now regard RTH as a legitimate source of news and analysis.
Today, the site averages around 6,000 page views per day.
None of this would be possible if not for the faithful readers who have returned to the site, responded to articles, provided timely, constructive feedback, and then taken the notion of citizen engagement into their own lives and out into the world.
Raise the Hammer works best as a dialogue among peers, not as an authoritative one-way voice. No one has all the answers, least of all us, and more participants means a wider variety of perspectives and more sources of insight.
In the new year, after the holiday mayhem has passed and people are struggling with January's distinctive post-purchase malaise, we plan to throw a two-year anniversary celebration.
Don't worry: it won't be a lecture or a reading circle. It will be a party! More to come in our January issue.
Post a Comment
You must be logged in to comment.