My Three Wishes
My wishes can be simplified to this: I wish for council and staff to make the proper choices to build a livable and vibrant city.
By Trey Shaughnessy
Published December 13, 2006
As Raise The Hammer enters its 'Terrible Twos' (December 14 is our second birthday) and the Christmas spirit is all around us I'm going to ask for three things for Hamilton in 2007.
1. Lister Block
I wish for Lister Block to be redeveloped into a residential building.
Forget trying to cram office space and modern office requirements into it. The building location and size is perfect for New York Style apartments, the kind in Woody Allen films.
The ground floor will have real retail that is suitable for residential needs, such as: a small grocery store (Goodness Me?), a bakery, a hardware store (Home Hardware?), a coffee shop/café (anything but Tim Hortons - Bad Dog 2 perhaps?), and a candy store (the kind that are all over Toronto, not that I eat a lot of candy, it's just that we don't have one in Hamilton). Still, I'll settle for a bulk foods store – with a candy section.
The ground floor retail will open to the street, complete with roll-up canopies and into the inner mall like the original arcade. Parking spaces will be on the third and possibly forth floor entering a ramp off Rebecca.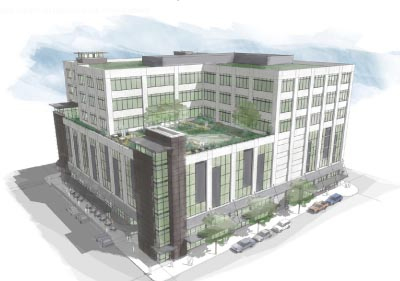 The Lovejoy, a new mixed use building in Portland
King William is suited for residential living. I suggest if the city needs office space and can't find it in the Stelco Tower or Standard Life, then build a real office building on a main artery like Main or King Street. A signature post-modern office building at King and Bay is a better location.
2. Light Rail Integrated Transit System
Hamilton enters the back-to-the-future age with four electric light rail lines. They would have hubs that would in turn create small high-density clusters and radiate outward into lower densities from the transit hubs.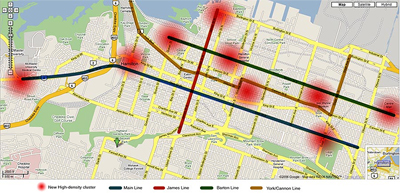 New Transit Oriented Clusters - Click on the image to see a larger version in a new window
At the centre of these hubs are mini cores are retail, entertainment, office, and high density residential. The light rail system will include a new incline railway, located at James South to connect Mohawk College with the lower city.
The Main Line connects McMaster University and establishes a high-density core on Main West. This core will house more than just a few hundred students, but this stretch of Main will be a canyon of buildings from 12 to 25 floors.
At the other end of the line it is anchored by Gage Park. The beautiful urban park is suddenly available as a reading spot for students.

A Possible Main Street LRT Station
The James Line traverses the heart of the downtown and connects the harbour front and Bayshore Park with James South. It will intersect with three other east/west lines so James Street will become the most valuable place to live, work and play in Hamilton.
It will also have the most dramatic sightlines, from waterfront parks, Jamesville, Gore Park and the Niagara Escarpment.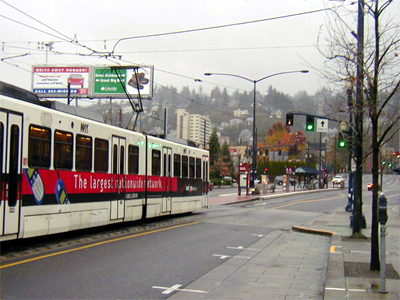 A Possible James Street LRT Station
The York/Cannon Line will be the hardest working line of the three. It will reach the RBG and Dundurn Castle at one end and travel through York Boulevard, to Wilson and Cannon streets, Ivor Wynne Stadium and ultimately reaches Gage Avenue and travels north the industrial sector.
Everyone will be able to find use with this line, from workers to people that want to take in a hour or two at the Royal Botanical Gardens from the Central Public Library.
This long track will also have the most beneficial spin-offs. Not only will it convert York into a high-density retail area like it was before the 'boulevard' gutted it, but the depressed housing values will soar when people realize what a gem of a location these houses offer.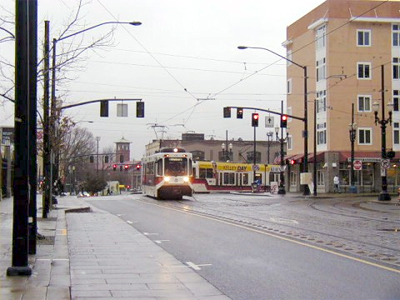 A Possible Cannon Street LRT Station
The parking problem around Ivor Wynne are solved. As well, Ti-Cat fans will be able to patronize downtown easily will this line.
The Barton Line is the line that would most feel like a back-to-the-future success. Barton's current situation has just as much to do with the streetcars disappearing as it does with other urban issues.
This line will anchor Centre Mall in the east, past the General Hospital and connect with the newly developed high-density waterfront property in the west at the top of Queen Street where the rail yards are currently.
In between, Barton Street will spring back to life and be a property investors dream. The streetwalls will be full of live/work spaces and trendy retail destinations.

A Possible Barton Street LRT Station
3. Intelligent Choices
My third wish is that Hamilton's municipal government becomes the model of all municipalities. Other municipalities have stopped looking at Hazel McCallion's sprawl nightmare for inspiration and see Hamilton as a sustainable, corruption-free and livable city.
The openness and integrity of council and staffers rids the corrupt, 'insiders only' image of bidness in Hamilton. Queen's Park praises Hamilton for balancing its budget and increasing its tax assessment from infill and property value increases.
Victorian homes that were once selling for $130,000 are now being renovated with $50,000 investments because the value of the home is worth $200,000.
This can happen to Hamilton and it's not as difficult as it seems. Simple measures and small steps will take us there, but we first need the political will.
With every decision that has to be made, there can be two choices. Does this choice fit the business as usual, car dependency, sprawl, unsustainable, no future option?
Or does this choice fit the healthy city, sustainable, livable option?
My wishes can be simplified to this: I wish for council and staff to make the proper choices to build a livable and vibrant city.
Post a Comment
You must be logged in to comment.