AGH Film Festival Review: There Are No Fakes
Documentary filmmaker Jamie Kastner chronicles the unraveling of a bizarre fraud ring that not only pirated Norval Morrisseau's Woodlands style of painting, but used violence, drugs, and alcohol to achieve their goals.
By Doreen Nicoll
Published October 24, 2019
This article has been updated.
Kevin Hearn (of the Barenaked Ladies) spent $20,000 on an original Norval Morrisseau painting titled Spirit Energy of Mother Earth. But, when he shared his painting with the world as part of a show at the Art Gallery of Ontario, its authenticity was called into question. What followed was the stuff of Quentin Tarantino movies.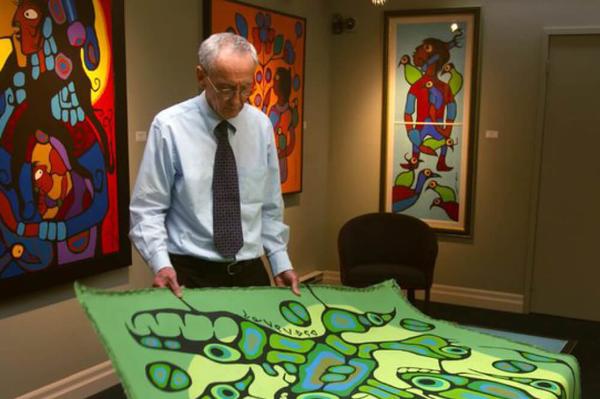 Hearn requested the provenance or history of his painting. Three names were given to him. Two of the people named had never owned the painting and the third person was contrived. When the seller refused to prove it was authentic or to provide a refund, Hearn decided to sue.
In There Are No Fakes, documentary film maker Jamie Kastner chronicles the unravelling of a bizarre fraud ring that not only pirated Morrisseau's Woodlands style of painting, but used violence, drugs, and alcohol to achieve their goals.
There are a few of Morrisseau's paintings from the 1970s (the decade Hearn's painting is from), yet a proliferation of them were steadily finding their way to auction.
The ring made some major mistakes though. For example, Morrisseau used eight syllabics to sign his paintings. They appear somewhere on the front of each Morrisseau work of art. The fakes have the syllabics on the front but, on a large percentage, the reverse of each canvas is painted in dry black brush with Morrisseau's name in English, the title and the date of the painting - something Morrisseau never, ever did.
A Toronto 'collector' who has purchased a significant number of 'Morrisseau's' from the ring swears there are no fakes out there and that his are originals because they contain such iconic Morrisseau symbols as a figure covered with small pox carrying a large Christian cross.
The fraud ring claims many of these paintings were created during the six months Morrisseau spent in Kenora's jail and were gifted to a guard named Deiter Voss. But, as Hearn's lawyer Jonathan Sommer states in the film, Correctional Service Canada has confirmed that Voss was not a guard at the jail during that time.
The 30 or so paintings Morrisseau created at the jail were sold to a doctor in Toronto. Not one of those paintings was signed on the reverse of the canvas.
Enter Ritchie Sinclair, an artist of Scottish heritage born in Thunder Bay. Sinclair and Morrisseau had a working relationship that began in 1979 and they maintained a lifelong friendship. Sinclair claims, among other things, that the forgeries have too much white in the paint mix.
Then, there's Dallas Thompson, a young First Nations man who grew up in poverty and came to know, work for and live with the leader of the forgery ring, Gary Lamont. Dallas claims that Benji Morrisseau (Morrisseau's nephew) and Wolf Morrisseau (Morrisseau's brother) were locked in a room by Lamont and forced to paint in the style of Morrisseau. Lamont fed the addictions of the two men in exchange for work that appeared to be original Morrisseaus. Someone then signed the back of the canvas with a dry black brush.
But in a strange twist of events, Dallas and Lamont's niece, Amanda Dalby, exposed a side of this story that is all too familiar to First Nations families. Each year, Lamont and his common-law partner boarded six First Nations young men attending high school in Thunder Bay. Lamont did this for over a decade.
Many of these young men came from dry reserves, but Lamont would introduce them to alcohol and drugs. It's alleged Lamont raped these young men on an ongoing basis and that money for boarding them was used to cover up the money Lamont was getting from selling drugs.
Dallas figures he was raped thousands of times during the years he spent with Lamont. In 2016, Lamont's lawyer struck a plea deal in which Lamonte pleaded guilty to five counts of sexual assault involving five young men.
From the racist language and violence used by the men in the fraud ring and from the callous treatment of First Nations youth it's clear we have not eradicated our sense of colonial entitlement and we, as a society, are still contributing to the intergenerational trauma of First Nations people. Canadians are nowhere near the stage of reconciliation.
After a seven-year court battle that involved art experts and firsthand witnesses like Dallas, the judge decided in favour of the defendants. Thank goodness Hearn appealed. He recently received the new decision. This time the appeal judge was critical of the trial judge and found he failed to remain unbiased and impartial and in fact became an expert witness for the other side.
Sommer, part of a Q&A after the screening, said he spent a decade investigating this case. During that time, he contributed over $750,000 worth of pro bono work. Sommer did not receive help from anyone in power, but says now there are some signs of movement. Sommer declined to comment on the financial cost to Hearn, but indicated it was substantially more than the settlement sum of $71,000.
How it is possible for a lawyer and a small group of Morrisseau art lovers and friends to solve the largest art fraud in Canadian history without any assistance from law enforcement? The failure is obvious, our institutions don't care about indigenous issues.
Long before Hearn and Sommer got involved someone in power had to have known what was going on in Thunder Bay. Failure on the part of all levels of government, Indigenous Affairs, the RCMP, the OPP, the Thunder Bay school system, and Children's Aid to investigate the abuse, violence, and drug trafficking is inexcusable. At the very least there should be an inquiry into the maltreatment of these young people as well as funding for counselling.
Going forward, it's time for all levels of government to come together to fund at least one high school on reserve to serve northern Ontario communities so youth can stay within their culture and remain safe. Modelling such a school after the Helen Betty Osborne Ininiw Education Resource Centre in Norway House, Manitoba would be a way to acknowledge the colonial education and boarding system currently in place is fatally flawed.
Hearn still has his 'Morrisseau' and is preserving it for educational purposes.
There Are No Fakes (2019, 114 minutes) screened at the AGH Film Festival Friday, October 2019
You can see the full schedule of screenings for the AGH film festival.
This article includes information and ideas provided by John Christopher, who was kind enough to point out some errors in the original publication.
Post a Comment
You must be logged in to comment.