When Art Meets Activism: Love in the Hammer Choir
Music is frequently accepted as a common language, and the presence of the Love in the Hammer Choir speaks volumes.
By Dawn Cattapan
Published August 29, 2019
When we think of "protest art," certain images come to mind: hippies singing around an acoustic guitar, posters with fists, John Lennon and Yoko Ono's "Bed-in." Social justice and art have never been far apart.
Before #MeToo, there was Sexual Assault: The Roadshow, a traveling exhibit with art inspired by acts of violence. Just a few weeks ago, protesters in a Hong Kong airport sang a song from Les Miserables, resulting in the music being banned from China's QQ Music Streaming service. 
The Occupy movement of the early 2010s had art created and artists associated with the movement. A new term has even been coined for this type of work: "Cultural Activism." This is defined as a type of organizing where "art, activism, performance and politics meet, mingle and interact." These creative practices, whether it be public art, performance or something less formal all have the same goal- to motivate social and political change. 
Given the current climate in Hamilton and recent acts of hate towards the city's LGBTQ2S+ community, it is not surprising that art is once again being used to make a statement.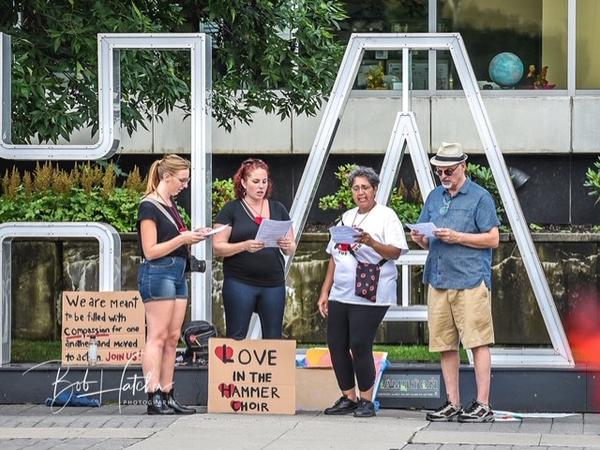 Love in the Hammer Choir (Image Credit: Bob Hatch Photography)
Love in the Hammer Choir, founded by Anna Wilson earlier this month following the protests at Hamilton City Hall, has quickly gained momentum online. The Choir now sings every Saturday in the City Hall forecourt, sometimes accompanied by a guitar, but frequently utilizing just their voices to create music to be heard above protests.
Love In The Hammer Choir describes itself as "an organic and peaceful movement to raise our collective voices in solidarity with and in defense of all those who feel unsafe, marginalized and traumatized by the increasing tensions and expressions of hate-motivated intimidation and violence in our city."
By bringing people together in a shared activity, Love In The Hammer is also participating in creative placemaking. One of the concerns voiced by the greater Hamilton community is that the presence of protesters makes them feel unsafe to walk around City Hall in the middle of a weekend afternoon.
However, by operating on an open and ad hoc basis weekly, the choir operates similarly to the popular "Reclaim the Streets" movements that have taken over major cities in past years. In this movement, streets are closed down for pedestrian use and pop-ups emerge that can be dance performances, carnivals, storytimes or anything that shows the demand for greater public space.
If history is any indication, Love in the Hammer Choir has the ability to exert significant influence if its presence continues to grow. Grassroots art movements that are created from key moments can impact public perception of an activity and a political stance.
Their influence on public space, the community they serve and the priorities of policymakers can have a reach that lasts far beyond their physical presence.
To the greater public, this group forces us to ask what the role of artists, neighbourhood activists and policymakers is - and should be - in this process. Music is frequently accepted as a common language, and the presence of the Love in the Hammer Choir speaks volumes. 
Post a Comment
You must be logged in to comment.