Modern Conservatism Hijacked by Right-Wing Extremists
It's easy to dismiss Maxime Bernier and his openly racist breakaway party, but the same paranoia and extremist hatred are widespread within the mainstream Conservative Party.
By Ryan McGreal
Published August 26, 2019
A billboard that cropped up across the country last week were a wake-up call to many Canadians that things are not normal in Canadian politics. The billboards promoted Maxime Bernier's openly racist People's Party of Canada with a campaign-style message reading, "Say NO to Mass Immigration."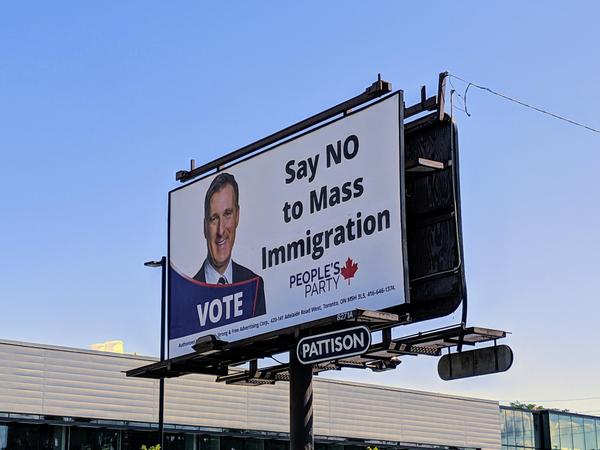 Billboard on Aberdeen Avenue west of Longwood Road promoting Maxime Bernier's racist immigration policy
The billboards were funded by a third-party company called True North Strong & Free Advertising Corp. That company is run by Frank Smeenk, who is also the President and CEO of KWG Resources Inc, a Toronto-based resource company with significant mining interests in the Ring of Fire operation being planned for the James Bay Lowlands of northern Ontario.
Responding to a wave of outrage across the country, Pattison Outdoor Advertising announced on Sunday that they will pull the billboards and review their approval standards. Bernier, for his part, agrees with the billboards' message and is blaming a "totalitarian leftist mob" for the decision to remove them.
Hijacked by Extremism
Just what is going on here?
It's easy to dismiss Bernier and his party as a marginal breakaway faction, but he came an extremely close second in the Conservative Party of Canada (CPC) leadership contest just two years ago. It took until the 13th ballot for Andrew Scheer to edge over the threshold with 50.95 percent of the party membership votes, compared to Bernier's 49.05 percent.
What many Canadians have not yet realized is that the modern conservative movement has been substantially hijacked by ideological extremism.
The right-wing base has been radicalized over the past couple of decades by a sophisticated, well-funded, right-wing hate-laundering media ecosystem that funnels extremist ideas incrementally into the mainstream. Bernier's PPC wears its extremism on its sleeves, but the same sentiment permeates the CPC as well, albeit in a more cryptic form.
Scheer recognizes that angry radical extremists are a significant part of the conservative base, and he has been working hard to shore up their support. His conspiratorial pandering to bigots, xenophobes and anti-globalist conspiracy theorists is every bit as reckless and deplorable as Bernier's overt race-baiting.
Scheer's appointment of Hamish Marshall, co-founder and former director of the extremist Rebel Media website, to run the CPC election campaign shows that he is perfectly happy to continue tapping into the far-right for organization and support.
His reckless, uncritical endorsement earlier this year of the toxic, xenophobic "United We Roll" convoy of Yellow Vest fascists was a dangerous turning point that gave a veneer of legitimacy to a movement fueled by violent extremists. Scheer actually spoke at the same event, and on the same stage, as Neo-Nazi Faith Goldy.
Scheer is busy presenting himself to the Canadian public as a viable, even bland alternative to the ethically-challenged Trudeau Liberals, but he presides over a party now largely defined by science denial, ethno-nationalism, refugee fearmongering and paranoid conspiracies about Marxist globalists.
Self-Fulfilling False Alternative
If you don't like the Liberals, that's fine. There's a lot to dislike: SNC-Lavalin corruption, the broken promise of electoral reform, approving an oil pipeline expansion the day after announcing a climate emergency, making Bill C-51 even worse, and so on.
Thanks to Canada's first-past-the-post voting system, which Trudeau promised to replace before abandoning that promise once he won a majority with 40 percent of the popular vote, the prevailing sentiment is that we're stuck with either the Liberals or the Conservatives.
But that belief is as nihilistic as it is self-fulfilling. Most people are planning to vote either Liberal or Conservative precisely because they believe most people will end up voting either Liberal or Conservative. This is depressing and self-defeating and there is no easy way to get past it.
But I urge Canadians to look carefully at every party before deciding they only have two options.
Remember that the Liberals were polling in third place in 2015 when the writ of election was issued. Very few people expected them to win, let alone win a majority. Elections matter. Campaigns matter. Voting matters. Don't let the next four years be predetermined by the same tired and self-serving lesser-of-two-evils narrative.
And if the main reason you are thinking of voting Conservative is because you disapprove the ethical lapses of the Liberals, please stop and really think about whether the Conservatives will be more ethical and responsible leaders. Spoiler alert: THEY WON'T.
Post a Comment
You must be logged in to comment.