Hamilton Community Benefits Network: Ensuring LRT Benefits Are Shared Widely
HBCN has an exciting opportunity to pressure for real change: decent work, inclusionary housing, and community-driven demands for investment in the people of Hamilton, not just property.
By Karl Andrus
Published August 12, 2019
Now that the Ontario Government has reconfirmed its support for Hamilton's light rail transit (LRT) project, restarted property acquisitions along the LRT corridor and resumed the Request for Proposals (RFP) process for the three shortlisted proponents vying to build and operate the system, this is a good time to discuss community benefits and community benefits agreements.
A community benefits agreement is a binding commitment on a public investment project to follow a fair, inclusive process that supports good jobs and provides real, tangible benefits to the community: promoting economic inclusion through apprenticeships and job opportunities for marginalized people, supporting social enterprises and local procurement, and building new infrastructure that improves neighbourhoods.
In our City, the Hamilton Community Benefits Network was established to ensure that Hamilton benefits from the LRT project and other future public investments.
A City in Transition
Hamilton is a city with a deep working-class industrial history. For decades, the city has languished under the decline of heavy industry. Ten years ago, the Hamilton Spectator's Code Red articles identified two very different Hamiltons: "Two neighbourhoods, separated by just five kilometres as the crow flies. They might as well be worlds apart. Between these Hamilton neighbourhoods, representing two ends of the [economic] spectrum, there's a difference of 21 years in average age at death."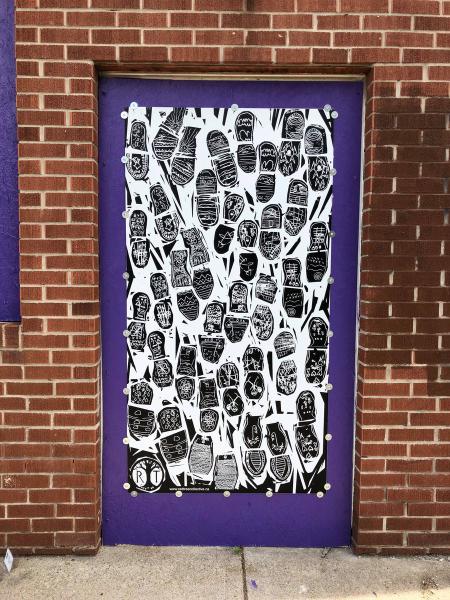 Community art installed on a property bought by Metrolinx for LRT near Gage Park
The Spectator's follow-up article, Code Red 10 years later, shows little improvement. A staggering discrepancy contrasted by the last seven years' record of billion dollar a year in new development, concentrated mostly in the downtown core. Cranes tower over the city for the first time in more than 30 years. Construction and development are booming. Yet income inequality, child poverty rates, high mortality rates in code red neighbourhoods, displacement, and renovictions are escalating.
Although Hamilton's unemployment rates are lower than the country as a whole, a growing number of those jobs are precarious, non-union, low wage, and temporary, leaving more and more residents of the city precariously employed. Wages are not keeping up with rent increases.
A study just released by the Canadian Centre for Policy Alternatives, called Unaccommodating: Housing Rental Wage in Canada, shows that making minimum wage ($14/hour), you would have to work 54 hours a week to afford a one-bedroom apartment in Hamilton or 65 hours a week for a two-bedroom. You would need to earn $18.99/hour to afford a one-bedroom working 40 hours a week, or $22.78/hour for the two-bedroom.
(Yet the City of Hamilton itself refuses to become a living wage provider.)
Leaving Residents Behind
Neighbourhoods are being changed as the bulk of the new development is in high-end, one-bedroom condos designed for the "newly wed and almost dead". Once-affordable multi-bedroom units, often the landing place for many of the city's newcomers, are being replaced. Changing demographics mean threats to an already-inadequate suite of public amenities, such as parks, recreation facilities, libraries and schools.
This new booming and growing City of Hamilton is increasingly leaving people behind. Existing residents, mainly low-income, are being pushed out of their communities. The downtown core is the front line for the rapid changes underway in the city, with the LRT corridor an even larger and more vulnerable second front.
Public consultation on new projects and developments is almost non-existent. Residents often find out about new developments just before construction begins. The city has made progress in recent years on attempts at community engagement between the stakeholders, residents and the city. However, residents often still characterize that effort as "community engagement theatre", feeling the process could use much improvement.
And the residents who are being engaged are rarely those most harmed by the changing city. Municipal leaders are rarely using tools such as the previous Section 37 of the Planning Act, Inclusionary zoning, and are treating publicly-owned housing and land as short-term revenue generators best developed by private interests.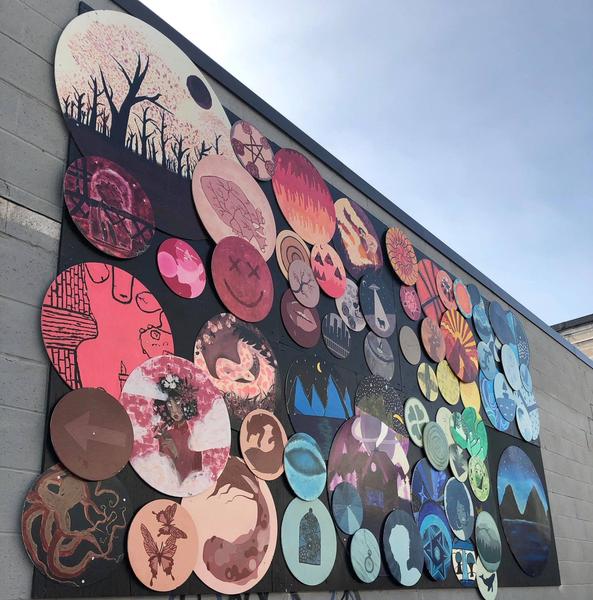 Community art installed on a property bought by Metrolinx for LRT near Wentworth Street
Community Benefits Networks
Under the previous Ontario Government, Bill 6 was passed and it mandated some form of Community Benefits for all major government of Ontario infrastructure projects. Hamilton's Light Rail Project fell under that legislation.
In Toronto, the Toronto Community Benefits Network (TCBN) had already made major strides in pushing for community benefits and was involved in several major projects, including the Eglinton Crosstown LRT and the Woodbine Casino.
Hamilton needed a network of its own to bring our local community voices to the table. So, for almost three years, the Hamilton Community Benefits Network has built a broad citywide collation of labour, community groups/hubs and social enterprises, residents and marginalized groups to help bring Community Benefits Agreements to Hamilton's major government and private development projects.
Toronto Community Benefits Network (TCBN) has already worked with Metrolinx on rapid transit projects and has recently developed a [Community Benefits Protocol] (https://www.toronto.ca/legdocs/mmis/2019/ec/bgrd/backgroundfile-134595.pdf) [PDF] with the City of Toronto.
In the same vein, I had the great pleasure of working with a team of researchers at McMaster's Research Shop. "The McMaster Research Shop works with public, non-profit, and community organizations in and beyond Hamilton to provide plain-language answers to your research questions."
As a group of volunteers with some staff support from the McMaster Office of Community Engagement, my organization, the Hamilton Community Benefits Network had the opportunity to pose a research question to the incredible team.
This report aims to address the main research question: What successes have CBAs had in terms of outputs, results, and benefits achieved? In addition, based on our consultation with the community partner, the following sub-research questions have also been developed: (1) What is the evidence for having a CBA policy in the City of Hamilton? (2) What might a CBA look like in the City of Hamilton? and (3) How could that policy apply to large scale private developments?
From the executive Summary:
Community benefits are becoming increasingly popular in Ontario, particularly with the use of strategic tools including Community Benefits Agreements (CBAs). CBAs are used to ensure that affected residents will share in the benefits of major development projects. Through CBAs, community-identified priorities and needs can be addressed, promoting a more equitable and healthier community. CBAs can provide a range of advantages to communities, including but not limited to, local employment opportunities, training programs, job fairs, and green spaces.

In summary, CBAs provide a myriad of advantages, from providing local employment opportunities to affordable housing. CBAs can ultimately provide many positive outcomes for the City of Hamilton, as well as the local residents in and around the Hamilton region, fostering a healthier and more inclusive city for all.
You can read the full report [PDF].
Hamilton Community Benefits Network
The Hamilton Community Benefits Network (HCBN) is a collective made up of representatives from the Hamilton Building Trades, the Immigrant Working Centre, the Hamilton District Labour Council, the YWCA, Hamilton Food Share, Environment Hamilton and many more organizations that envision an inclusive, thriving city in which all residents have equitable opportunities to contribute to building healthy communities and a prospering economy.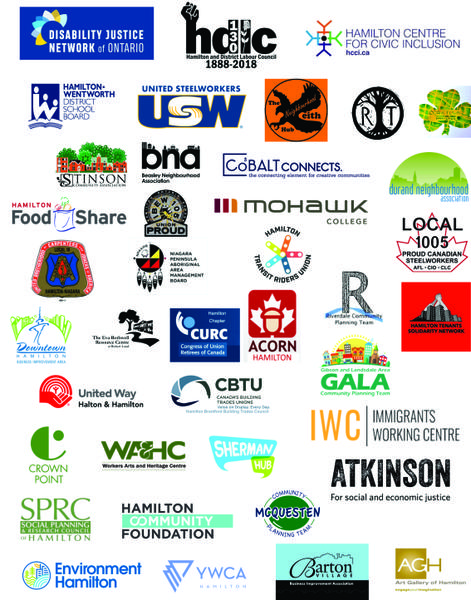 HBCN and community partners
HBCN is an Ontario incorporated Not-for-Profit, and membership is free to any community, labour or other organization willing to sign on to our Foundation Document [PDF].
With the on-again, off-again nature of Hamilton's favourite political football, the benefits network has not been as active as we would like. Our last major event was a well-attended community conversation [PDF] back in January 2019.
Now the LRT project is looking to be full steam ahead, but this comes amidst increasing pressure from the provincial government to download costs onto cities while removing and restricting municipal planning tools [PDF] under Bill 108, which "undermines the City's ability to ensure that 'growth pays for growth'."
In this context, the conversation about what community benefits are and how they can be leveraged in the city of Hamilton needs to come to the forefront.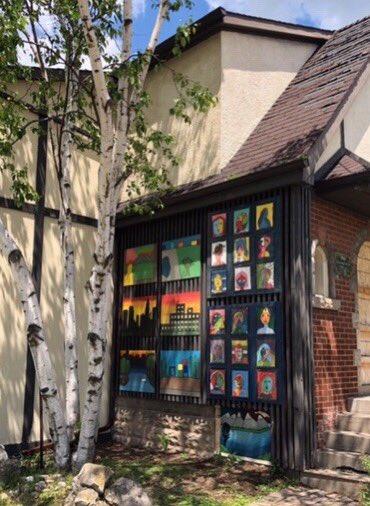 Community art installed on a property bought by Metrolinx for LRT near Longwood Road
Community Art Partnership
Recently, HBCN partnered with Metrolinx, the Hamilton-Wentworth District School Board (Delta, Sir John A MacDonald, Dalewood, Prince of Wales Elementary School), Art Gallery of Hamilton, Hamilton Regional Indian Centre, Local Artists, the City of Hamilton on a series of art projects titled, "Transport to the Future: Community, Conversation, Art!"
They are installed mainly on commercial properties that were acquired under a willing seller agreement and now owned by Metrolinx for the LRT project.
The youth-centred art pieces will set the stage for a broader conversation about LRT and the resulting social, environmental, economic challenges and prosperity for the city.
The pilot is an opportunity to create a dialogue about Community Benefits and Community Benefits Agreements in relation to Hamilton LRT and other large infrastructure and development projects in the city.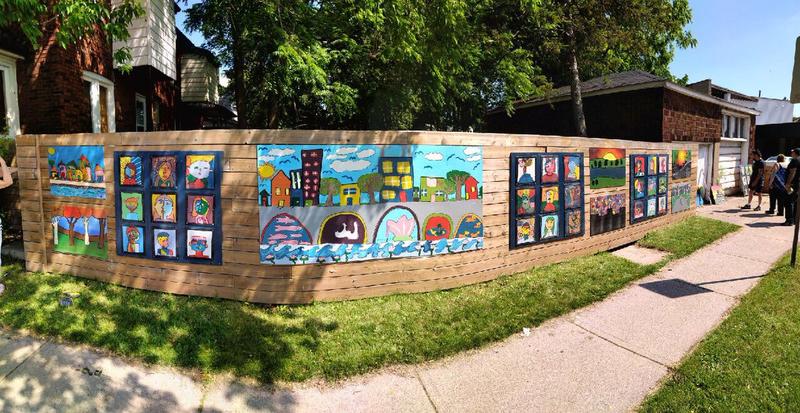 Community art installed on a property bought by Metrolinx for LRT near Longwood Road
Pressure for Real Change
HBCN has an exciting opportunity to pressure for real change: decent work, inclusionary housing, and community-driven demands for investment in the people of Hamilton, not just property.
The opportunity afforded by Hamilton's politically complex LRT project [PDF] cannot be understated. But in addition to the $1 billion infrastructure investment itself and the opportunity to build on the proven successes of the TCBN and other LRT projects, there is an additional unique opportunity in Hamilton that we cannot afford to miss.
Metrolinx has procured or is planning to procure 90+ properties along the LRT corridor. Rezoning along the LRT corridor will generate massive opportunity for new transit-oriented development (TOD) along the line. Without an effective organization to engage, organize, empower and demand effective community benefits from that investment, local residents, especially those on the fringes, will continue to be left behind.
This coming autumn, as more community art projects unfold, the HCBN will host more of our Community Conversations. It is preparing to release a community-based survey based on feedback from our last Community Conversation and begin new outreach to groups not already in the network. HBCN will also up with new information to our existing partners, host further Community Conversations, and begin to push for stronger community voices in development.
As we move into a more active phase, we will be looking for groups to participate in our Working Groups to advise the executive and board on what community benefits should look like narrowed into specific topics as well as consultation with the Hamiltonians so we can not only build on the success of the TCBN but build a made in Hamilton Community Benefits Agreement for the Hamilton LRT that sees the most benefits for our most vulnerable from this massive investment in our city.
Post a Comment
You must be logged in to comment.