Singerella, a Musical Fairy Tale to Support McMaster Children's Hospital
A creative endeavour is to be enjoyed, certainly, but having a worthy purpose makes it sweeter.
By Kevin Somers
Published June 19, 2019
Earlier this year, I wrote about Lilly Coulter, a brave young girl, fighting valiantly at McMaster Children's Hospital. Like a fairy tale, Lilly triumphed with grace and dignity. We are celebrating the victory with Singerella, a musical, dedicated to Lilly and her fighting spirit.
It's wonderful how the world rallies behind a sick child. The Children's Wish Foundation flew Lilly, her mom, and sister to meet Ed Sheeran and enjoy a concert in Portugal. From the devoted staff at Mac to strangers sending thoughts and prayers, tragic circumstances bring out the best in people.
When my niece, Julia Borisuk, was sick at Mac, I felt helpless and useless as much as sad. I've realized, however, you do what you can because a collective will can work miracles.
For the past few years, Rebekah (Becky) Jackson, who writes beautiful music, Carlos Jiminez, a gifted performer, and I have been working on musical comedies. Last year, at The Hamilton Fringe, we put on Eli The Musical Guy And Pearl The Shakespearean Girl, with other Hamiltonians.
It was great fun, so we decided to write a show for children (and their parents).
Singerella is our modern take on the classic fairytale. However, rather than pursue a handsome prince, Singerella longs to audition for Singsation, a national singing competition, and create her own breaks. Fairy Life Coach and Fairy Pianist pitch in to help Singerella live her dreams.
Not long after we started working on Singerella, Lilly was diagnosed with leukemia. Singerella is a spunky young lady who overcomes obstacles with great courage. When I'd sit to write Singerella, I'd think of Lilly for strength and purpose.
After hundreds of rewrites and lots of help, we had a script. Becky worked her musical magic and we recruited a talented cast, two of whom are Lilly's teachers. For a good cause and the good of the cause, Annette Harild and Anna Maria Lalli are bravely singing and dancing well out of their comfort zones.
We were hoping to do the show at Lilly's school, using some of her friends and schoolmates in the cast, but, unfortunately, scheduling wouldn't allow it. Fortunately, Westdale United Church, which is not far from Mac, has generously allowed us to use their beautiful building, sound, and video systems.
Similarly, everyone involved in the show is volunteering their time and talents and are happy to pitch in. A creative endeavour is to be enjoyed, certainly, but having a worthy purpose makes it sweeter.
Xander Conway, a wonderful young mind, is creating fun, funny videos to enhance the show. In this one, rather than turn a pumpkin into a carriage, Fairy Life Coach changes a banana into a motorcycle and takes Singerella on a wild ride to the audition.
Becky's daughter Megan Gravely made our posters and postcards.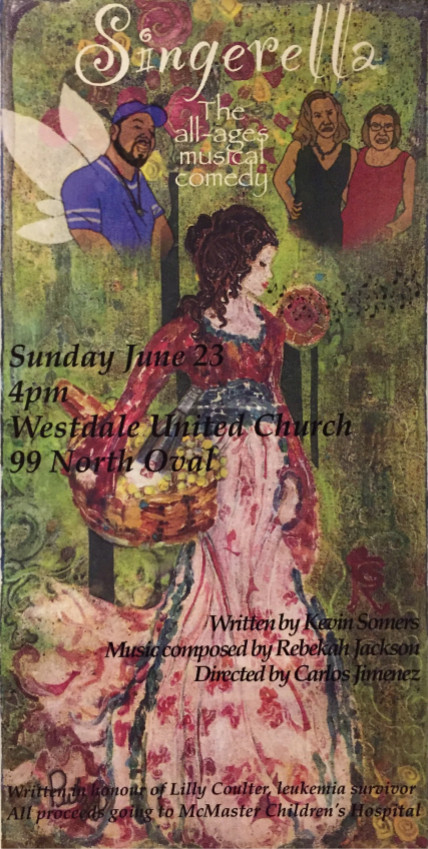 Singerella Poster
Another daughter, Genevieve, and her friends Sophia Brohman and Sinead Curran, make up the fairy choir.
Like a star, Beatrice Lalli, Anna Maria's younger sister, plays Singerella. Here she is, rehearsing in Becky's basement, singing my favourite song from the show, "One Child At A Time".
Singerella is being performed this Sunday, June 23, at Westdale United Church, 99 North Oval, Hamilton, at 4:00 p.m.
The show is being held in a church, so we're treating it as such. There are no tickets. Everyone is invited and welcome (behave yourself).
Singerella is free, but we're passing the hat to support McMaster Children's Hospital, where sometimes miracles happen and fairy tales come true.
Post a Comment
You must be logged in to comment.