Speaking Notes from my Magill-Pearl-Kent Greenway Jane's Walk
On Saturday, May 4, I led a Jane's Walk along the proposed route of a new neighbourhood greenway that may be coming to Hamilton next year.
By Ryan McGreal
Published May 06, 2019
I want to start by acknowledging that this walk is taking place on the traditional territory of the Haudenosaunee and Anishinaabe First Nations, governed by the Dish With One Spoon Treaty of 1701, a treaty to share and protect the land.
The dish is the land and all its bounty. There is just one dish, and we are all responsible to replenish it so it doesn't become empty. Likewise, there is just one spoon so that we each take what we need and then pass the spoon to the next person. And it's a spoon, not a knife, because we need to share and resolve our conflicts in a non-violent manner.
In 1764, the Treaty was extended to settlers as part of the Treaty of Niagara, and to this day we are all Treaty People living on Treaty Land. We have a responsibility to understand the Treaty and to make sure everyone shares equally in our common wealth.
This seems to me to be an excellent way to frame this talk about how we should use our shared public right of way - the streets that connect us to each other.
Magill Street here has 22 feet of roadway but only 4 and a half foot sidewalks. When it comes to our public streets, the cars are hogging the spoon!
The proposed Magill-Pearl-Kent Greenway is one way we can share our public land more equitably.
Neighbourhood Greenways
A Neighbourhood Greenway, also called a Bicycle Boulevard, is a residential street that allows local car traffic but is designed to give priority to walking and cycling.
Greenways are designed so that car traffic has to move slowly and is discouraged or prevented from driving continuously along the route. Meanwhile, walking and cycling are given the right-of-way and allowed to travel continuously where cars are forced to turn off the route.
There are six main design elements of a greenway:
Low car traffic volumes - these are residential side streets, not major arteries
Traffic calming and speed management - physical design to slow and divert cars
Physical barriers - non-local car traffic is forced to turn off the greenway
Safe intersections - design, signs and signals give priority to walking and cycling
Destinations and connections - the greenway takes you places and connects to the rest of the cycling network
Wayfinding - signs, markings and branding make it easy to find your way
Greenways were first invented in Germany in the early 1980s. Since the 1990s, several North American cities have built networks of greenways, including Vancouver, Minneapolis, Austin, Portland, Seattle, Chicago and Montreal.
These cities are building whole networks of connected greenways so families can get around more safely and easily on foot and on bikes.
History of Greenways in Hamilton
Hamilton has been talking about building a greenway since the 1990s. Our original Shifting Gears cycling plan talked about greenways but we never built one. The 2009 update of the Shifting Gears plan does not specifically reference greenways, but the draft 2018 update does identify "Bicycle Boulevards (or Neighbourhood Greenways)" as an example of a type of linear cycling facility.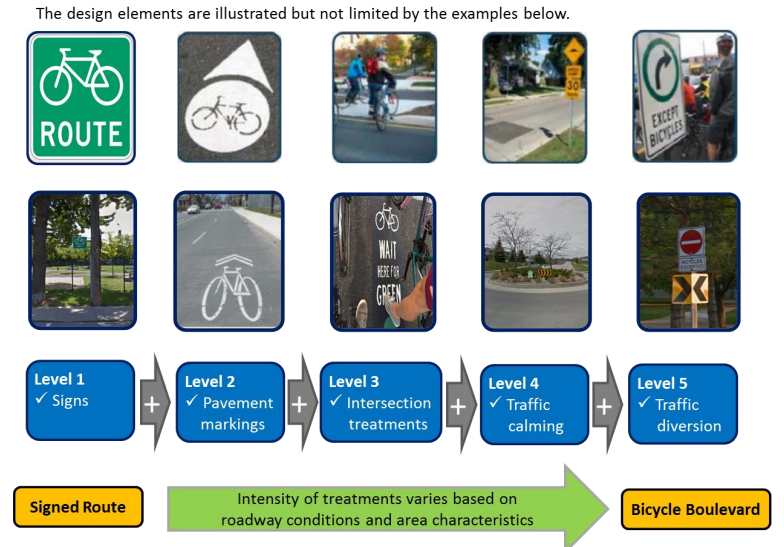 Hierarchical table of neighourhood greenway design elements (Image Credit: City of Hamilton Cycling Master Plan Review and Update, 2018)
In 2011, a Strathcona Neighbourhood resident named Jason Leach started talking about building a network of greenways, and one of the routes he proposed in 2013 was a north-south route on Magill, Pearl and Kent Streets.
This route had some built-in advantages for a greenway:
It's on minor residential side streets with little to no cut-through traffic
It connects to a school, two parks, Locke Street and recreational trails
There's no through driving across York, the CP Rail Line or HAAA Park
Former Ward 1 Councillor Brian was supportive, and he started work on closing some of the connection gaps to make the route possible. We'll cover those in more detail as we get to them. Councillor McHattie organized a meeting in 2014 to talk about next steps, and he supported a pilot project to test the idea.
Then the 2014 election happened, McHattie ran unsuccessfully for mayor, and Aidan Johnson was elected Ward 1 Councillor. Councillor Johnson organized a meeting in late 2015 to pick up the thread and he expressed interest in the project. There was a follow-up discussion in 2016 but it didn't go anywhere.
Then in 2017, Durand Neighbourhood resident Peter Graefe sent an email to Councillor Johnson and a few other community advocates asking if any progress had been made. That led to another meeting in July where city staff said they were interested in the idea but would like to learn more about what a greenway is and how it might work.
So I prepared a backgrounder, circulated it to local neighourhood associations and community advocates for feeback, and submitted it to Councillor Johnson that November. Staff said they supported the proposal but the capital funding to build it would need to come from somewhere. So Councillor Johnson suggested I submit it to the Ward 1 Area Rating Capital Reserve Participatory Budget process.
I submitted the proposal in March 2018, and it ended up being one of the highest-voted submissions.
Then the 2018 municipal election took place and Councillor Johnson decided not to run for re-election. Our new Ward 1 Councillor was Maureen Wilson, and she came across the proposal early this year when she was responding to the surprising news the bike lane plans for the Locke Street reconstruction had been quietly dropped from the design at some point.
Councillor Wilson arranged a meeting with me and Brian Hollingworth, a transportation planner working for the City, who liked the idea and expressed interest in working on the pilot. She also suggested that I hold this Jane's Walk to help explain and promote the idea.
So the greenway has community support. It has funding through the Participatory Budget. The Councillor is supportive. And staff are willing to take it on.
According to the current implementation timeline, Councillor Wilson intends to hold public meetings in Strathcona and Kirkendall to solicit community feedback, and the design is expected to be implemented some time next year.
So, in two short decades we've gone from talking about greenways to talking about a specific greenway. I call that progress!

Map: Magill-Pearl-Kent Greenway with some points of interest (Image Source: Google Maps)
Pearl and Florence
Cars are already prevented from crossing York at Pearl and Magill, so this is a 'natural' traffic diverter which gives priority to people walking and cycling. This crossing is currently an uncontrolled intersection, so it is going to need a signalized crosswalk, but that is not a prohibitive cost.
Another issue is that with light rail transit (LRT) coming - and yes, it really looks like LRT is coming - there will also be an opportunity to improve Hamilton's cycling network by extending the protected Cannon Cycle Track west along York from Hess all the way to Dundurn.
So the greenway will connect directly with a protected cycle track that can take you east through downtown and into the north end along Bay Street; or west toward Burlington along York or into Westdale via the protected King Street cycle track across Highway 403.
One of the things the City's LRT office is considering is possibly implementing a second greenway along Breadalbane that would connect between the proposed York cycle track at Dundurn and Woodbine and the King Street Cycle Track.
Cut-Through Car Traffic
One of the biggest issues in a residential neighbourhood like Strathcona is rat-running cars buzzing down residential side streets to shortcut through the neighbourhood on their way somewhere else.
The City tends to respond to speed complaints by installing stop signs. One result of the proliferations of stop signs is that drivers are inclined to slam on the gas, race to the next stop sign, slam on the brakes, and then slam on the gas again after rollilng through the stop.
For cyclists, stop signs are a huge pain because the kinetic energy needed to accelerate from a full stop is far higher than the kinetic energy needed to accelerate from a low speed. In terms of efficiency, a bike commuter's average speed decreases by 40% on a street with a stop sign every 100 metres.
In situations like this, the American National Association of City Transportation Officials (NACTO) recommends the use of mini-roundabouts to solve the problem.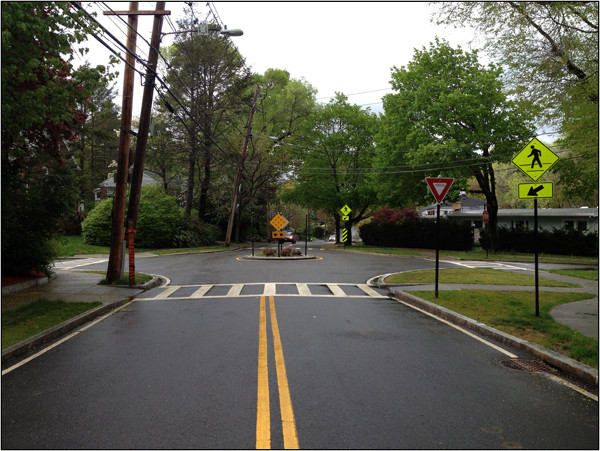 Mini-roundabout on a residential side street (Image Credit: NACTO)
Mini-roundabouts force drivers to slow right down to navigate around them, essentially forcing them to yield, while allowing cyclists to proceed through the intersection without having to stop.
The roundabouts are still accessible for emergency vehicles, and can even be planted with greenery to make the intersection more attractive.
This will make the street safer for everyone, increase convenience for cyclists and reduce driver frustration and aggressive behaviour at the same time.
Victoria Park
This greenway will also pass a block away from Victoria Park, which is a central Strathcona neighbourhood meeting place and a major trip generator. I would like to see east-west connections from the greenway to the park. One excellent way to achieve this would be by implementing a second greenway that runs east-west through Strathcona.
For that second phase, I'd love to see an east-west greenway connecting from Hunt Street and Breadalbane along Hunt Street to Dundurn, along Head Street to Victoria Park, across Victoria Park to Napier Street, and along Napier to connect with the Bay Street Cycle Track and downtown.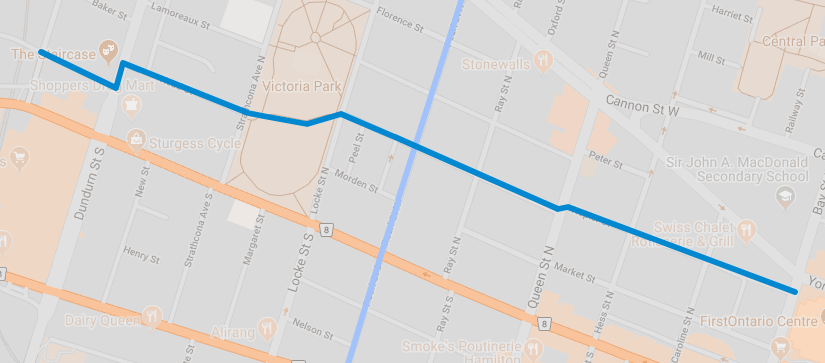 Map: proposed Hunt-Head-Napier Greenway route (Image Source: Google Maps)
That's another no-brainer that should be easy to complete. The only challenges would be crossing Dundurn and crossing Queen, and they can be solved with fully-signalized intersections.
Pearl and George
When this greenway was first proposed, the intersection of Pearl and King was uncontrolled. One of the things Councillor McHattie did back in 2011 when he was still in office was to get a signalized crosswalk installed there. In 2016, it was upgraded to a fully signalized intersection.
Same thing with Pearl and Main, which we're going to cross shortly: a push-button crosswalk was installed in 2013, and it was upgraded to a fully signalized intersection in 2018.
This gives you a sense of how long this proposal has been kicking around and how difficult it can be to connect the dots and turn an almost-great route into something people can actually use and rely on.
With LRT coming to King Street, it will be necessary to coordinate with the detailed design to sure the line allows pedestrian and cyclist crossing at Pearl.
Pearl Street Overpass
Pearl Street south of Main is one-way southbound for cars, even though it's the same width as Pearl north of Main, which is two-way. Obviously, that's going to have to change in order to make this a functional two-way bike boulevard. The City Could install a contraflow bike lane, but the easier fix is just to make Pearl two-way.
The Pearl Street Overpass was rebuilt in 2014 and has enjoyed steady community use ever since. The original bridge was built in 1895 when the TH&B trench was dug to the terminal at Hunter and James. It became pedestrian-only after a fire in 1968.
The bridge at Poulette Street, a couple of blocks west of here, was torn down in 1986 after heavy winds damaged it. The bridge at Ray Street, a block east, was demolished in 2007 after it had become structurally unsafe.
The new Pearl bridge is made of steel and hardwood. It was built for $770,000, including demolition of the old bridge, and is designed to last 75 years.
It's also another 'natural' diverter that blocks cut-through cars but allows people walking and cycling to cross.
One more note while we're here: there's a two-way bike lane on Hunter Street that runs between Liberty Street near Wellington and Queen Street, just a couple of blocks east of here, where it stops dead. I would love to see a bike boulevard approach taken to Hunter between Queen and Locke Street.
Again, this section of Hunter is currently one-way westbound and would have to get a contraflow bike lane or be converted to two-way, but it would be an important connecter between Hunter, Pearl and Locke.
HAAA Park
HAAA Park is obviously a major family destination for a neighbourhood greenway. It's got a playground, a water park, a track, a soccer/football field, a middle school and a tennis club.
It's also a short walk from the Locke Street commercial district, which includes another school, several churches, a public library, and several restaurants, coffee shops and other retail stores. There is a well-worn path along Tuckett Street between the HAAA playground and the coffee counter at Democracy*!
HAAA Park is yet another 'natural' barrier that blocks cars from driving through but allows people walking and cycling to proceed. The City is currently undertaking an HAAA Park Master Plan review, so it will be important to coordinate the design of the greenway with the park design to make sure they support one another.
South of HAAA, the greenway continues along Kent Street to Aberdeen. Along the way, it crosses the Charlton and Herkimer bike lanes. That's yet another cycling network connection.
Kent and Aberdeen is home to a pedestrian-activated signalized crosswalk. It was the second-ever approved project under the Area Rating Capital Reserve, back in 2012, during the dark ages when it was otherwise impossible to get a crosswalk in Hamilton.
City staff provided me with pedestrian traffic data at Aberdeen and Kent before and after the crosswalk was installed, and the pedestrian use more than tripled. This is an example of the basic Law of Demand: when you make it safer, easier and more enjoyable to do something, people do more of it.
South of Aberdeen, Kent continues to Glenfern. From there, you can proceed west on Glenfern to connect with the Radial Trail up to Ancaster and the Rail Trail through Dundas all the way to Brantford.
Conclusion
The great thing about the Magill-Pearl-Kent corridor is that most of the pieces are already in place to make a neighbourhood greenway. Over the past decade, several of the connection gaps have been closed and there it not much remaining to elevate this into a highly usable walking/cycling route.
Driving patterns already support giving priority to walking and cycling, because cut-through driving is already pretty much impossible. That means there won't be much pushback from drivers who are reluctant to relinquish the One Spoon and share the roadway with everyone else.
Local residents will still be able to drive to and from their homes, but their street will be calmer, safer and more lively with people walking and cycling.
By connecting to the proposed York Cycle Track to Cannon, Victoria Park, the proposed Hunt-Head-Napier greenway, the LRT along King Street, the proposed Hunter Greenway, HAAA Park, Ryerson School, Locke Street, the Charlton and Herkimer bike lanes and the Radial and Rail Trails, this greenway links a number of existing and proposed amenities and network connections.
This greenway is just about a perfect political win-win: everyone involved benefits from building it, and no one is negatively affected.
I look forward to seeing you walking and riding along this greenway in a little over a year!
Post a Comment
You must be logged in to comment.